Puerto Rico: It's Not Just a Layover

San Juan and Rincon

February, 2009

Used to be that stopping in San Juan, as the gateway to much of the Caribbean, was just one more hurdle before reaching a more desirable destination.  The airport was dingy, the food options abysmal, and the airline staff unhelpful.  But that's the mistake of judging an entire island by its airport.  By and by, my husband and I started exploring Puerto Rico in baby steps: first, venturing out of the airport during a long layover; next, an unplanned overnight as a connection was missed; then, intentional extensions of our trips; finally, planned longer visits to Puerto Rico alone.  The more I saw, the more I liked.  While I'm not prepared to forsake all other Caribbean islands for Puerto Rico, I now rank it among destinations I'd visit repeatedly.

When planning this particular trip, because of all the other events on our calendar this year, my husband and I were using this trip as a surrogate (and early) celebration of our 20th anniversary.  I needed to meet the twin goals of a special trip, but one that would be worthwhile with just 5 nights available to us.  Usually, I choose a destination first, and then a hotel; but this time, it came down to two hotels which held a special romantic appeal: Nisbet Plantation on Nevis, and The Horned Dorset Primavera in Rincon, Puerto Rico.  Because of the relative ease of travel to Puerto Rico, we chose The Horned Dorset (and, by happenstance, we ended up taking an unplanned last minute trip to
Nisbet Plantation
last year).
Despite a 1-inch snow "storm" that turned Maryland drivers' brains to mush and turned our 20-minute drive to the airport into a 50-minute obstacle course past one accident after another, we arrived at BWI with time to spare (one of the benefits of Wednesday morning travel).  American Airlines' newly reinstated non-stop to SJU took off with just a 2-minute delay for de-icing, and despite unfavorable winds, we landed right on time for a late lunch.  Rather than hurrying straight to Rincon, we decided to spend the night in San Juan at the San Juan Marriott Resort and Stellaris Casino (or, as the locals call it, the "Marriott Stellario") in Condado.  Admittedly, I chose the hotel for the fact that it has a Hertz desk right on site.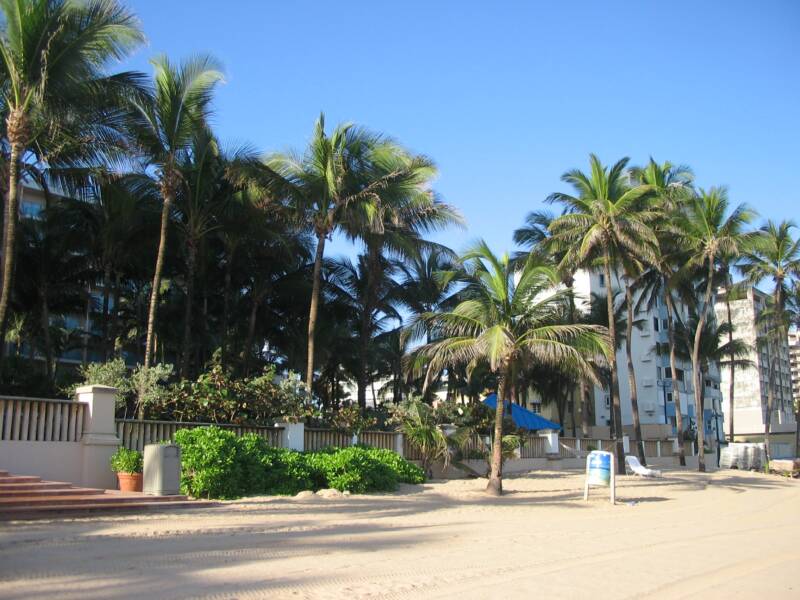 The Marriott Resort and Stellaris Casino in San Juan provides a nice transition to Island Time.

We usually stay in Isla Verde when in San Juan, so Condado was a nice change of scenery.  It's a high-end residential/tourist neighborhood halfway between the airport and Old San Juan, and features glitzy condos, resorts and high-end shops along a brown-sugar sandy beach.  From a distance, the Marriott doesn't look too promising, its architecture suggesting a 1950s vintage.  However, the entrance marquee is fairly modern, the public spaces updated, and the beach and pool area lavish.  The rooms are fresh and citrusy-bright (not hewing to the seemingly official Marriott color scheme of green/gold/red), and the balcony of our city view room offered a look at the sea.  After a beachside lunch, a few Medallas (the local beer) and some quality time with the sun and sand, we'd successfully managed our transition to Island Time.

For dinner, we'd made reservations at Pikayo, the flagship restaurant of Puerto Rico's celebrity chef Wilo Benet.  Pikayo is located in the cool, modern Museum of Puerto Rican Art in Santurce, and echoes the clean, hard lines of the museum's lobby with tawny marble floors, red and tan suede banquettes, and dramatic artwork.  The guests are a mix of well-dressed tourists and stylish residents (I love that people in San Juan dress up for any occasion; it lends a flair that many other U.S. cities lack).  The menu is a sort of Latin fusion that had more hits than misses, though I was disappointed in a dry red snapper entrée, having hoped that a fish caught in local waters would have been treated more lovingly.  Nevertheless, a worthwhile dining experience that might get a second try next time around.

After a long travel day, we fell asleep soon after returning to the hotel, but woke up raring to go the next morning.  After breakfast and more quality beach time, we checked out and collected our seemingly de rigueur silver Toyota Camry rental car (which we would have trouble identifying in a parking lot for the balance of our trip).  We drove to Old San Juan and walked the streets until lunchtime, delighting in the blue-tinged cobblestones, pastel colored Creole buildings and the patina of having seen centuries pass.  For lunch, we made a beeline for Aguaviva on Fortaleza Street, where the ceviche and watermelon sangria were just as good as we'd remembered.  From there, we hit the road.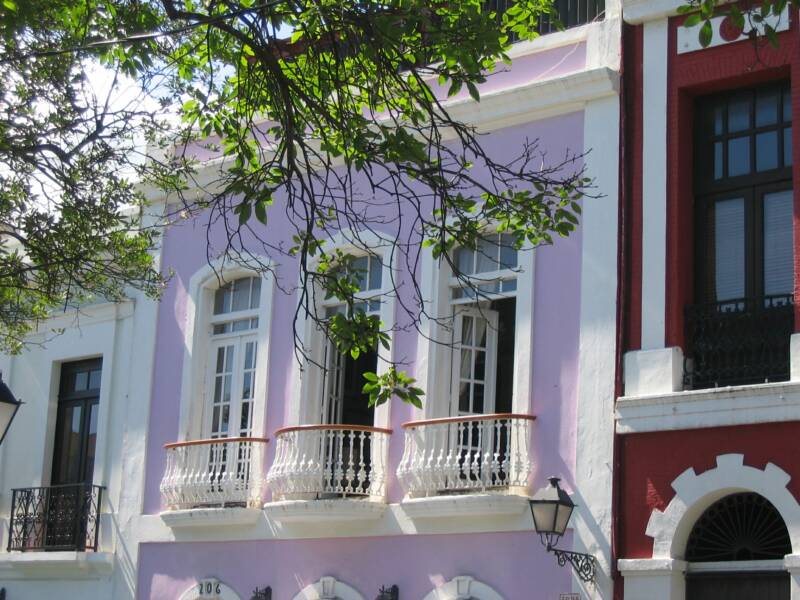 The scenery in Old San Juan never fails to delight.

Getting to Rincon, which is at the west end of the island, is theoretically straightforward, and a good chunk of the trip is on Route 22, a fairly new toll autopista that goes as far as Arecibo.  Unfortunately for us, the exit for Rte. 22 is not fully-marked if you are coming from Old San Juan, and we ended up driving all the way to the airport and turning around, to find it better-marked coming from the east.  Once on the road, we found drivers rather unlike maniacal Washington, DC area drivers, who are so important they have to get wherever they are going at a speed not less than 20 miles over the speed limit.  Here, drivers politely signal their intentions and meander leisurely down the road, with the speed limit rarely matched, much less exceeded.  Luckily, we weren't in a hurry, and

.took advantage of the slower pace to struggle through understanding the road signs (which are in Spanish only); I know enough Spanish to get by, but it took a bit of effort, especially when it came to understanding which lanes to use through the tolls.  In the meantime, we enjoyed the striking scenery, with green-festooned hills rising out of lush valleys, blooming flowers, and the sea off in the distance.

Once off the toll road, the pace slows even more, since you're on local roads with plenty of stoplights, traffic, and commercial establishments.  The closer we got to our destination, the narrower and twistier the roads got.  Here, with smaller towns, less population, and more livestock (especially those dratted roosters who don't know light from dark), I felt we'd finally arrived in the Caribbean.  At last, we drove through the gated driveway of The Horned Dorset.

One thing I've learned through many years of travel is to manage expectations, because expectations that are too high are often dashed.  Nevertheless, everything I'd seen or heard about The Horned Dorset led me to think we were in for a superlative experience, so I placed myself at risk of disappointment.  This time, however, my high expectations were exceeded.  Simply put, the Horned Dorset Primavera is one of the most exquisite places I've ever visited.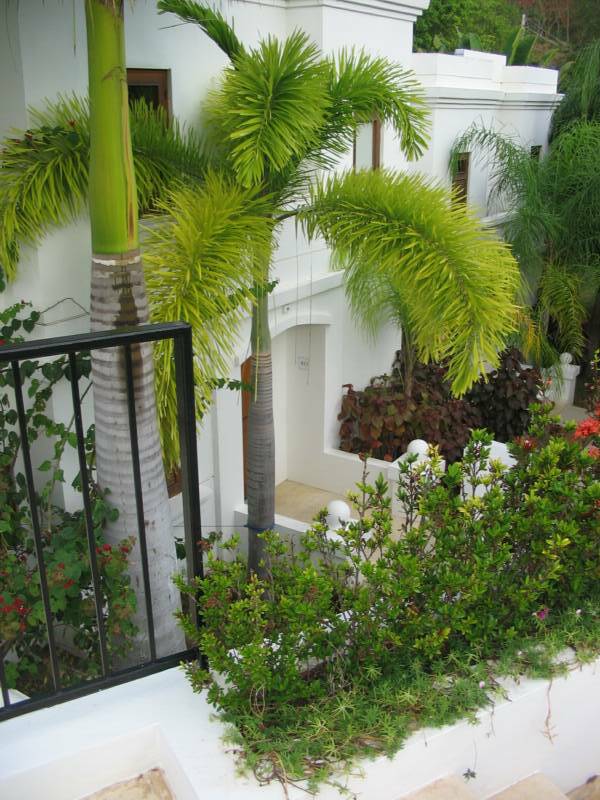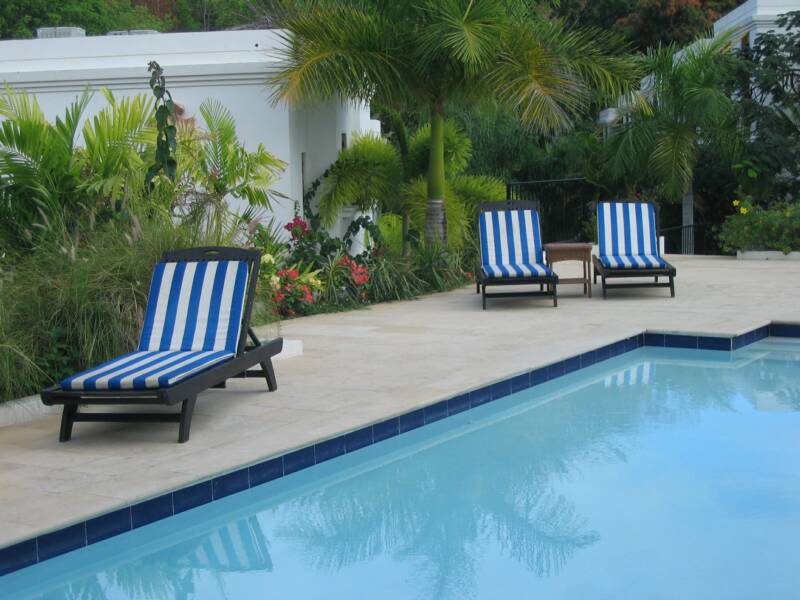 The Horned Dorset Primavera is designed to resemble a Mediterranean village, with whitewashed buildings, but it's set amongst lush tropical foliage.

The resort is sited on a luxuriantly landscaped hillside that slides into the surf, with a small, protected beachfront.  I'd booked a garden view "Primavera Suite," which had a foliage-obstructed view of the sea from our balconies.  The suite, in a

whitewashed building containing two suites, was 1,400 square feet on two levels.  The first level featured an expansive living area decorated in Mediterranean style, small kitchen decked out in rare blue granite, and a marble-clad bath with shower.  Two sets of french doors gave out to a greenery-screened private terrace complete with our own dipping pool.  Upstairs, we had a huge bedroom and sitting area, equipped with a giant four-poster bed draped in mosquito netting, and an even more sybaritic full bath.  One set of french doors opened onto a small Juliet balcony, with another two sets of doors opening onto a larger balcony.  The fittings and fixtures included oriental rugs, wrought-iron chandeliers, and mahogany furnishings.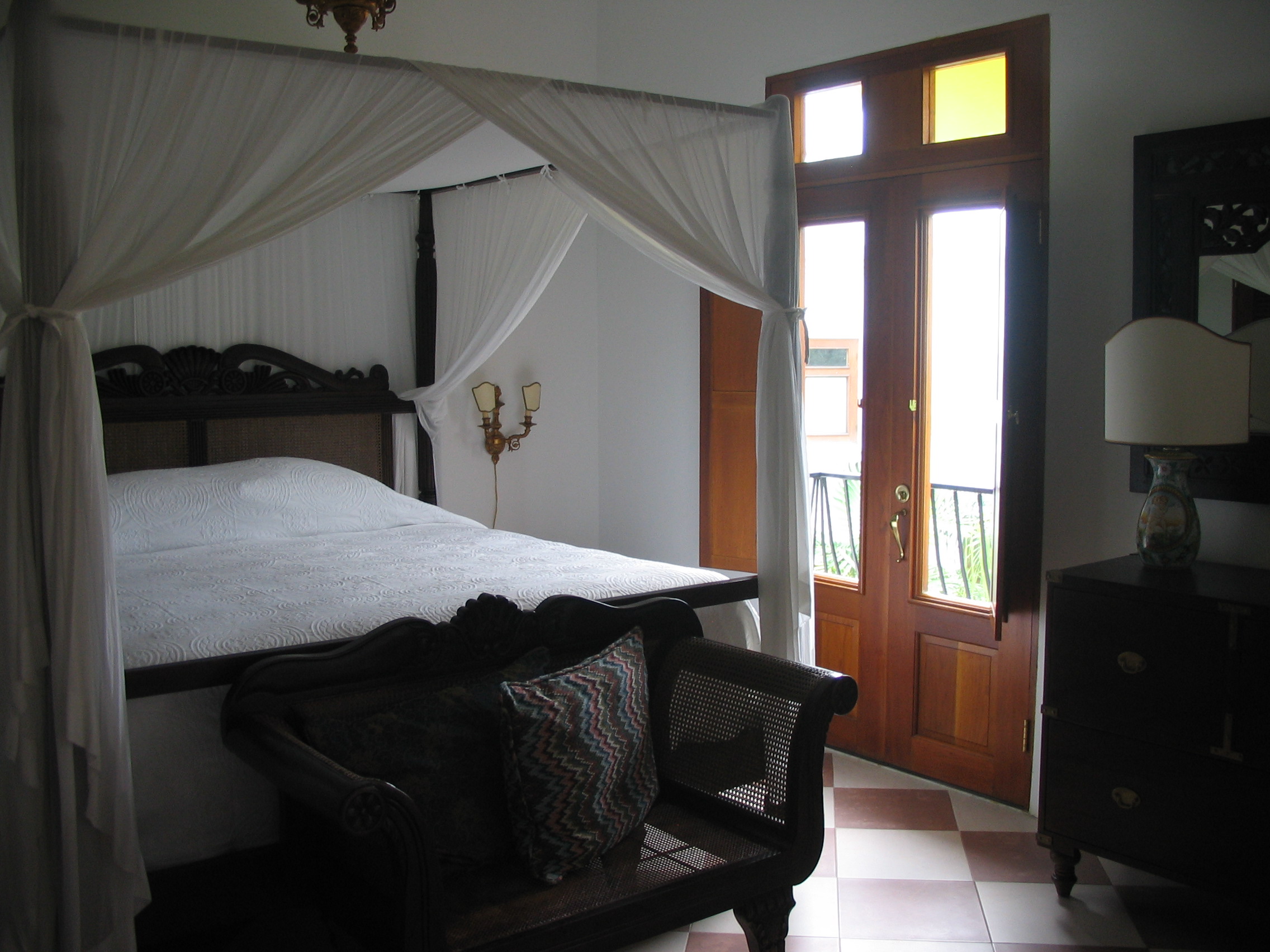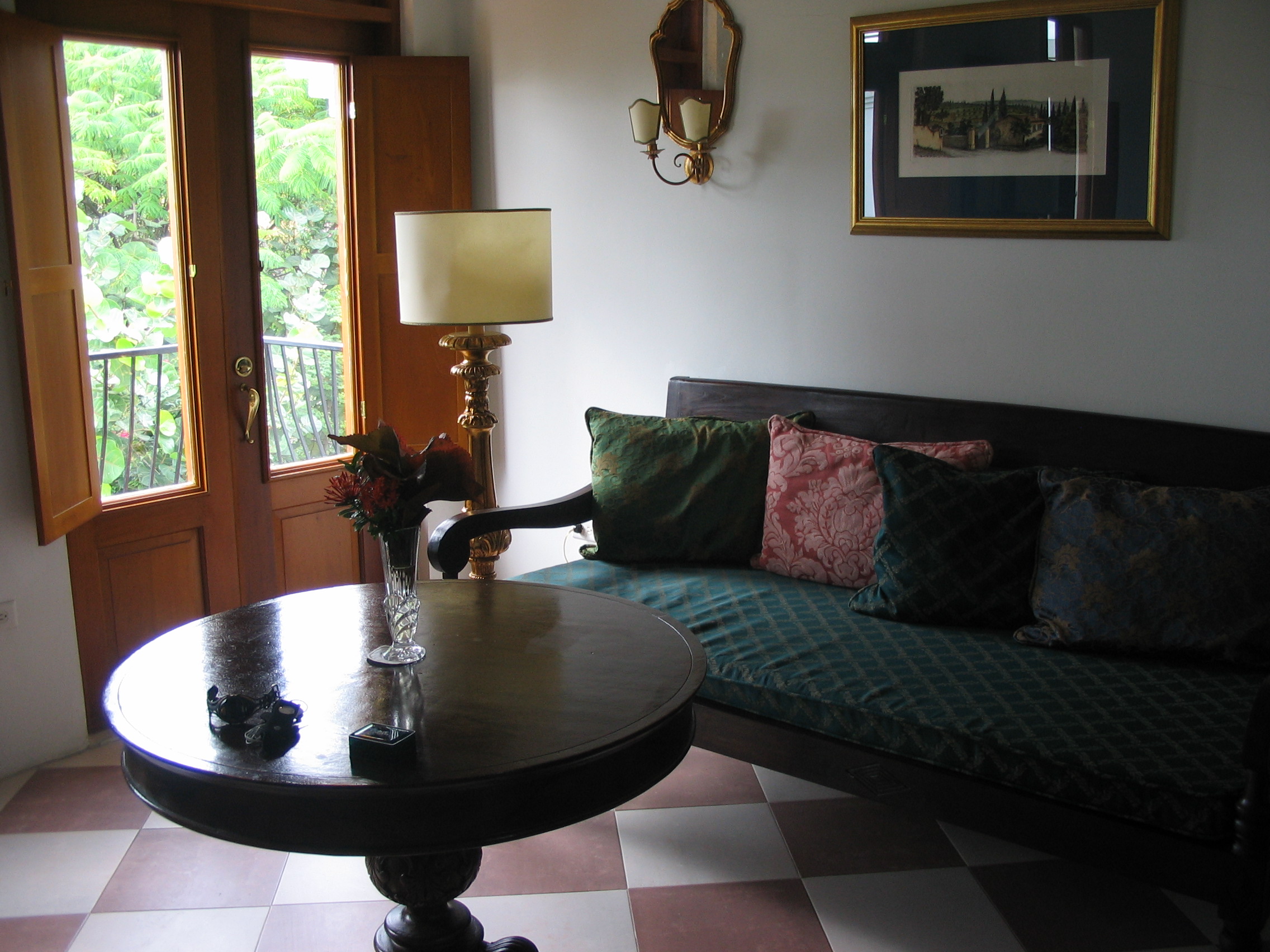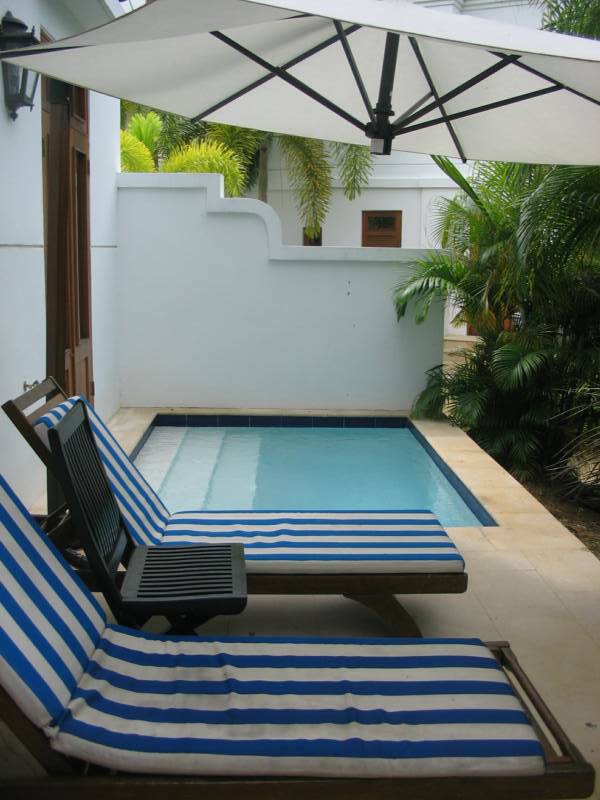 While the interior of our suite was certainly comfortable, the most luxurious part of a suite at the Horned Dorset is having a private terrace complete with plunge pool.

Before completely settling in, we drove into Rincon proper for some necessities (rum, Diet Coke, cocktail munchies, breakfast supplies).  While the Rincon peninsula feels very Caribbean, the town of Rincon resembles -- in many ways, both positive and negative – a standard-issue American beach town, except with a Spanish accent:  surf shops, restaurants, traffic and lots of residences ranging from beach shacks to fancy beach houses, all ranged around the main drags of Rtes. 115 and 413 (also known as "The Road to Happiness").

For the rest of the afternoon, and really for the rest of the time we spent at the Horned Dorset, we ranged between our own terrace, self-contained as it was; the beachfront, which is largely protected from the wind but can sport some rough surf; and the infinity-edge pool adjacent to our building.  After all, we were here for togetherness, sun, and warmth and didn't need much more.  (Out of necessity, since more days featured sprinkles and occasional downpours than were completely sunny, we found ourselves seeking shelter under the cover of the umbrella on our terrace, since our Kindle readers don't take kindly to being drenched.)  In the late afternoon, we'd have sundowners on our terrace, before proceeding on to dinner.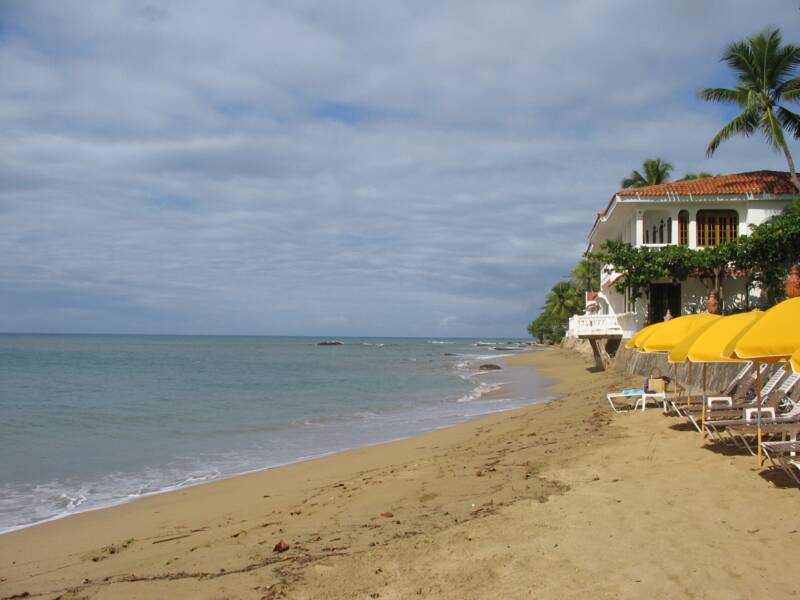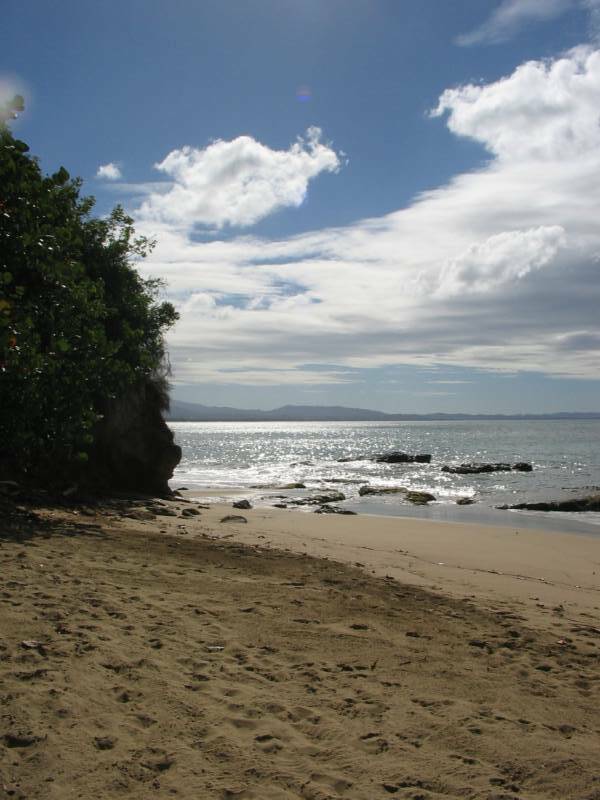 The beaches in Rincon don't compare favorably with some of the finer beaches in the Caribbean, but there are certainly worse ways to spend a few days in February.

Our first night, we had dinner at the on-site Restaurant Aaron (as opposed to the more casual bistro-styled Blue Room).  In order to qualify as a Relais & Chateaux property, a hotel must have not only excellent accommodations, but also superb

dining.  On that score, Restaurant Aaron delivered.  We splurged and ordered the multi-course tasting menu, having been assured that despite nearly a dozen courses, we would not need to be hauled out wheelbarrows.  What we got was a dozen little tastes of the chef's best offerings, enough to tantalize and satisfy (e.g. a single perfect scallop, or a demitasse of soup), but no so much as to overwhelm.  From rabbit sausage to Kahlua soufflé, it was just perfect.  Service was lovely and friendly, though I suspect some of our well-dressed servers are surfer dudes by day.

After our first night, we only ate on-site for one other meal – a lovely oceanfront dinner at the Blue Room.  Though we enjoy fine dining, we like local food and establishments even better, especially when traveling.  So, after mornings lazing around the pool or beach, we'd head out looking around town for lunch.  Our first lunch destination, Calypso Café, set the tone: as we approached it, there were tons of cars along the roadway and in an adjacent parking lot.  Wow… I thought … this place is really popular… hope we won't have to wait….  As it turns out, the beach bars and grills tend to be located near the popular beach access spots, which also turn out to be the better surfing spots; so all those cars were parked there to enable their occupants to partake of the surfing, and not of the inevitably good ceviche and fish sandwiches.  We had similar experiences at Tamboo Tavern and Rock Bottom, as well as a fantastic tapas dinner at Casa Isleña.  (One other dinner was at Kaplash, which specializes in tasty and cheap seafood empanadillas – the grouper (mero) empanadilla is fantastic; the service was wanting, however).

The surfing scene is what really defines Rincon, and in the winter, the surf is big, driven up an ideally-formed shelf by strong winter winds.  Depending on the wind direction and other weather conditions, the surf can form perfectly separated curls, or just roaring, crashing whitewater that sounds like a waterfall.  The surfers flock here in droves seeking their endless summer, and influence the laid-back vibe of the town.  While some of the surfers look like the young, beautiful, buff, tanned and bleached-blonde gods of stereotype, others look like me, and some are even older.  It's an equal opportunity avocation.  Swimming in the sea here requires vigilance, but due to the varying topography of the peninsula, there's usually a beach to be found which is safe for swimming.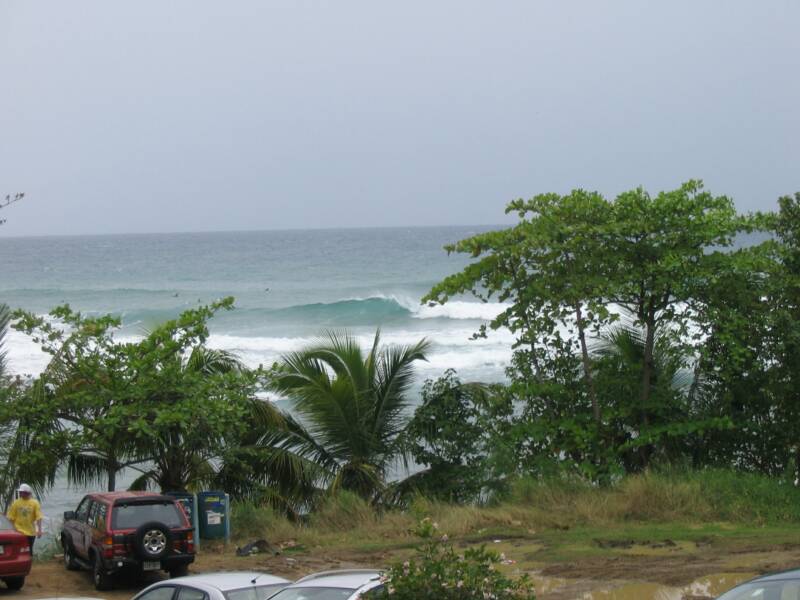 The beach near Calypso Cafe was a popular spot for surfers during our visit in Rincon.  Meanwhile, below, Punta Higueras provides dramatic landscapes reminiscent of the US West Coast.

We devoted our early afternoons to mild exploring, though we were not especially ambitious.  We found our way to the Punta Higueras lighthouse and Domes beach (so-named because of a now-disused nuclear dome neighboring the beach); we did some modest shopping; and we explored beaches.  But Rincon is not a beach-lover's paradise.  The beaches are nice enough, and often it's plenty just to be within the sight and sound of the surf; but if you want to immerse yourself in beachy perfection, this is not the place for you.

For our purposes, Rincon and The Horned Dorset Primavera delivered what we were looking for in a romantic wintertime escape.  Our main goals were to find warm weather, a

secluded seaside setting, luxurious accommodations, and fine dining (when we wanted it).  That we could leave the gates of our hotel and enter into a funky, laid-back beach town made it all the more appealing.