NEVIS - November 2008

In the Beginning … There Were COMPLICATIONS

I realize that those words could probably start a great many of my trip journals, and this one was no different.

Hoping to use frequent flier miles, late in 2007 we booked a November 2008 trip to Cape Santa Maria on Long Island, in the Out Islands of the Bahamas. We were looking for beachy solitude, and spent 11 months looking forward to finding it, devouring every bit of information about Long Island we could find. (Admittedly, there was not much, and I'd just about memorized the little bit there was in the Fodor's guide.) Our travel arrangements were quite complicated, involving flights on American Airlines to Georgetown, Exuma, and then a charter to Stella Maris on Long Island.

Everything was looking good for a departure on Saturday, November 8, but by the Thursday before, the disturbance that was brewing off the Nicaraguan coast became a bona fide hurricane threat in the form of Paloma, which was scheduled to arrive in the southern Bahamas in the beginning of our vacation week. All the models suggested Paloma would be a weak Category 1 hurricane, or a tropical storm, by the time it passed Cuba, and I'd called the hotel to make sure we'd still be welcome. On Thursday, we were still a "go," but on Friday morning, I got the dreaded phone call from Cape Santa Maria – they just couldn't allow us to come down. Luckily, they agreed to refund our deposit, American let us re-deposit our miles, and our charter pilot waived the late cancellation fee.

Since vacation time is much harder for us to come by than the dollars to pay for it, I scrambled to make new arrangements. I've done this drill before, and within 90 minutes I'd booked an entirely new trip, including FF tickets on American. The only catch was that we'd have to spend a night in San Juan before moving on to our final destination of Nevis and Nisbet Plantation. (This was the next island in our queue, so an easy choice to make, especially given availability.) We didn't mind the San Juan detour because we like not having to worry about connections and getting the chance to spend some time in a city we've come to enjoy.

The hardest part of the new arrangements was the change of mindset. We were switching from a Duffel Bag Vacation, where dressing for dinner would mean a fresh t-shirt, to a Suitcase Vacation, where shoes and "smart casual" (including pants for gentlemen) attire would be required for dining. As well, we'd done almost no research on our destination, so we'd be winging it.

By Saturday morning, however, we'd packed our bags and wrapped our heads around the change in venue. With no connection to make in San Juan until Sunday, and having bumped ourselves up to the front of the bus, we placidly waited out the 4-hour delay of our flight (mechanical – a part had to be flown in from LAX to IAD and then driven up to BWI). We missed the opportunity to have lunch in Old San Juan, but checked into the Ritz Carlton and enjoyed cocktails in the beautiful lobby before walking to dinner at Metropol (next to the cockfighting arena, as a point of reference). Service was less brusque than usual, and dinner was – as always – a treat.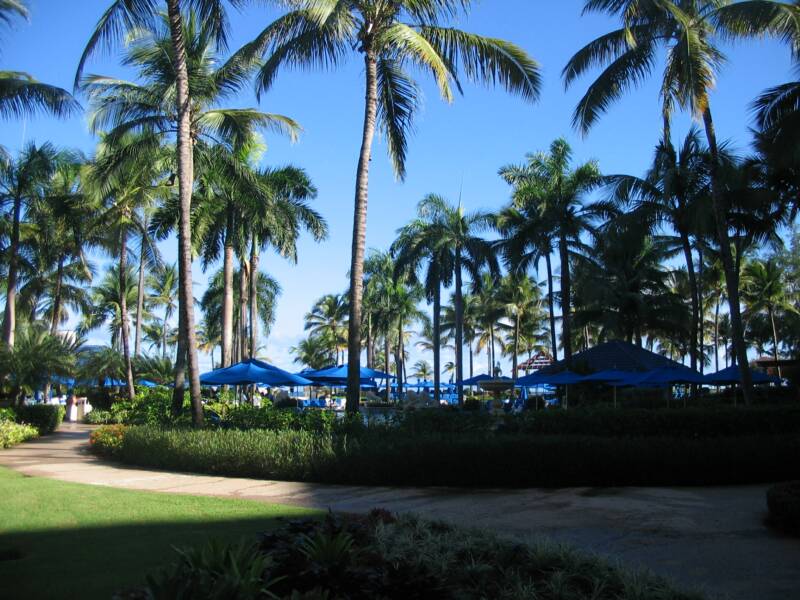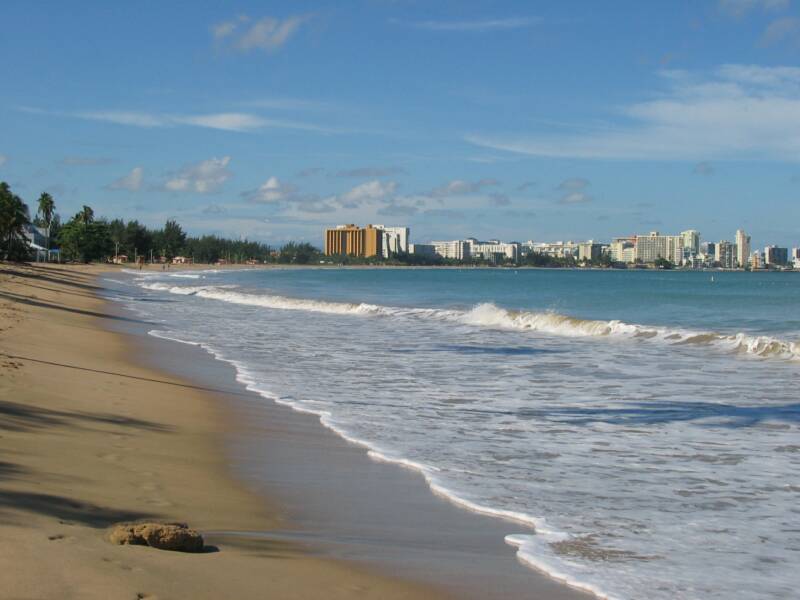 The grounds of the Ritz Carlton in Isla Verde, near the San Juan airport, help ease the transition to island time (as if one really needs any help....)  And as city beaches go, the Isla Verde beach is relatively quiet and is long enough for leisurely walks.

Having overcome the hurdles of the past days, we thought we were home free. But Rick's cell phone ringing us out of our slumber put an end to that. Our SJU-NEV flight at 12:35 had been cancelled; we were rebooked for one departing for NEV later. When we arrived at the airport, we were told the later flight was cancelled as well, but if we ran for it, we could make the 12:35 flight to St. Kitts and take the ferry over… oops, never mind, we just missed it (but, hey, American Eagle, thanks for letting us know…). With no more flights, our options were limited and unappealing, but ultimately, the agent told us the later NEV flight would be rerouted to St. Kitts. Curiously, our boarding passes, luggage claim tags, gate information, and all announcements stubbornly bore the NEV designation, though now we were going to SKB.

After some delay, all 9 passengers headed to NEV finally boarded an Eagle headed to SKB. By now, we were also catching on to the fact that this was not some isolated event, because on arrival at SKB, we were instantly handed ferry vouchers and were shepherded into a waiting van to take us to the ferry dock. Although we'd been given vouchers for the last ferry, 6 of us simply paid for an earlier boat, so we could get to Nevis as soon as possible.

The ferry ride was uneventful, pleasant even. We've often reached our final destination by ferry (Tortola via STT, Anguilla via SXM), and it can be a nice transition to island time. But it's not so nice when you don't plan for it, and it's even less nice when you reach your destination in pitch darkness. At least by now, we'd developed a nice rapport with the other couples in the same straits, and we'd keep running into each other all over the island, sharing our meager intelligence on the American Airlines shenanigans in Nevis.

And, shenanigans they were. We soon learned that an AA flight had not landed in NEV for some time, though the airline steadfastly refused to remove the flight from its schedule, forcing passengers to endure flight cancellations on a day-by-day basis. The reasons ranged from a faulty GPS antenna (which, curiously, didn't stop Liat, Winair, or FedEx from arriving and departing) to governmental machinations to low loads. Ultimately, we concluded that as long as the Four Seasons resort was closed due to damage from Hurricane Omar, these games would continue.

Wanting to avoid similar uncertainty on our return, on Thursday morning I called AA to try to get us rescheduled for the SKB flight on Saturday (especially since departing via SKB would take several additional hours of travel). My first call to AA was rewarded with an agent telling me that there was no availability on the SKB flight and that they were not allowed to overbook. I found this difficult to believe, so I went to the Nisbet office and easily booked two tickets for that flight online (no availability, eh?), placing them on hold. After breakfast, I called AA again, asking them to change my itinerary and expressing my willingness to pay for the SKB-SJU leg. Nothing doing: since the NEV-SJU flight was still on the schedule, I could only do so if I paid for the new flights AND paid the $150/person change fee. When I suggested that they waive the fee, since they are the ones making the schedule changes, I was refused. I decided to let it rest til departure day, and would be ready to roll on the SKB flight which I was sure we'd end up on.

Saturday morning, the expected cancellation came. Duh. When I called AA, they offered to reacccomodate me on the NEV-SJU flight the next day. As if that one actually had a chance of going out. Not a chance! We held out for the SKB-SJU flight that afternoon, and readied ourselves to leave the island at 10 (instead of the much later departure that flying out of NEV would have allowed us). We were not alone, and 2 other now-familiar couples were leaving with us.

Again, had we planned for such an itinerary, it wouldn't have been so bothersome. And had AA been honest with us, we wouldn't have been so annoyed. But the constant gamesmanship – which wasn't even played out with the same stories! – was incredibly infuriating.

Arrival in Nevis, At Last

Less vexing than our airline issues, but also of mild concern, was the fact that we never got confirmation of our reservation at Nisbet, which I'd booked with the US reservation office. Wanting to make sure we were still expected, I called the resort – which had no record of our impending arrival. That was quickly rectified, and for our minimal trouble, we were upgraded to an oceanfront "upper premier junior suite." In contrast to AA's prevarication, Nisbet simply fixed it.

Truly, once we finally arrived in Nevis, everything went smoothly. From the ferry, we shared a taxi with a couple of our fellow road warriors, getting all the scuttlebutt from our driver, Ozzie. Upon arrival at Nisbet, our bags were spirited away while we were handed rum punch (in real glasses) for the long walk to our suite. In the dark, there wasn't much to see, so we quickly changed into fresh clothes and headed to the Great House for dinner.

Dinner (as well as breakfast) is included in the Nisbet room rate, but it is no slapdash buffet affair. After our first night, when we introduced ourselves to maitre d' Patterson (or Violet), we were greeted by name and escorted to our table – we chose every night to dine on the screened porch. A menu was presented, featuring 4-5 choices each for appetizers, entrees, and dessert; every evening included at least on Nevisian or West Indian choice. Options included venison, veal, boar, duck, steak, escargot, lamb, grouper, snapper, with such West Indian favorites as roti, pepper pot and pumpkin soup. This was truly fine dining, and even if meals hadn't been included, we would have hated to miss a single night of Chef Tony's superb cooking. Wine and alcoholic beverages were a la carte, and the wine list offered many fine (if somewhat safe) choices. Having spent our last Caribbean trip in Anguilla and Grand Case, St. Martin – which are gastronomic capitals – we found Nisbet (and other places on Nevis) to compare favorably.

Monday morning, we were up with the sun and finally got our first daylight look at Nisbet Plantation. It's truly lovely. Our suite was a high-ceilinged space with walls painted in my favorite kiwi green. The bed is made up in luscious silky sheeting, and the coral-painted bath is expansive, with granite and porcelain appointments. We had a sitting area and small kitchen/bar area, as well as louvered french doors giving out to a balcony. All of the windows were louvered, and we cranked them open and went without AC all week (in fact, at night, the breeze was steady enough to require us to cover up most nights).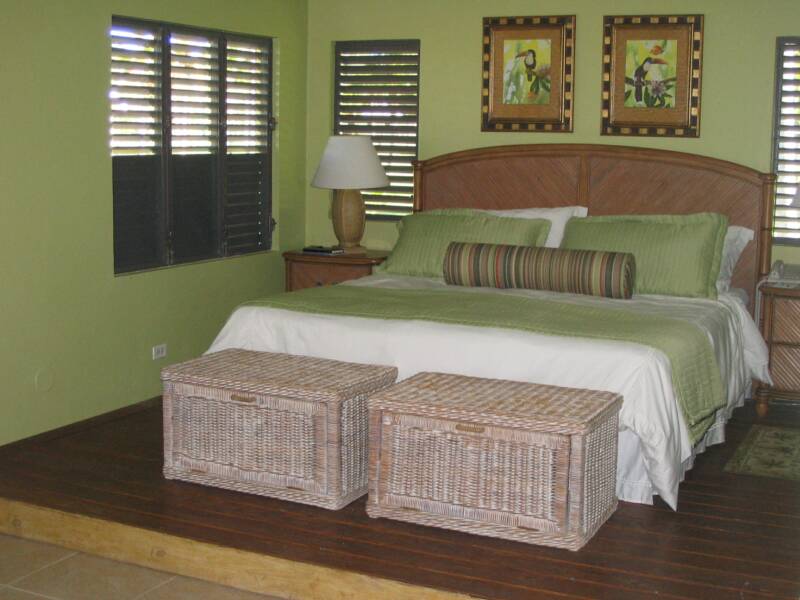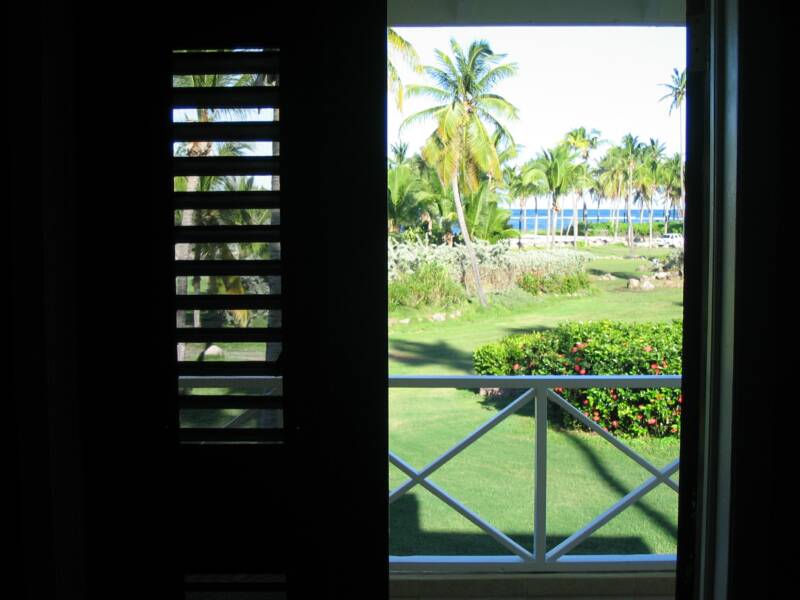 As if being in the islands wasn't nice enough, I found myself surrounded by my favroite color.  And the view from our balcony of the palms and sea beyond was simply delicious, as well as the breeze the louvers admitted.

From our balcony, we had a view of the luxuriant lawns and rows of tall coconut and date palms. Beyond the palms, the beach (considered by many the nicest on Nevis) and the sea, breaking on the reef beyond. The night sounds were the constant roar of the sea, the wind clattering in the palms, and the symphony of tree frogs (which we learned were a different species than the famed coqui of Puerto Rico, but no less beloved by me). In the other direction towered Nevis Peak, the top of it often wreathed in clouds, a nearly perfect volcanic cone.

For our first whole day on the island, we were not overly ambitious. After breakfast (to order, plus a buffet of fruits and pastries), we made ourselves comfortable on the palm-studded beach, near a palapa. For all we knew, the resort may have been full during our visit, but there were always beach loungers available, and they were so discretely placed that we never felt crowded. None of the jockeying for position for which some larger resorts are justly infamous.

Nisbet's Great House crowns a gently sloping hill, through an alley of palms. Afternoon tea was served there every day, but we never availed ourselves of it, preferring our own company and slightly stronger beverages on our balcony. Likewise, we didn't take advantage of the spa, the croquet lawn, the tennis court, etc. We were in the Caribbean for beach time and some mild exploration, which we'd do with the rental car we'd arranged for the rest of the week.

Although Nisbet's beach is among the best on Nevis, that doesn't say all that much. The other major beaches – Oualie and Pinney's – are grey sand and look to have lost a lot of shoreside vegetation to Hurricane Omar. Nisbet's beach is on the less-protected northern tip of Nevis, has salt-and-pepper (mostly salt) sand, and a good bit of vegetation on the bottom which washes up on shore, but is meticulously groomed every morning. There are several jetties, a lot of wave action, and a pebbly entry into the water. I enjoyed the water, but couldn't see my toes on the bottom. The beachfront seems to have been untouched by the hurricane, and is studded with healthy palms trees. The constant breeze, which was really honking on Friday, keeps the no-see-ums away. A beachfront bar and restaurant, which are open all day til 5-ish, and on Thursday night for the famous Nisbet barbecue, round out the scene.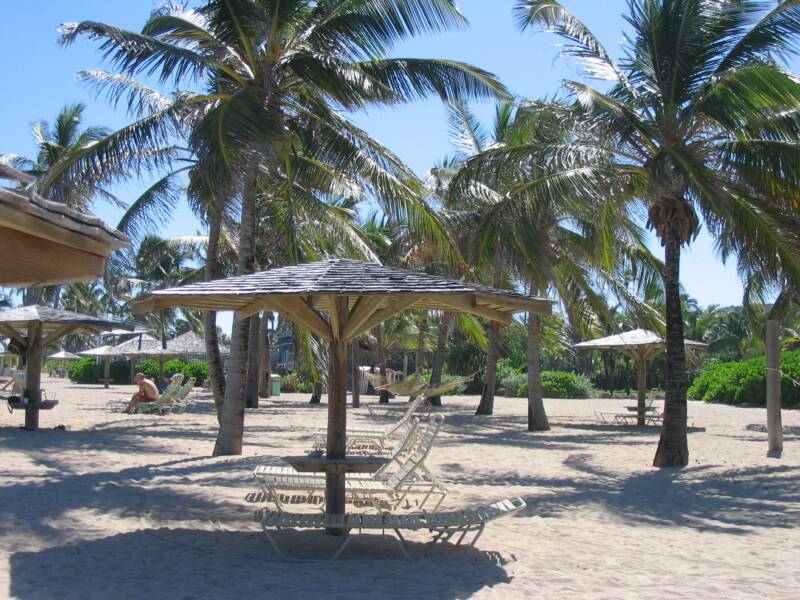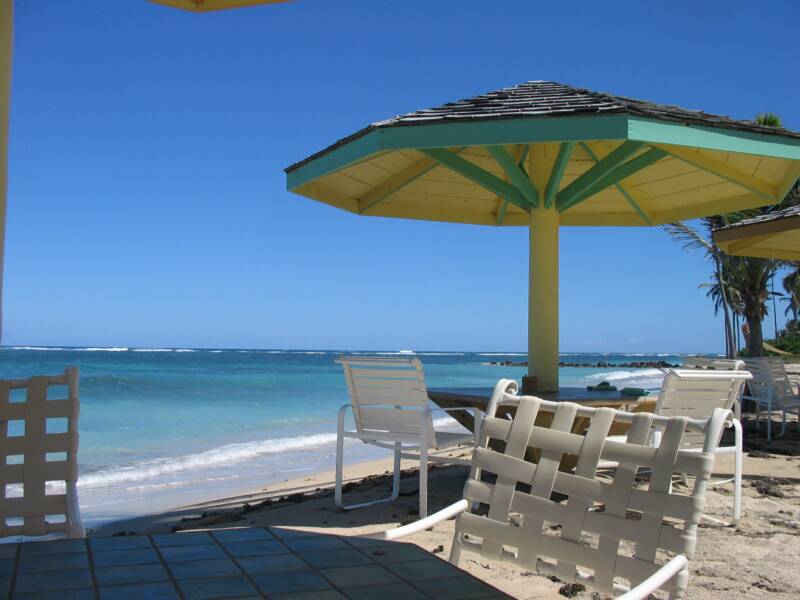 Nisbet's immaculate beachfront features widely spaced palapas, loungers and hammocks, as well as teh beach restaurant Coconuts, where breakfast and lunch are served.  Meanwhile, Nevis Peak stands sentry over the scene, often wreathed in clouds.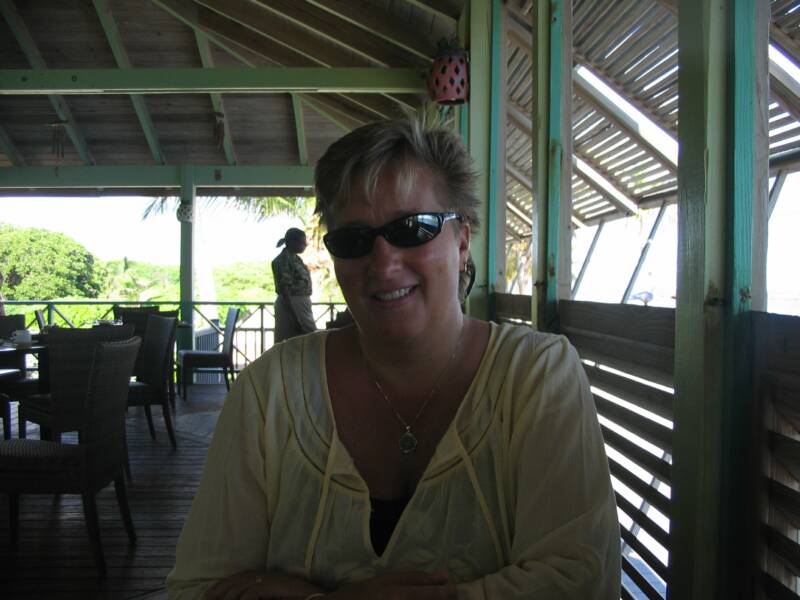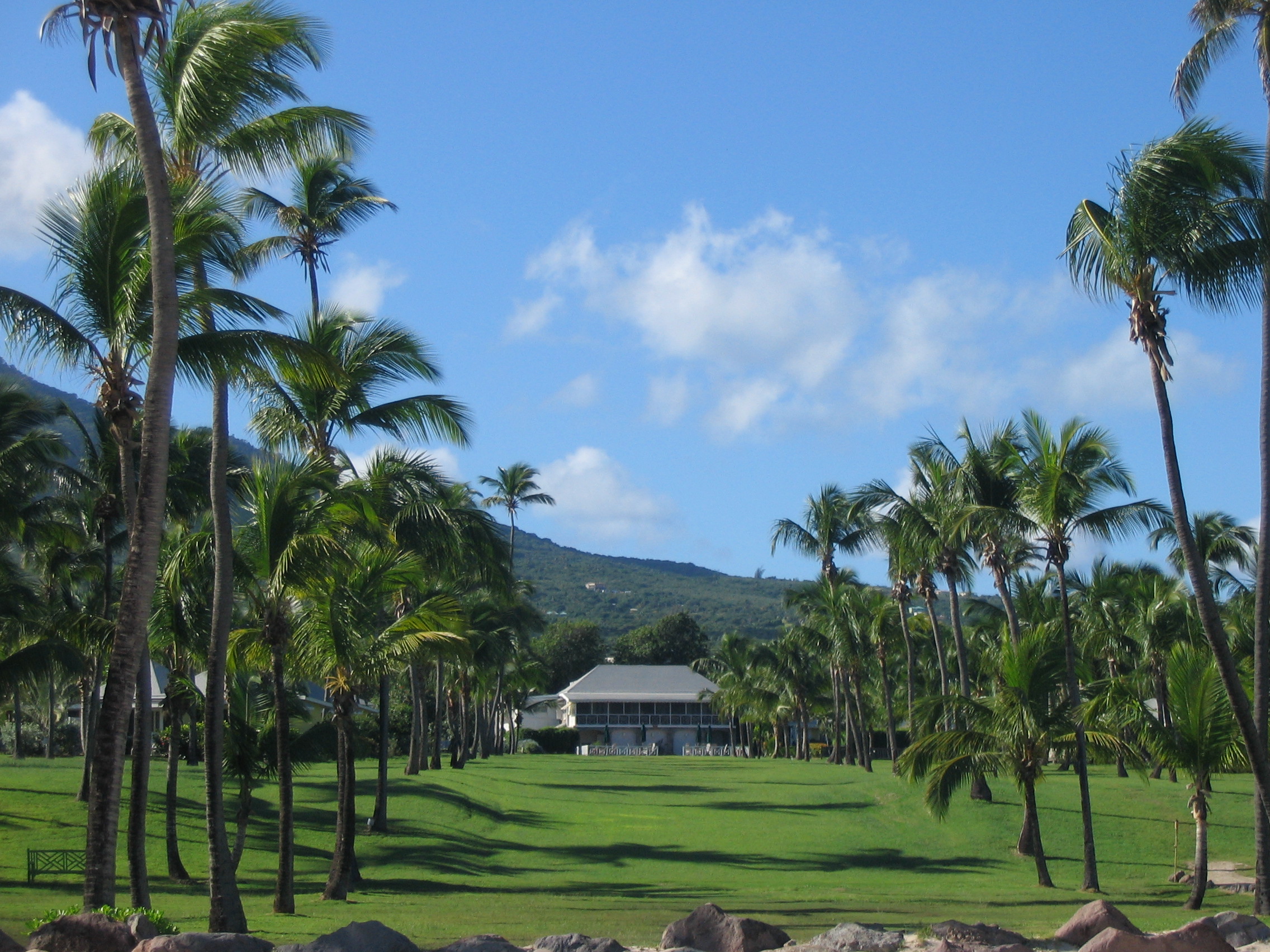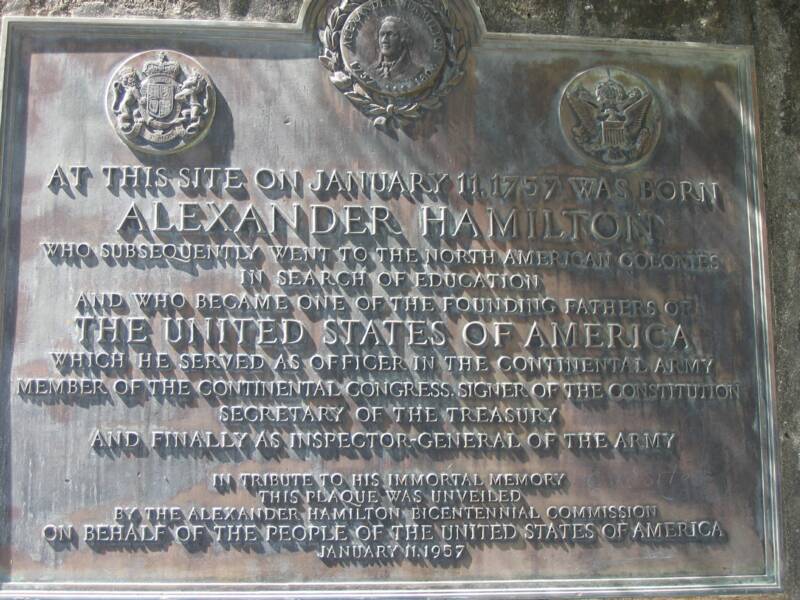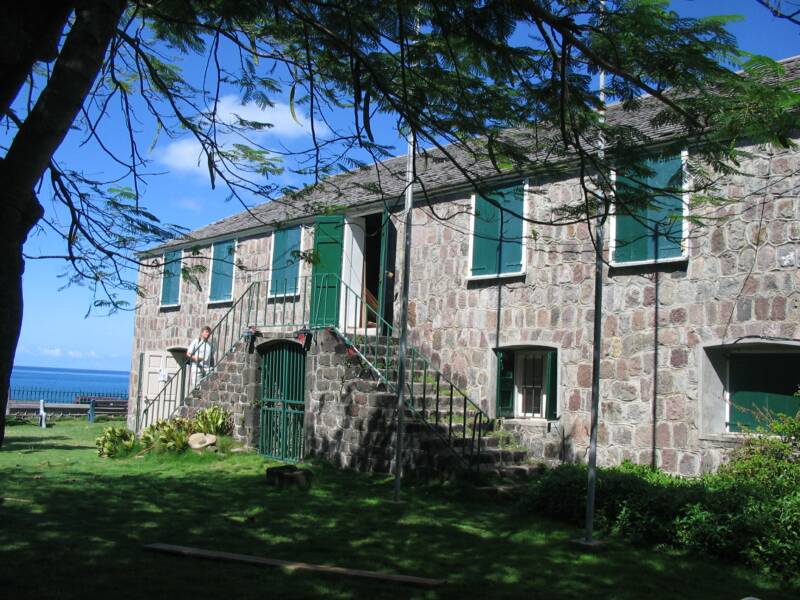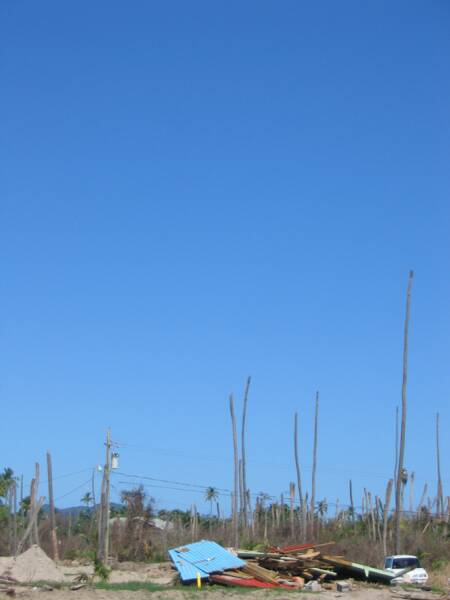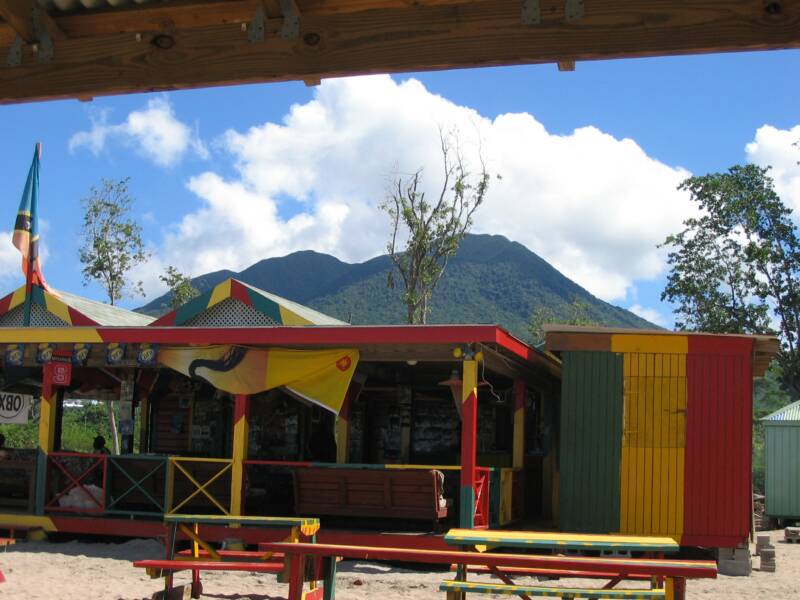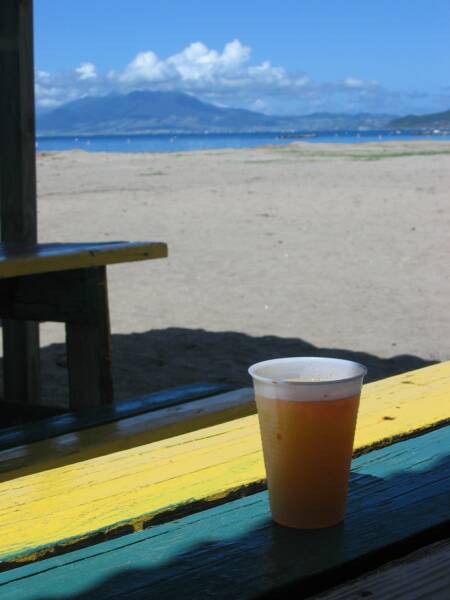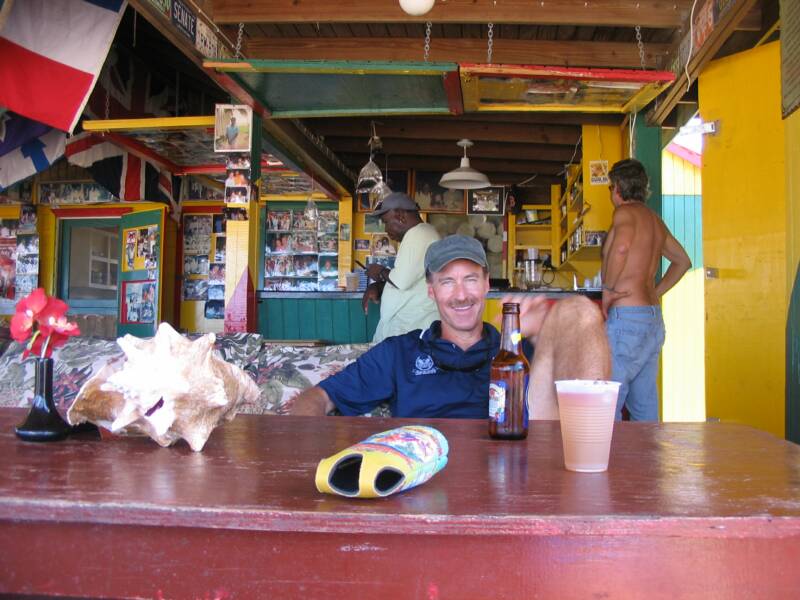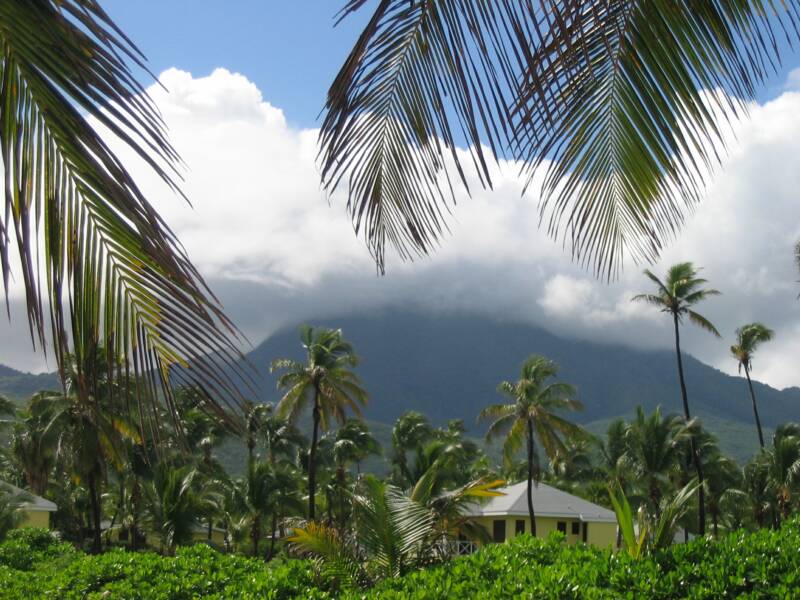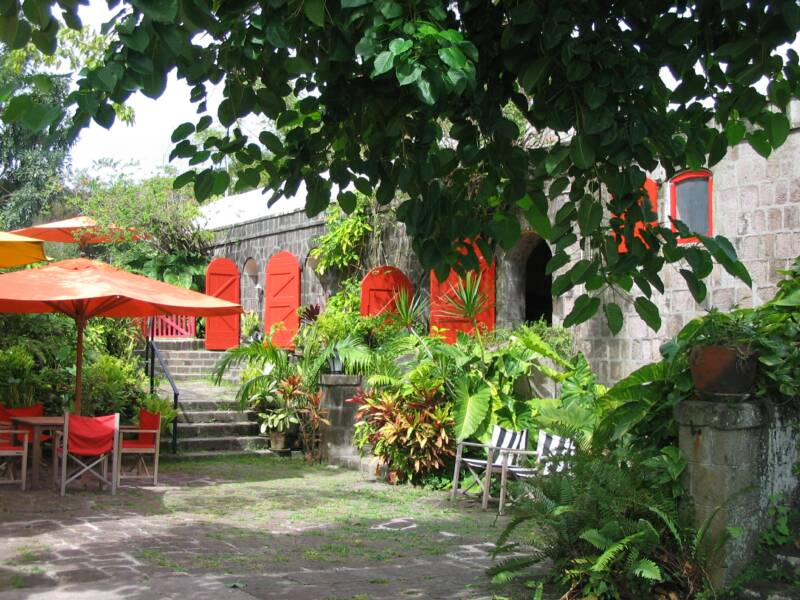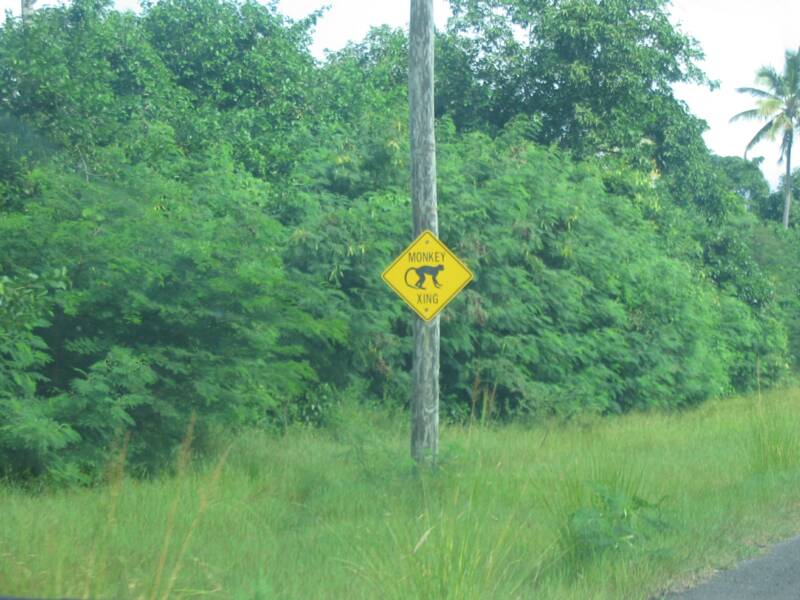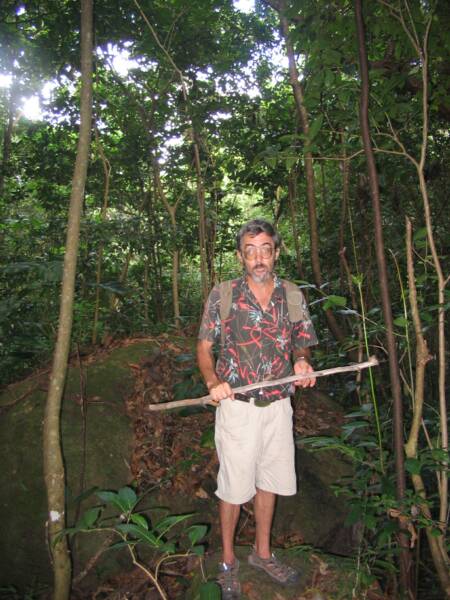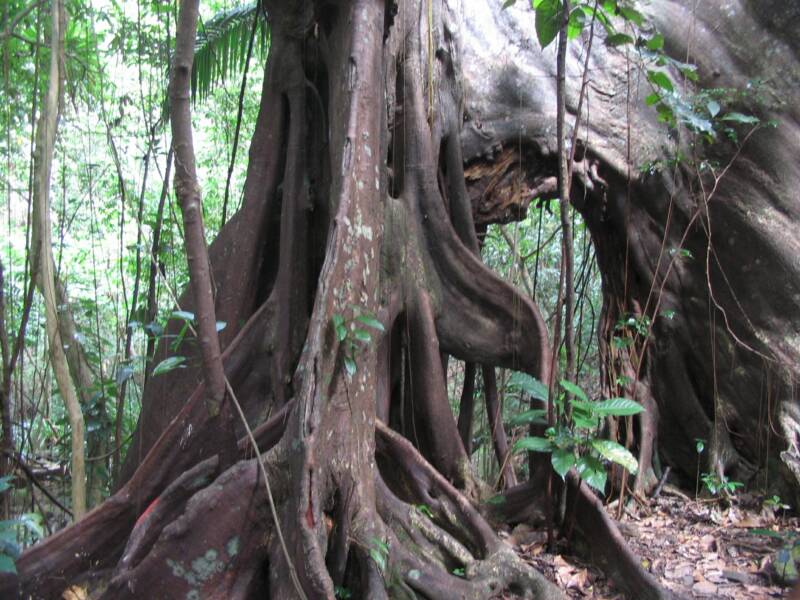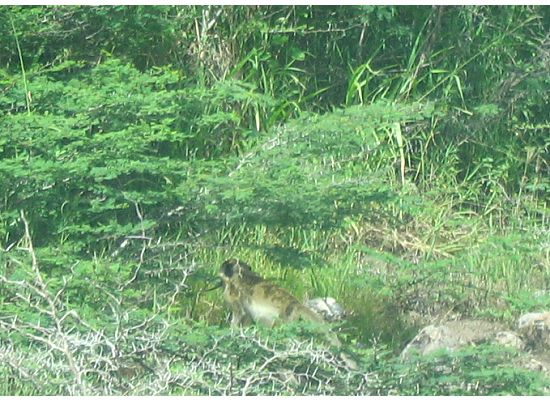 Nisbet's most distinguishing feature is its staff. If your shoulders haven't already lost their workday tension by the time you arrive on the island, any last vestige of it is gone after your first interaction with a staff member. After your first encounter, most of them greet you by name and appear to be genuinely interested in your experience. They also seem to be clairvoyant, since your room is magically cleaned or turned down or

or supplied with ice without your ever being aware of it. And the generosity of spirit at Nisbet doesn't appear to be limited to resort guests, as the Thursday barbecue demonstrates. At the barbecue, the crowd was large – and we recognized people from our travels, including visitors and Nevis residents alike – some who came for dinner, and some who came (and were welcomed) for drinks and dancing with the band.

When we're not sailing, Rick and I choose our Caribbean destinations carefully so as to get the combination of attractive environment and welcoming people that we seek. Although we had little time to prepare for our Nevis journey, in choosing Nisbet Plantation, we did just fine.

Nisbet's Great House crowns a gentle slope and is approached via an allee of palms.  Though the atmosphere is somewhat genteel, at core, it's a laid back place full of charm, warmth and comfort.

Quintessential Beach Bars

Just as we like to feel welcome at our hotel or resort, we also like to feel at home at that most important of island amenities: the beach bar. Part of the liberation of vacation is that you can drink whenever you want without worrying (other than about driving, of course). To me, the ultimate island freedom is the weekday pre-lunch cocktail (or two).

In the minimal planning we did for our trip, I e-mailed a sailing friend who'd visited Nevis by sailboat earlier this year. The only imperative she issued: get to Sunshine's and have a Killer Bee. And so, after some obligatory sightseeing in Charlestown, we made our way to the famed beach bar on Pinney's Beach. Fortunately, all the talk of the Four Seasons being closed due to Hurricane Omar prepared us for the sight of the scarred beachfront: piles of rubble, beheaded palms, burned vegetation. But, out of the emptiness of barren sand, Sunshine's stood like a green, yellow, red and black-painted oasis.

Hurricane Omar didn't make  a direct hit on Nevis, but its uncoventional west-to-east path wrought havoc on many a leeward shore in the Caribbean, including Pinney's Beach on Nevis.  Though many popular spots suffered, Sunshine's was back in business in short order.

Being early in the season, and with the US economy hurting, we weren't surprised to find Sunshine's to be pretty slow. We promptly ordered up our first Killer Bees: a passion-fruit based rum punch with bitters and nutmeg, with a deserved reputation for being deceptively lethal. "One and you're stung, two you're stunned, three it's a knockout." We were soon visited by one of the resident beach vendors – to whom I'm always willing to give at least an ear, and in these hard times, a few bucks. His wares were not of particular interest, but after I showed him what I liked, he was quickly making a custom ankle bracelet for me. We spent a good 45 minutes chatting about wide-ranging topics, and eventually our lunch came – creole-style fish (yum). We whiled away the better part of the afternoon there, not that the 3 Killer Bees I had would have allowed much more.

Sunshine's is set up to encourage indolence, as if its beachfront location and laid-back attitude aren't enough. The seating is deep loungers with thick cushions that make it virtually impossible to sit upright, but invite dozing. The soundtrack is reggae (mostly) and occasional '80s horrors, but in the background, the better not to obscure the other soundtrack, which is the banter and chat of visitors and denizens alike. The décor is typical: flags and license plates, with lots of pictures of visiting celebrities (some of whom appear so often as to make one wonder about a rum-drinking problem…).

Rick kicks back with a Carib, after wisely deciding that too many Killer Bees would not be a good idea (though I thought they were a great idea....)..Meanwhile, a Killer Bee in the foreground gives way to  a view of St, Kitts across the channel.

And if there were any question as to how welcoming Sunshine's is, our return visit on Friday was most telling – since Rick and I arrived soaking wet after a downpour in the rain forest, mud-caked shoes, and my backside was covered with mud after a slide down a hill. Instead of

raising an eyebrow over my attire, I was offered a hose to clean up (but chose instead to rinse off in the sea, since I was wearing a swimsuit) and a fresh drink. Lunch followed – the best lobster salad sandwich I ever had, though the atmosphere might have colored that opinion. By this time, we were regulars, making leaving that much harder.

Haven't You Always Wanted a Monkey?

Lest anyone think we spent our entire week passed out on beach loungers or at Sunshine's, we did actually get out to explore the island a little bit, though admittedly our efforts were a bit half-hearted. We had a rental jeep for 4 days (seamlessly reserved through Nisbet) and used it.

Our explorations started in Charlestown for a little bit of shopping for local goods – some Caribelle batiks (made in St. Kitts), handpainted t-shirts, and some Nevisian hot sauce. Charlestown is a tidy little settlement, with a busy ferry dock. During the day, people bustle about in their rather formal business attire, and parking is tight. It's one of the cleaner Caribbean towns we've visited. Along the waterfront is a small museum which commemorates Nevisian history, and is the birthplace of Nevis' most famous son: Alexander Hamilton.

Lest anyone think our travels too indollent, we did work a little history into our travels by visiting Alexander Hamilton's birthplace.

Another time, our travels took us in search of less high-minded landmarks. We were looking for Domino College – immortalized in Jimmy Buffett's song of the same name, and located in Butlers (and even indicated on the very sketchy road map of the island). True to form, not a single road that we passed was marked, so we had to satisfy ourselves with landmarks – churches and shops and crossroads. We finally did grind up the road to Butlers, saw a building that could have passed for Domino College (of which we obtained confirmation later), and crossed off another landmark on the Jimmy Buffett Trail. Regrettably, we did not get to "t'row dem bones."

One of the most famous attractions of Nevis, which sets it apart from nearly every other island in the Caribbean, is its monkeys. Green vervet monkeys run rampant on Nevis, but are coy and elusive and do not sit for portraits. My first sighting was on the grounds at Nisbet, where a pair of them were bounding across the lawn. They were surprisingly large, looking like kangaroos with their long tails. I wanted MORE, and the "Monkey Xing" signs simply encouraged my quest. Hearing that Golden Rock Plantation is a popular gathering spot for monkeys, we headed there for lunch.

Golden Rock is a destination worthy of a visit, even without the potential for monkey sightings. Of the plantation inns on Nevis, only Nisbet is on the beach; the rest are located up in the mountains. Set among a lush tangle of vegetation,

Golden Rock Plantation is set among and within the ruins of sugar mills and old stone buildings, accented with tomato red

trim and accouterments – utterly charming. We chose for our lunch spot a small pavilion perched over the edge of the hillside with soft grass underfoot and rioting tropical flowers around us. In the distance, the sea and Montserrat (whose volcano appeared to be calm that day). Our lunch was the best mahi mahi sandwiches ever (again, could it be the atmosphere?), washed down with Carib. Our lunchmates were one of the couples from our ill-fated flight, and their friends.

We did see some monkeys at Golden Rock, but they weren't necessarily congregating there. We saw just as many monkeys along the roadside when circling the island. But they were way outnumbered by the goats, who do, indeed, own the road. And don't you forget it. If only I'd thought to ask Chef Tony for some goat curry….

On our last day, we arranged for a nature hike with Jim Johnson of "Top to Bottom" (whom we'd first seen at the Thursday barbecue). The hardest part of our journey was finding our rendezvous point, the roads being as ill-

Although we'd hoped to see more monkeys at Golden Rock (top left), we only saw a few.  But, as the road signs warned, we saw the monkeys everywhere on the island.  Though visitors are amused by them, they are considered a nuisance by residents.

marked as they are. We'd gotten within striking distance when a passing driver guessed we were looking for Jim and pointed us in the right direction. We were joined by an English couple also staying at Nisbet.

Our hike was fairly easy (I didn't have the right shoes for anything more), and incredibly informative and interesting. The higher we climbed, the higher the rainfall rates, and the more dense and unusual the flora. Jim schooled us in botany, zoology, history, geology, sociology – we got it all. And, about two-thirds through our walk, we got what one expects in a rain forest that gets as much as 300 inches of rain per year: a torrential downpour, soaking us from head to foot and drowning out conversation. Thankfully, I'd worn a swimsuit under my clothes, and packed a towel in the jeep. My shoes, however, proved not to be up to the task of gripping wet vegetation, and I took two muddy falls which bruised my ego and left me covered in mud.

Our guide, Jim Johnson, takes us through the lush, wet, and -- yes, rainy -- Nevis rain forest.

Parting Shots

Had we not had to scramble to make new travel arrangements and wrestle with the airline to which we'd been loyal for nearly 2 decades, our trip to Nevis would have been nearly impossibly idyllic. As it turned out, the snafus were merely the sour against which the sweet seemed all the sweeter.