CAT ISLAND – November, 2006

Third Time is a Charm

Having just returned from our third visit to Cat Island in the Out Islands of the Bahamas, it's clear that this remote island retains for me all the appeal that induced return trips in the first place. Although we had to wait two years for this trip, those two years had done nothing to change what we loved best about the island, and the resort at which we stay (Fernandez Bay Village). Nevertheless, it does appear that news of Cat Island's charms is slowly whispering out….

My first clue that things were getting busier on Cat Island was when I called to make our reservations, many months in advance of our visit. For our planned trip a mere four days into the "season," I discovered that the cottage we preferred, Shane Shack, was not available; in fact, it had 3 different sets of occupants the week of our stay! But, we did have our choice of the rest, and we chose Royal Palm cottage.

Though not free standing like Shane's, Royal Palm is at the end of the row of 4 cottages attached to the north end of the clubhouse and had a wrap-around patio. Like all of the others, Royal Palm is constructed of local limestone with tile floors and a peaked, beamed wooden ceiling. 3 sets of windows and a large sliding glass door provide views of tropical landscaping and the pristine beach beyond. We had no use of the air-conditioning, and some nights even turned off the 2 ceiling fans, as the evenings were quite cool. The small kitchen area (sink, fridge, coffee maker) was part of a large walk-in closet which we used as much for making coffee as we did as dressing room and vanity. Like all other cottages at Fernandez Bay, Royal Palm had a large garden bath.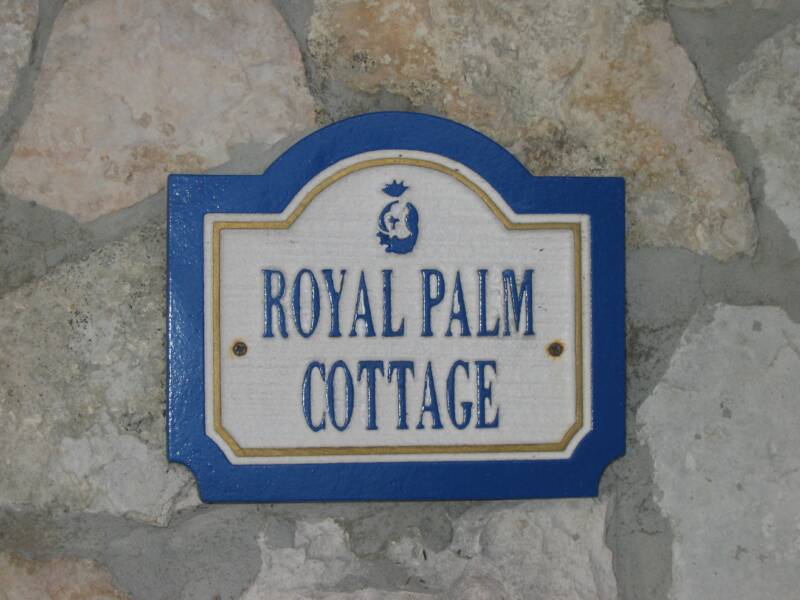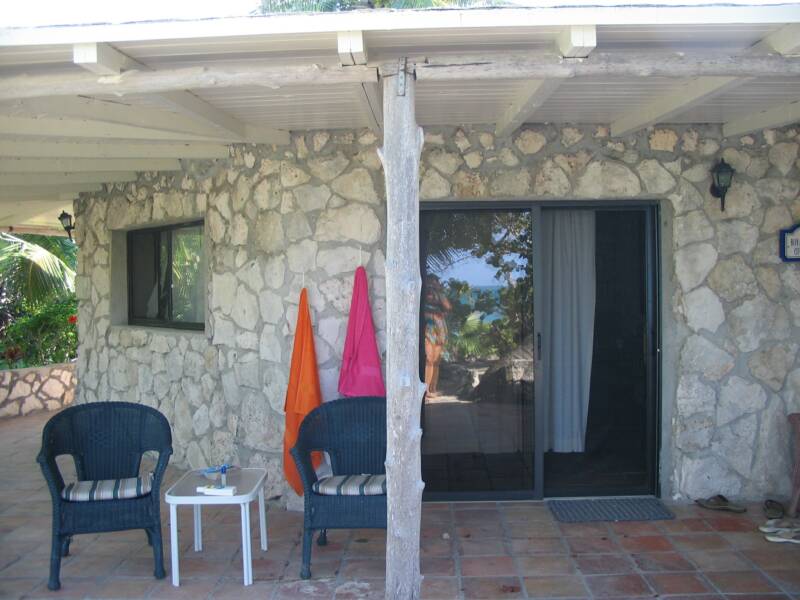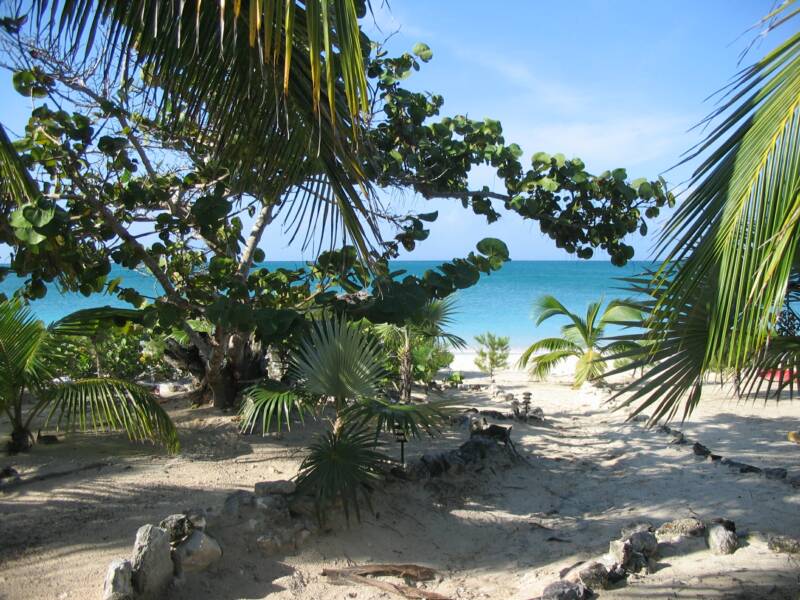 With Shane Shack not available, we found ourselves in Royal Palm.  This wasn't much of a sacrifice.  What we lost in proximity to the beach (a few steps) was made up in privacy and seclusion.  And the view is just as good regardless of the room.

Once we finally embarked on our journey, we got the next hint that perhaps Cat Island was getting a bit more popular when we arrived in Fort Lauderdale. (Rant: May I suggest that the geniuses who designed FLL be forced to see how it feels to make a flight with a tight connection? We had scant time to connect from US Airways to Continental/Gulfstream. This requires going from Terminal 3 to Terminal 1. However, those terminals are not connected, requiring the lucky traveler to leave the secure area of Terminal 3, go outside (rain or shine) and walk the distance (or try to find a shuttle bus), and go through security again. Thankfully, there were no cruise ships

disgorging at the same time, and we made it with enough time to gulp down lunch. Just. Rant over.) We arrived at the Continental Connection gate to find Tony and Pam Armbrister, owners of FBV, waiting for the same flight. We, they and 14 other passengers filled the flight to TBI. Tony said he'd never seen a full flight before.

Last time we flew this route, the flight stopped in Eleuthera first, where we'd cleared Bahamian customs and immigration. This time, we went all the way through and found TBI had its own customs and immigration agent, as well as a new tent where outbound security screening was conducted. Signs of progress?

Despite the apparent increase in traffic to Cat Island, we still found it easy to get away from it all and re-connect with each other, which is exactly why we come here. Thus, while I'll happily recommend Cat Island and Fernandez Bay Village to any fellow traveler, I try to make certain that they won't staying the same time we're there!

Watch Out for Frogs

Many years ago, Rick and I were invited to spend a weekend at friends' rented beach house in the Outer Banks. Since we were only transient visitors, we tried to be as unobtrusive as possible. So, when it got to be time for everyone to rinse the beach off before heading out to dinner, I "sacrificed" myself (or so I thought) and volunteered to use the outdoor shower instead of hogging an in-house bathroom. Aside from cold-water dousings at camp, I'd never used a proper outdoor shower before, and had no idea what a wonderful, sensual experience I was in for. It was sheer bliss to shower under warm water in the open air. Since that time, we've never rented a beach house without an outdoor shower.

Similarly, one of the delights – at least for me -- of Fernandez Bay Village, is the garden bath in each cottage. The showers are completely private, surrounded as they are by native coral walls and open only above eye-level. But the balmy outside air surrounds you and you can gaze upon the starry skies at night, while hibiscus flowers bloom over the wall. Of course, open to the air also leaves the showers open to all manner of visitation, especially at night. Aside from insects, we've not been surprised to find lizards and the odd "money bat" (a large moth).

This past winter, I learned that part of Sports Illustrated's famous swimsuit issue was shot on Cat Island, and that the models and photo crews were housed at FBV. I quickly ran out and bought the magazine, curious to see how my personal paradise would be depicted, and hoping against hope that they wouldn't make it look too good and attract too many new visitors. In the little blurb about FBV, they had a quote from owner Tony along the lines of how he warned guests to check the toilet before having a seat, so as to avoid being surprised by an unexpected amphibious visitor. This tidbit of information, I thought, would be the perfect foil for the casually curious – most visitors just don't want to have to deal with critters.

Of course, while we'd had visitors in our garden bath before, we'd never had them in our toilet. Frankly, I was a bit jealous of those guests who had them – I mean, what a story! Now, I no longer need to be jealous. One night, around midnight, as I carefully turned on the light and lifted the lid, there he was: Señor Frog, eyeing me placidly. The first order of business was, of course, getting the camera! After that, I took a plastic cup and urged Señor Frog out of the bowl. Though he tenaciously tried to hang in there, I eventually shooed him into the hibiscus plant. Not that he didn't try to make repeat visits! Now I knew that stories of frogs in the loo were more than just lore.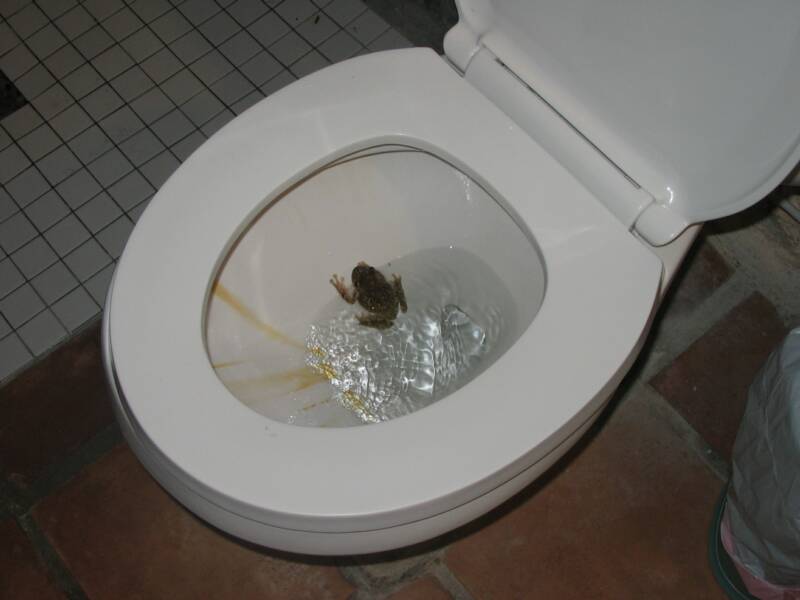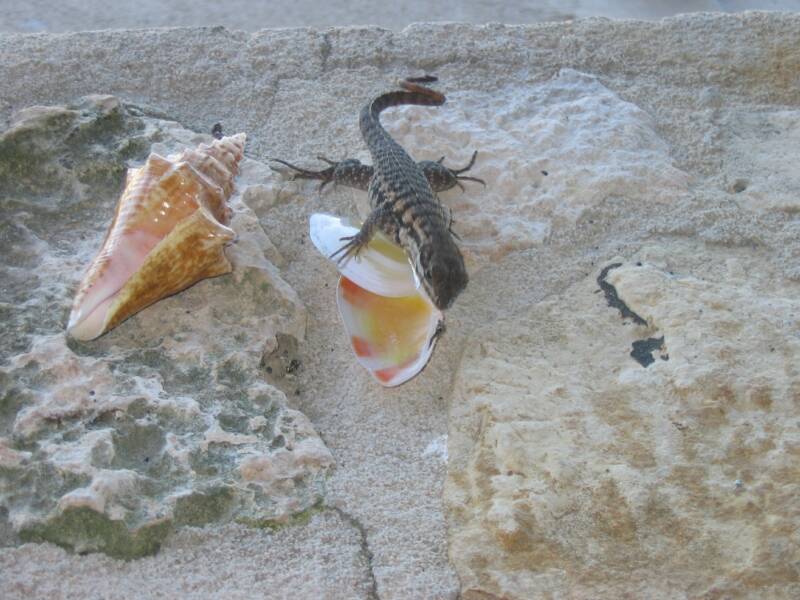 Frogs and lizards are just part of the scenery in the Out Islands.  Just be sure to check the loo before having a seat!

Time Here Still Moves Slowly

Aside from slightly more visitors to Cat Island, which the islands absorbs seamlessly, and new visitors in the bathroom, what we found on this trip was more of what we loved about it:

THE BEACHES

I remain convinced that of all the West Indies, the Out Islands of the Bahamas have the largest collection of breathtaking beaches. And, to make them that much more alluring, most of Cat Islands beaches remain undeveloped and un-peopled. Daily, we walked the length of Fernandez Bay's gorgeous floury strand. Several times, we took kayaking expeditions into Bonefish Creek and explored the beaches and sandbars that line its shores and the islet created by the creek. Those beaches offered up shells, sand dollars, crystalline blue waters, and most importantly, solitude.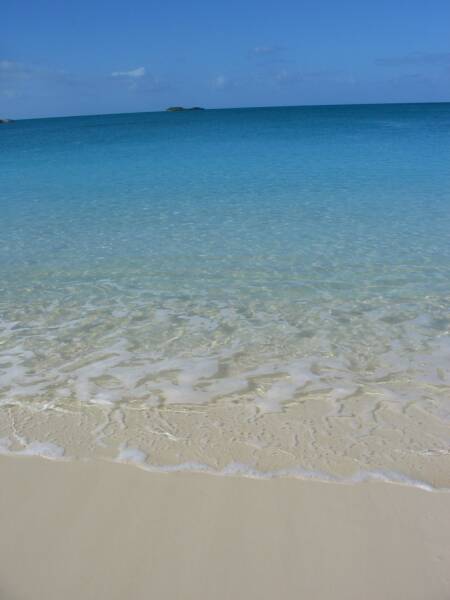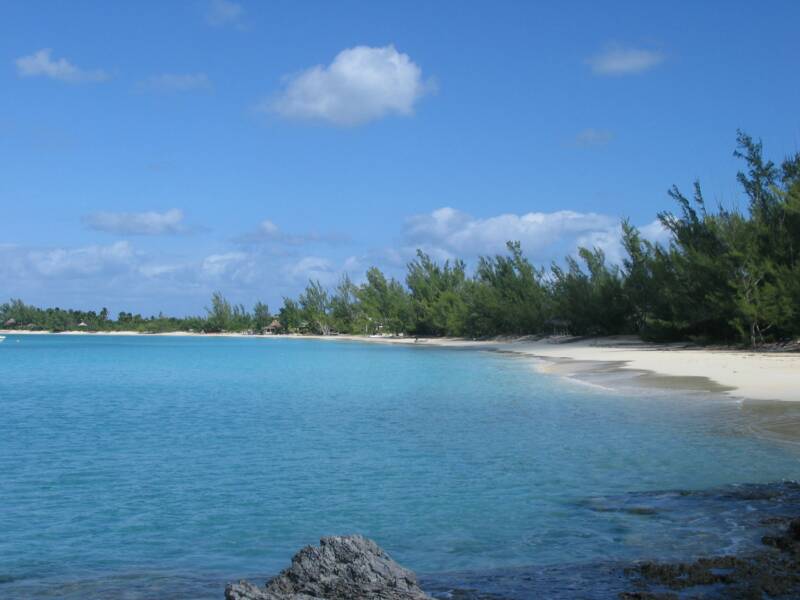 If one never left the beach at Fernandez Bay (above and left), he could still be satisfied that he just enjoyed a world-class beach.  But there is much more to see...

On the days we had a rental car (a 4WD Pajero of uncertain vintage, rented from Gilbert's), we wandered further afield. I remain enthralled by the ocean-side beaches, with kicked up turquoise surf crashing on pinkish sand. Although the "junk" washed up on

windward beaches is irksome, it is also endemic up and down the Bahamas, Turks and Caicos and Caribbean and therefore unavoidable. And it's fascinating, so when one tires of bodysurfing, wading, and splashing in the sea, endless hours can be spent marveling at lightbulbs that land on shore intact and wondering where the next treasure will be.

Beaches on the Exuma Sound side of the island are the very stuff of tourist board brochures. Generally, the water is as calm, and the bottom as uncluttered, as an endless swimming pool. Aside from the Fernandez Bay area, we visited spectacular and empty beaches at Port Royal (near the north end of the island) and the town of New Bight (near the middle of the island), as well as the somewhat weedier (but interesting, because of the shoals of shells) beach on the south side of the island at Hawk's Nest.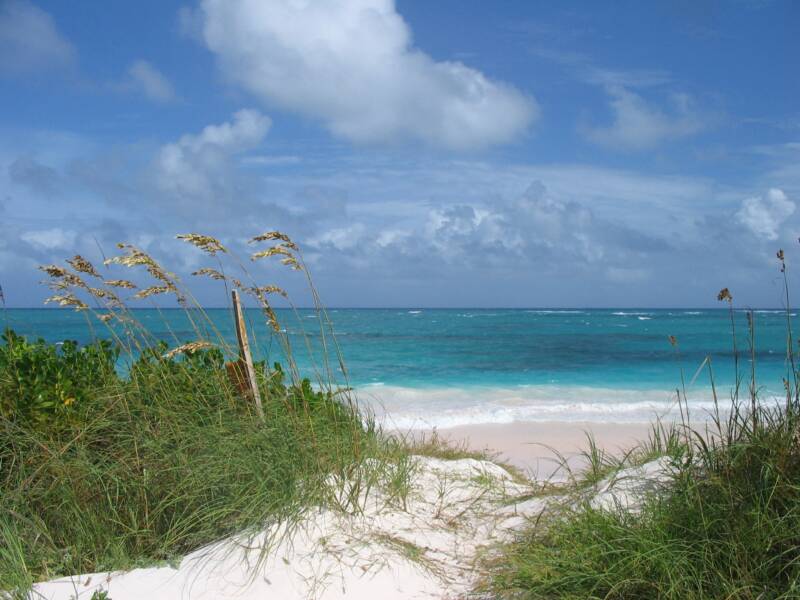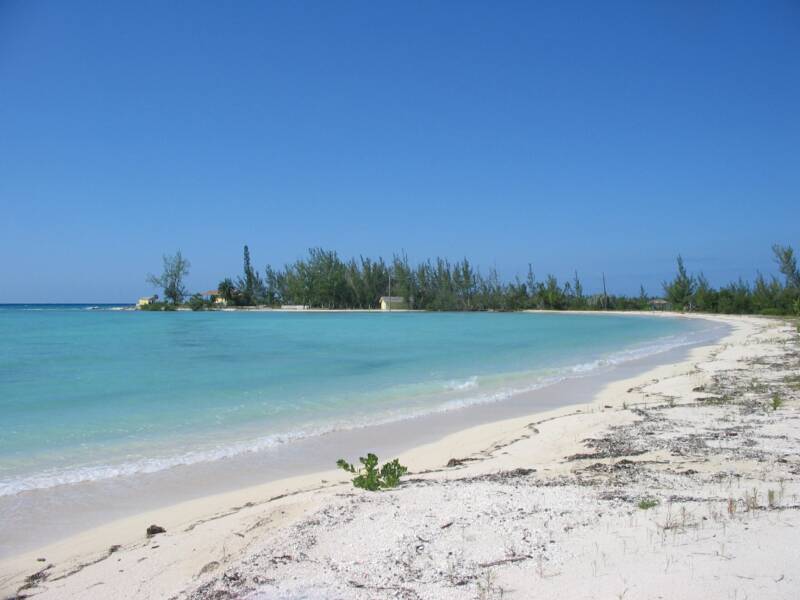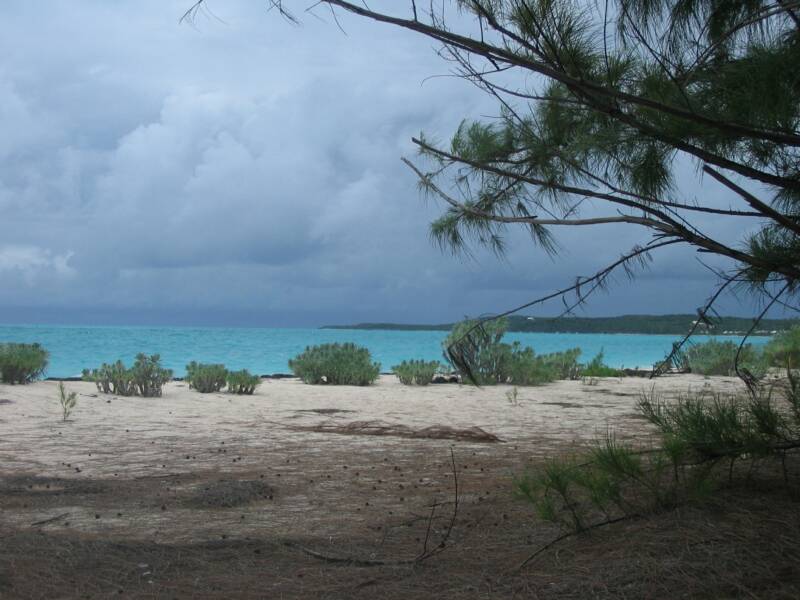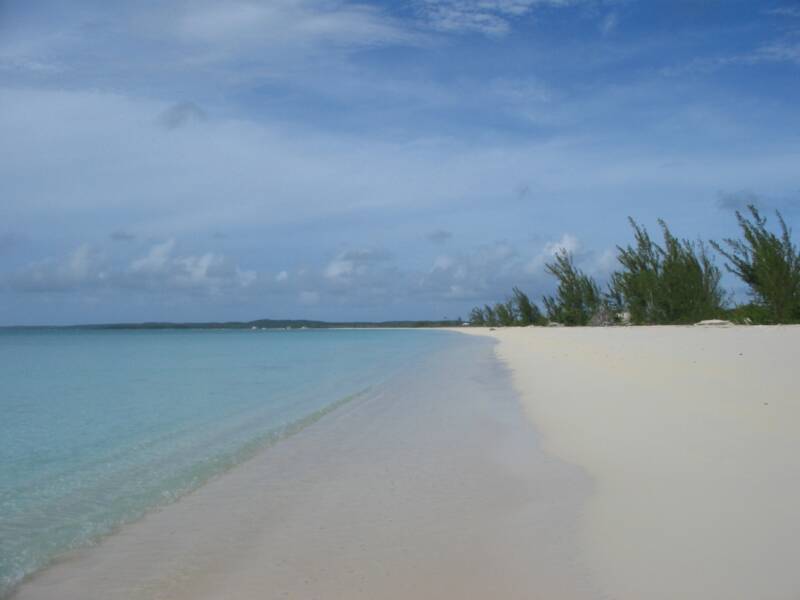 The perfection of Cat Island's beaches never seems monotonous, as each one seems to have its own personality.  We've never encountered a person, or spirit, on New Bight's beach (top left), which is close to a cemetery.  Meanwhile, Fine Bay (top right) sports pinkish sand and tossing Atlantic surf.  Port Royal (bottom left) glowed blue in the face of looming storm clouds, while the beach located near the marina at Hawksnest (bottom right) sports shoals of tiny shells.

Our past visits to Cat Island were remarkable for their generally perfect weather: temperatures in the upper 70s or low 80s, clear skies, light winds. This time, we visited about a week later in the year than in the past, and noticed a slight difference. We flew in on a big tailwind, the result of a cold front passing through; another cold front came through midweek. Though the temperatures varied only slightly, and there was only scattered rain on the island, the most notable impact of the cold fronts was the strong westerly breezes instead of the prevailing easterlies. The wind shift kicked up the seas on the leeward side of the island, which not only seemed to cool the water temperature, but also gave us an unexpected but welcome treat: falling asleep to the sound of waves.

OTHER RESORTS

Though Cat Island stretches for 46 miles, and traveling the distance of its one main road can seem to take a long time, the permanent population hovers around only 2,000 souls. Except for its length, Cat Island is a very small place. Thus, visiting the other resorts on the island is much like going visiting in a small town. On this trip, we visited Sammy T's, Greenwood Beach Resort, and Hawk's Nest, effectively covering the three corners of the island.

Having never covered the southeastern end of the island, we made our first day trip to spectacular Fine Bay on the Atlantic coast after an early stop to re-visit the Hermitage. After getting tossed about in the surf and walking the endless pink sands, we paid a visit to Greenwood Beach Resort for lunch. There was no one in sight, but we scared up the owner, and got the divemaster to dig up some lunch, which was served on an oceanside patio. The place had a funky, casual 60s vibe, a look the cognoscenti now seem to call "Mid-Century Modern," but which I call "Brady Bunch" style.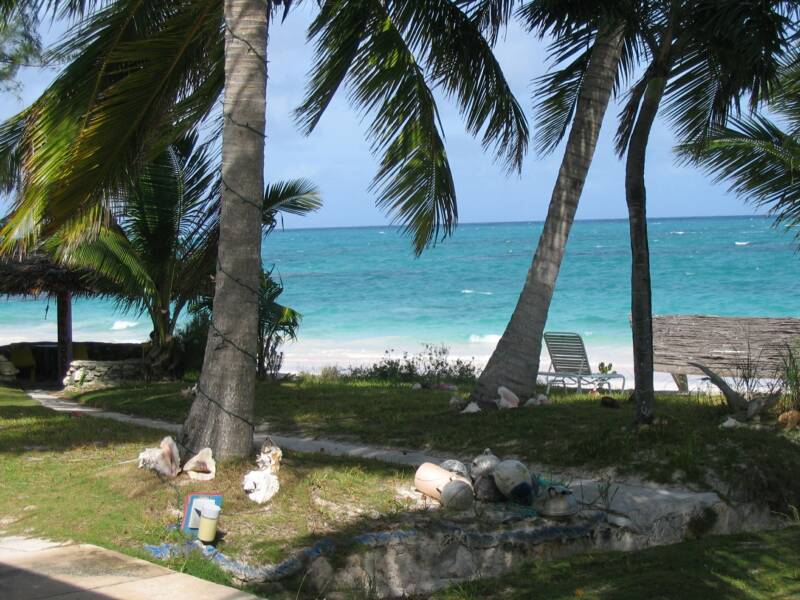 Greenwood Beach Inn has a funky, retro vibe, and enjoys prime beach front on the southern end of Cat Island's Atlantic coast.

A visit to Sammy T's, in the northern part of the island, followed a long morning of bumping along sand tracks in search of beaches and evading raindrops. By the time we arrived, we were a few minutes early for lunch and sought refuge from the rain under a comfortable porch roof. Sammy's had no guests this day, but we were nevertheless warmly greeted by chef Carnetta, who had formerly worked at FBV and sent her regards to FBV manager Donna. Carnetta whipped up the best grouper fingers and cracked conch I've ever eaten.

Finally, since we were covering all corners of the island, we went in search of the recommended beach at Hawk's Nest, on the southwestern end of the island. We stopped by the office (no guests here this day either) and they invited us to take free reign of the resort, including kayaks, bikes and other amenities. Getting to the beach meant crossing the runway of a small airport

and passing by the marina, but soon we found camped out near a palapa on a white sand beach fronting blue water. The beach was great for shelling, but not especially pretty as Cat Island beaches go. We were happy to while away the morning before enjoying a Hawk's Nest lunch.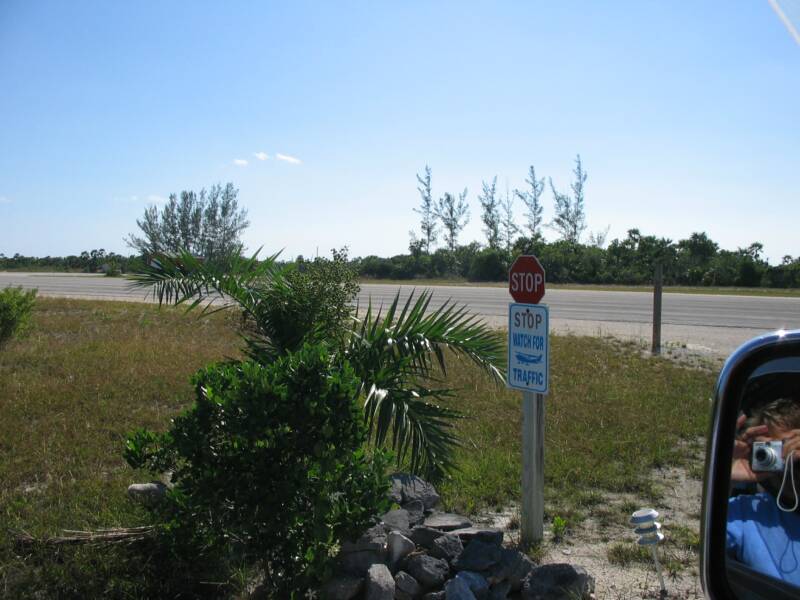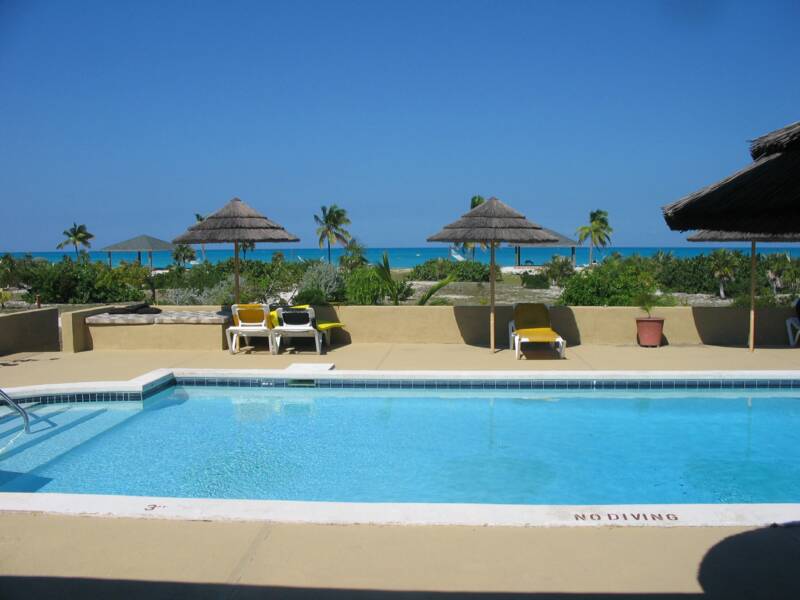 Crossing active runways is one of the peculiar aspects of getting around Cat Island -- one does this at both Hawksnest and at Arthur's Town.  At Hawksnest, while the pool is pleasing, the view beyond is even more enticing.

All in all, while we're curious to visit some of the other resorts, and try the food at their restaurants, we were happy to head back to FBV at the end of the day.

MEANDERING CREEKS

One of the most unique features of Fernandez Bay is Bonefish Creek, a sandy bottomed network of creeks meandering through mangroves. The entrance to the creek is at the south end of Fernandez Bay's beach, and it exits a couple of miles further south into Exuma Sound. The sandy bottom ensures that the water is a searing light blue through most of the creek's journey, rather than the more expected murky green.

The creek is a beach-seeker's delight, providing access to a variety of sandscapes, as well as harboring a blue hole (which we didn't visit this time). But it's also an incredibly interesting eco-system. We've kayaked at high tide and mid-tide, but we've found that by far the most interesting time to tour the creek is just before low tide. Donna advises against going in at this time, and she's not wrong; as the water drains out of the creek, many portions of it which are typically 3-5 feet deep now bear only inches of water, if any at all. We hit bottom many times, and had to pole ourselves out with our paddles in several spots.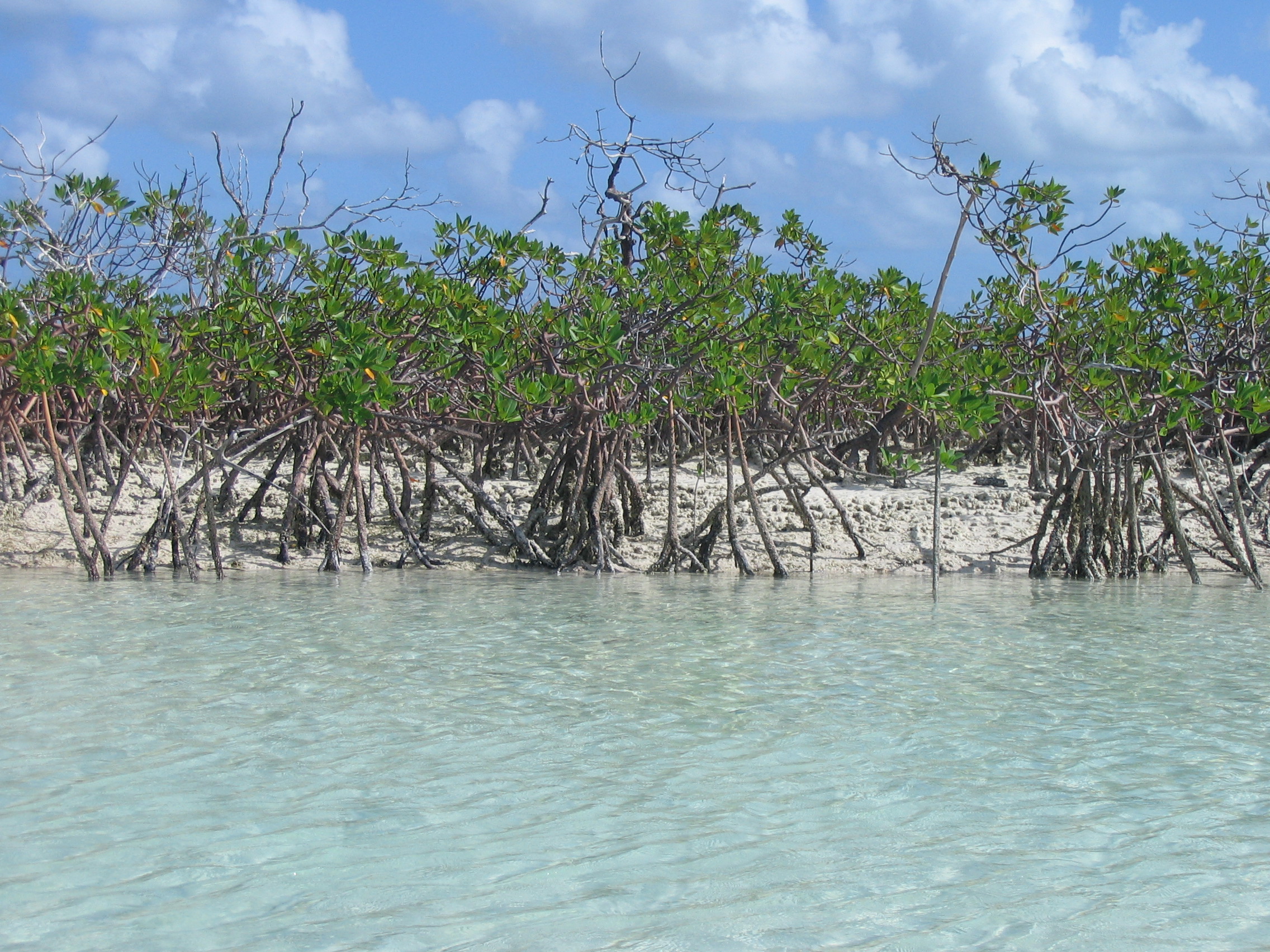 Bonefish Creek meanders through mangroves and sand flats.  At high tide or low, it's ripe for exploration.

What low tide offers, however, is a great look at the aquatic life of the creek. We would typically leave the marked channels at many points and paddle into dead ends and shallows. As the tide turns, schools of fish zoom out of the channels seeking deeper water or escaping predators. We saw bonefish galore, as well as many fish we did not recognize, all making their rush hour exodus. With the water as shallow as it got to be, we got a much better look at the bottom of the creek, including sprouts of mangroves and jellyfish at rest. An occasional rustle in the branches of the mangroves usually pointed us to long-legged white birds (ibis?), though birds didn't seem to be plentiful.

PEOPLE

While we go to Cat Island for seclusion, the 

end-of-the-day routines at Fernandez Bay are a singular pleasure. In the late afternoon, Rick and I would typically wind down with a cocktail or two as we watched a spectacular sunset from our patio, followed by a delicious outdoor shower. By 6:30, the other denizens of FBV started gathering at the tiki bar to have a drink and share the day's experiences. Except for the few groups traveling together, or our coincidental re-introduction to a couple we met on our first trip, none of guests have ever met each other before arriving here, and yet conversation flows easily and the laughs came readily.

After some passed appetizers, we'd head for the dining patio or dining room for a buffet dinner. One night we shared dinner with Pam and Tony; another night we were invited to join in a 75th birthday celebration (to which I contributed by dousing everyone's cake with a splash of Nassau Royale from the honor bar, on my tab). Most other evenings we spent with a couple we'd met that week who were from Annapolis, our sailing stomping grounds. A few evenings, we circled round a bonfire on the beach to gently ease us towards sleep.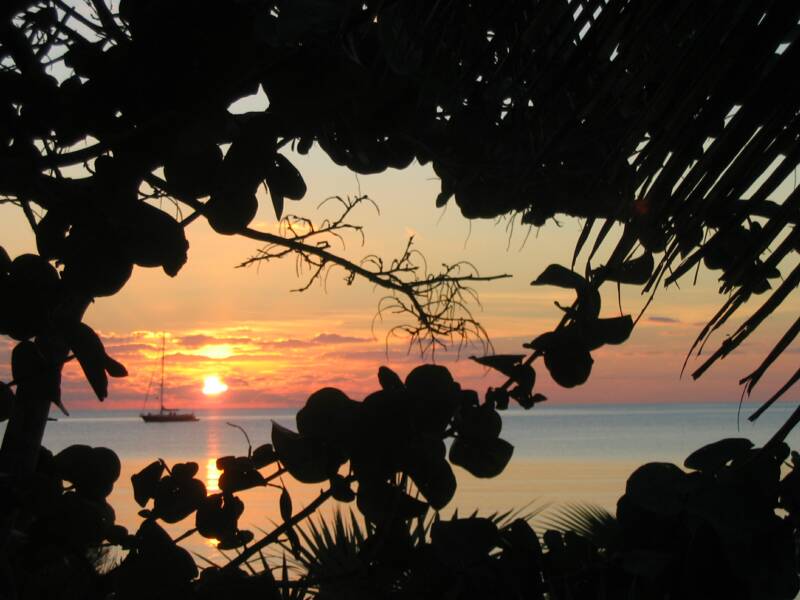 A gorgeous sunset -- this one with the sail training vessel Geronimo in the foreground -- gently eases us into Fernandez Bay evenings.

Out and about on the island, just as at FBV, there is a generosity of spirit and a genuine welcome. So, while we come here to get away from the November cold, we get to bask in the warmth of the people's embrace as well as the sun.

PRIOR VISITS