Paradise Revisited - Cat Island, November 2004

Seldom does it happen that we are so enthralled with a place that we can't wait to re-create the experience.  And, that we are willing to risk the possibility that whatever "mojo" existed to make the first visit so magical will not be there on a return trip.  However, our last trip to Fernandez Bay Village on Cat Island in the Out Islands of the Bahamas, during the first week of November, 2003 (
click here
), was so perfectly delicious that we signed up for another trip during the first week of November, 2004.  Not only were we not disappointed, but we found our return visit even better than the first trip.
The Out Islands  Worth the Effort

"Did you know you were going to some place called 'The Bight'?"  That's what our ticket agent asked, quite dubiously, as we checked in for the first of our flights.  Oh yes -- we did indeed know!

Over the years, I've become increasingly disenchanted with the commercialization of travel to some of De Islands.  Places that used to be retreats from the crowds, high-rises and homogenization of home are losing that feeling of escape.  Once empty beaches are now dumping grounds for hordes of tourists who don't even know what island they're on ("If it's Tuesday, it must be...").  Getting away from it all has become harder.  Thankfully, there are still places where escape is not only possible, it's mandatory.  The Out Islands of the Bahamas are among them

Unfortunately (or, perhaps, fortunately), getting to some of the Out Islands is not so easy.  Last year, when we went to Cat Island, the flight schedules were such that we had to overnight in Nassau in both directions.  This time, with the addition of flights by Gulfstream, the trip can be made in one day -- mind you, though, it was 11 hours of travel door-to-door and 4 flights. 

Our route took us from BWI to Atlanta to Fort Lauderdale on Delta, with a switch to Delta code share partner Continental/Gulfstream.  (Not only did we switch airlines, but we got to experience the poor design of FLL.-- Delta was in Terminal 2, Continental in Terminal 1 -- but the terminals are not connected, necessitating going outdoors and then clearing through security again.  With crowds of recently disgorged cruise ship passengers, this consumed most of our layover, giving us barely enough time to grab lunch.) 

The Gulfstream flight first went to Governor's Harbour, Eleuthera, where we quickly cleared Bahamian immigration and customs.  When I chatted with the customs agent, he told me that Eleuthera had changed since Rick and I visited nearly 15 years ago: it had gotten slower (this is a positive endorsement, as far as I'm concerned!)  Then, we and just one other couple (coincidentally flying out of Baltimore as well, but via USAirways through Charlotte) re-boarded for the last leg of our journey.  By now, on our own "charter" flight, we were buzzing with anticipation.  By the time we made our approach over Fernandez Bay and landed at New Bight International Airport, our flight crew was just as excited about our destination as we were, unable to restrain their opinion of the view as "awesome."

Our return trip took the reverse route, not leaving the island til nearly 4 p.m., giving us nearly a full day on the island.  We were joined by the couple with whom we'd shared our southbound "charter" -- we'd bumped into them mid-week at Sammy T's Resort, where we stopped for lunch.  This time, however, we arrived to FLL's Terminal 4, the commuter terminal.  Not too crowded, and our pilots escorted us to U.S. Immigration through a back door; the airline's agent collected our bags, wheeled them through Customs for us, and personally took them to our connecting flights.  Despite the many legs and opportunities for snafus, our flights were timely, smooth and not quite full, allowing us to stretch out in relative comfort.

The Only Thing Better than Visiting Cat Island ...

...is being a return visitor.

A 3-minute taxi ride from the airport deposited us in front of Fernandez Bay Village's clubhouse, where manager Donna greeted us with hugs, and the dogs (Benny, Max and Oscar) with thumping tails.  Being a return visitor to FBV is like coming home.  Donna shoo-ed us to our cottage -- we chose Shane Shack again, a stone-cottage with a thatched roof and garden bath -- where we were greeted with fresh-baked cookies, a nice bottle of red wine like many we shared with owner Tony last year, and snacks in the refrigerator.

Because the routine of FBV is familiar to us, it took us no time to drop our bags, shuck our shoes and travel clothes, and head over to the honor bar to pour the first of many relaxing drinks.  We reported to the bar again at 6:30, when happy hour officially begins.  Soon Donna, then owners Pam and Tony, appeared, and we caught up on the year's happenings.  Since we arrived two days before the "official" opening of FBV, there is only one other pair of guests, a couple from Michigan who are also repeat visitors; the husband is an avid bonefisherman.  We all sat together at dinner, drinking more of that red wine.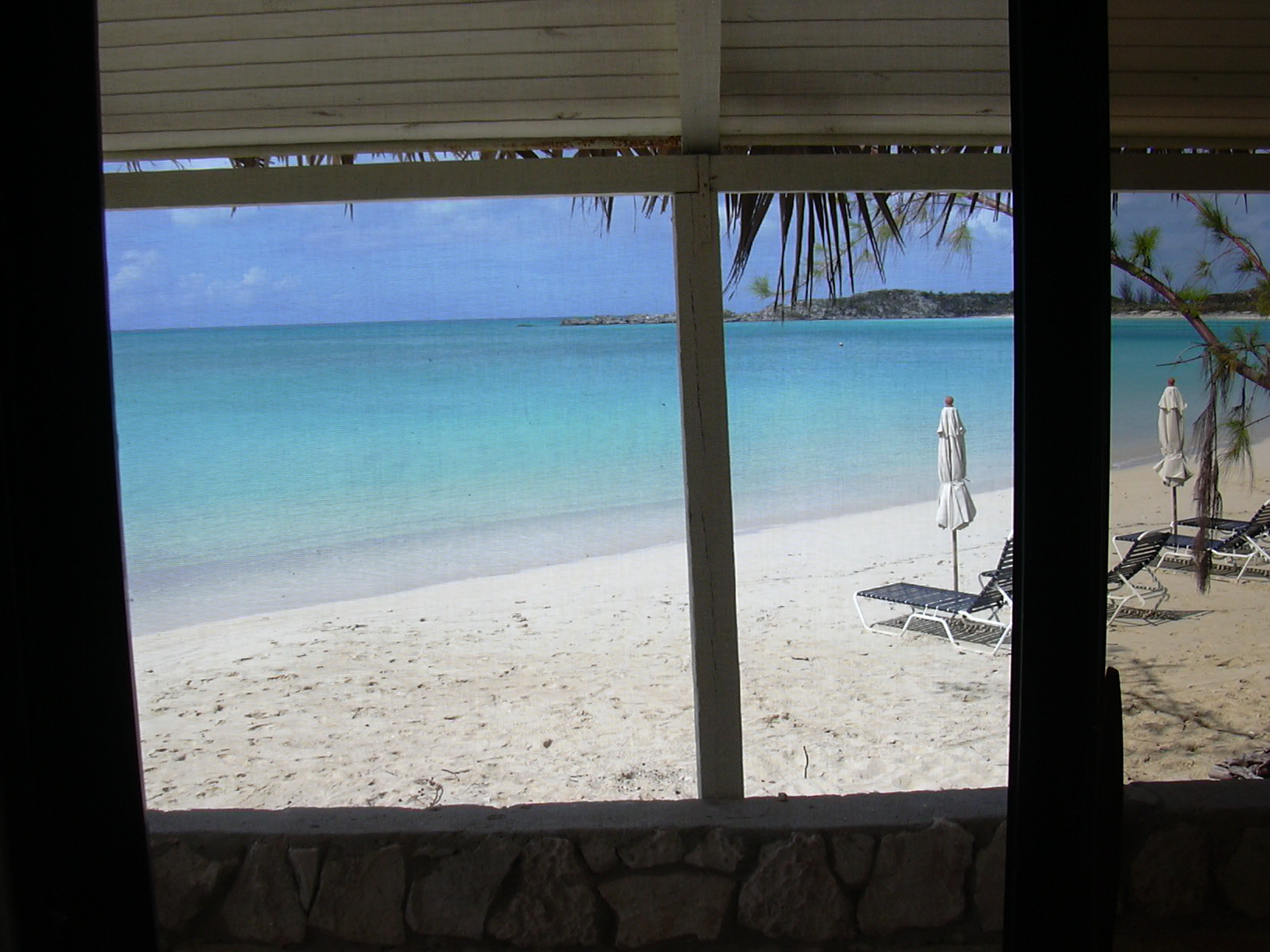 The doors and windows of Shane Shack provide idyllic beachfront views.  You can't get much closer to the water than this!

A nice thing about a family-owned resort is that the cast of characters  the people who set the tone of a place -- doesn't change much.  Within a matter of days, as people returned to Cat Island for the start of the season, we caught up with those  who helped make our first visit so memorable.  Beyond that, we made the acquaintance of the guests arriving over the course of the week, sharing our dinner table with at least one other couple, if not more, every night.  We may have had different world views, but the self-selecting nature of such a remote destination ensures that the people we met were good for an interesting and pleasant evening of conversation.

As well, we got the opportunity to meet other islanders.  We crossed paths a few times with Sylvia Laramore-Crawford, who owns a car rental agency that she runs out of her home on the

beach in New Bight.  A handshake greeting was never satisfactory for her; hugs were required as she invited us to her dining table to complete the paperwork for a 2-day car rental (NB:car rentals are paid for in advance, with cash, and include a $200 refundable cash deposit).  I bought an island cookbook written by Sylvia, which she graciously autographed for me; I can't wait to try out some of the recipes.

Another new acquaintance was Sammy T, the proprietor of the new Sammy T's Beach Resort in Bennett's Harbour.  We stopped there on Wednesday for lunch.  Because his cook was out, lunch was not in the offing, but Sammy made sure we could get lunch at Boggie Pond (in Arthur's Town), where we had a very local experience with delicious curried chicken (I enjoyed it so much that I made up a batch of it for dinner the day we got home).  When we returned to Sammy's on Thursday, we were greeted like old friends.  We had delicious cracked conch and grouper fingers, washed down with Kalik, for lunch, and whiled away an hour chatting with Sammy, learning about and touring his resort, and talking to our fellow "charter" passengers, who were staying here.

Hurricanes and Green Flashes

Given the destructive and deadly 2004 hurricane season,the question of how Cat Island fared after Hurricanes Frances and Jeanne should be addressed.  Hurricane Frances made a direct hit on Cat Island, as a Category 4 storm, and stayed over the area for over 24 hours; Hurricane Jeanne flirted with the area, but ultimately hit Abaco 150 miles to the north.

Given the intensity and duration of Frances, it was miraculous that there was no loss of life, and only moderate damage to property.  FBV lost the new thatch roof over the tiki honor bar; it is being replaced with a cedar roof.  A few homes on the bay suffered some damage, but none of it appears to be catastrophic.  There is much to recommend stone and/or concrete block construction, and the residents of these islands are tried by hurricanes often enough that they know how to build and prepare appropriately.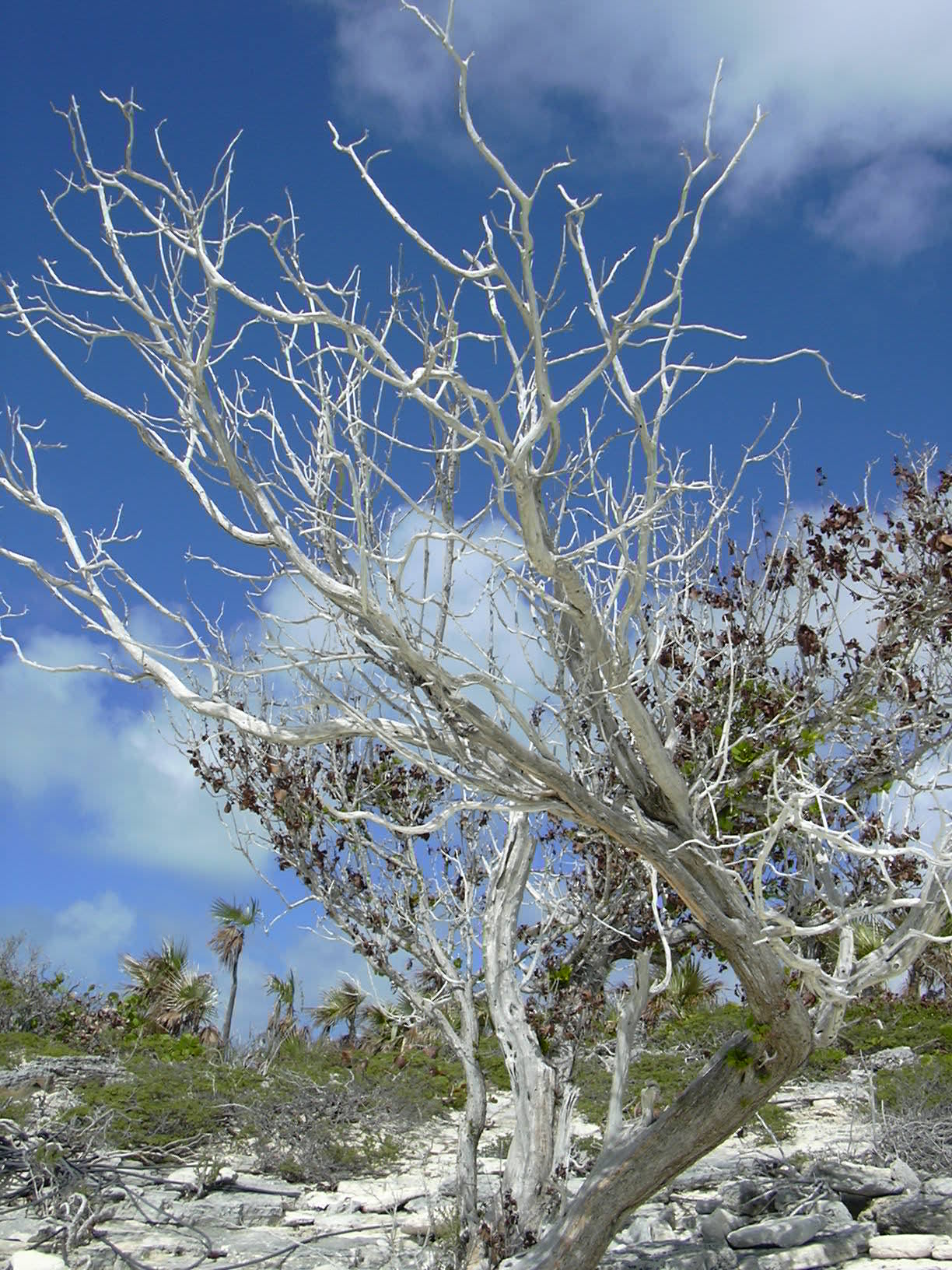 A leafless tree clawing against a blue sky makes a stunning visual statement, but also stands as mute testimony to the ravages wrought by the 2004 hurricane season.

Of course, on an island this relatively remote and primitive, there is less infrastructure to damage than in densely populated and built areas.  And the infrastructure hardly escaped unscathed.  During the days we had a rented car, we saw pavement that was washed out in places, replaced electrical poles, and damaged houses.  More of the damage was environmental, where entire stands of palm trees were browned from the salt spray driven inland; the pine trees that line the beaches were notably thinner; and many bushes and trees were knocked down (many of which we discovered as we tried to traverse tracks that may not have seen people since the storm; we had to stop and push them aside at times). Remarkably, we witnessed little beach erosion.  We're told that Frances certainly re-arranged some of the beaches, but succeeding storms brought them back to their former glory.

While the islanders endured this turbulent storm season, we watched helplessly from afar, hoping for the best.  Perhaps their suffering, and our worries, were rewarded with the week of perfect weather we got during our visit.   Each day was sunny, with highs and lows in the upper 70s.  On arrival, we turned off the AC in our room, flung open the 3 sliding glass doors, slid home the screens, and effectively lived outdoors for the rest of the week.  Thursday and Friday were perfectly cloudless, and as the sun set over the clear western horizon, we experienced that elusive tropical phenomenon: the Green Flash.  Thursday's was particularly showy, and many of the denizens of FBV got an eyeful that night.

The wind did clock around on Friday, portending a cold front.  Saturday was much cloudier than the days before, but it looked like the couple getting married that afternoon were not going to have their wedding day rained on.  Of course, by that time, we were on our way home.

The Beaches  By Kayak, By Bike, By Car

The beaches of Cat Island are what it's all about for me.  And they are just for me.  Other than the beach at FBV, I never saw another soul on any of the 10 or so beaches we visited in our quest for beach bliss.  Of course, all of that solitude comes with a price: you do have to GET yourself to the beach.  This involves -- at minimum -- some exercise, and can include a bushwhack through terrain which clearly hasn't seen recent human activity.

As we did last year, we did a good bit of our beach exploration by kayak from FBV.  Bonefish Creek, the mangrove creek which starts at the south end of Fernandez Bay, is worthy of exploration in its own right; it's bounded by sand dunes, and shows a number of sand bars at low tide.  At its southern opening there are a couple of beaches facing Exuma Sound, and the island created by the creek has another pair of beauties.  This time, we also got the timing of the tides right and paddled to the "Boiling Hole."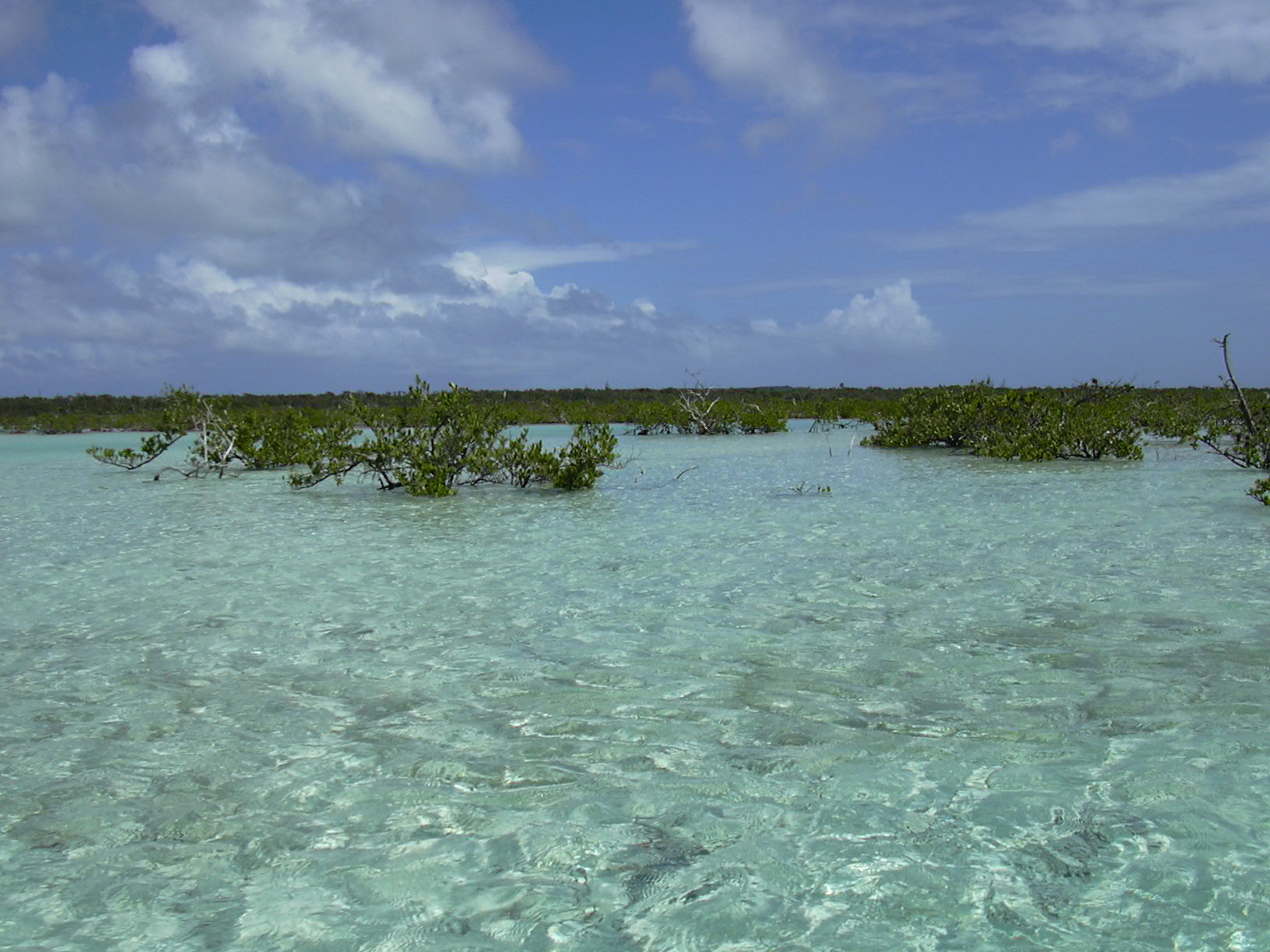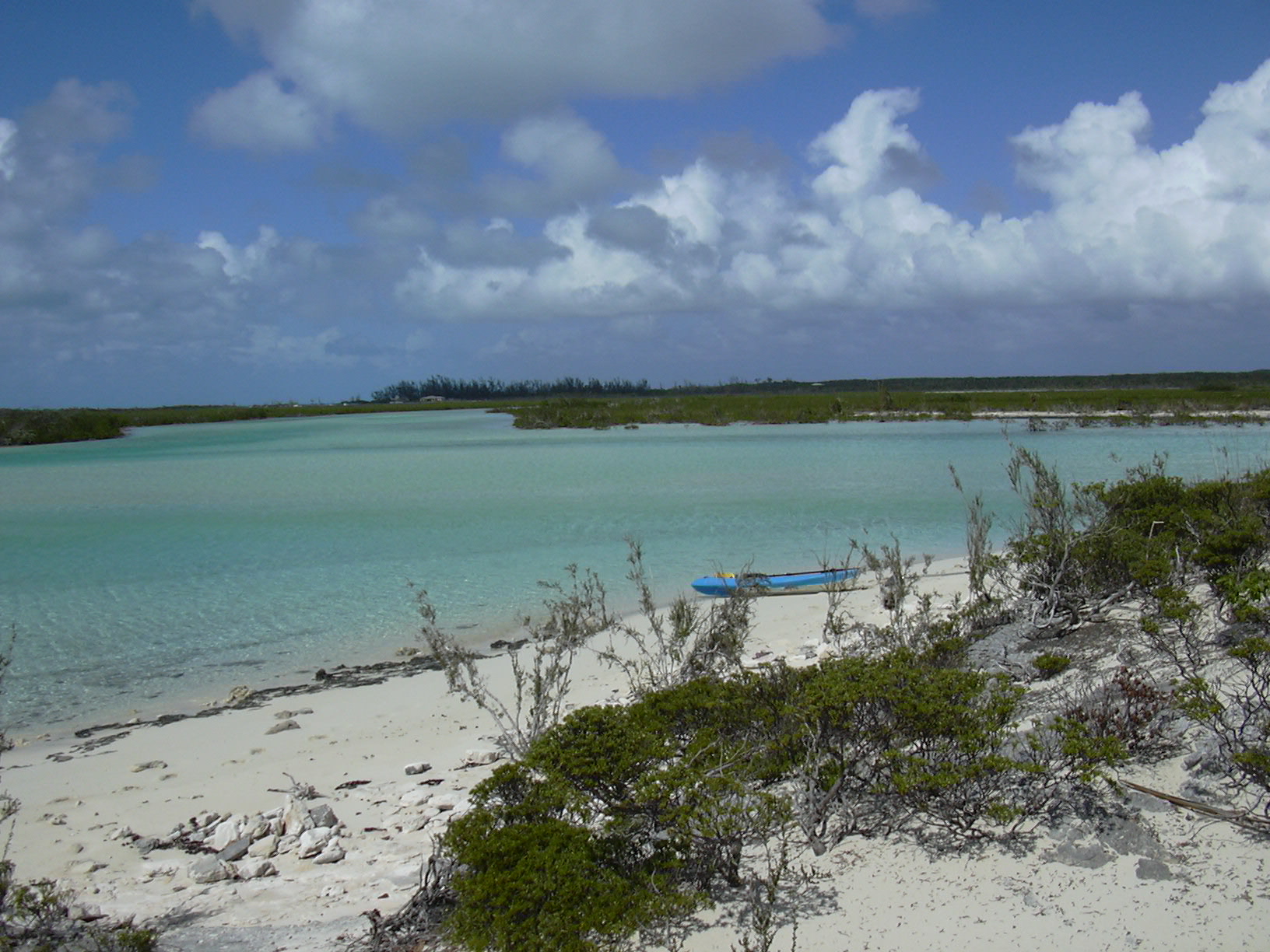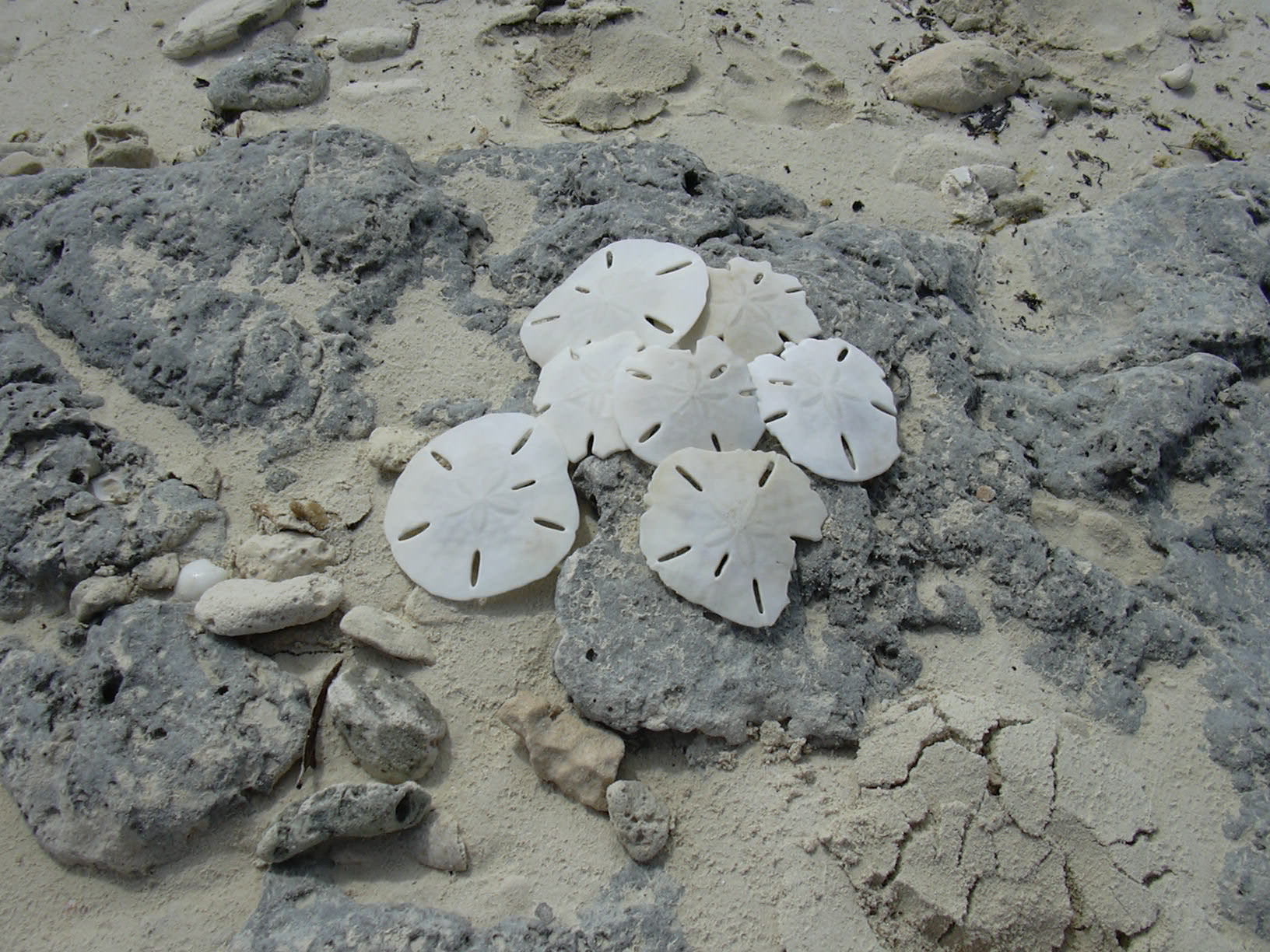 We paddled among the crystal shallows and mangroves of Bonefish Creek, finding beaches and other treasures along the way.

Cat Island is riddled with blue holes -- water-filled holes of unknown depth which are common to limestone islands.  Bonefish Creek is no exception.   After following a number of markers through the creek we came to a relatively large opening in the mangroves, the water in the center of which was perfectly still while tidal currents swirled around it.  The shallows gave way to a deep, seemingly bottomless hole; the clarity of the water made it possible to see the edges and

and ledges bounding the hole, but you can only see so far down.  Legends and superstitions surround the blue holes, and while I'm not given to heed them, I'm not likely to jump out of the kayak to try my luck swimming in the Boiling Hole either!

Unlike last year, we decided to take advantage of bikes available for FBV guests (which are signed out on your tab at the honor bar, along with gift shop items and -- of course -- drinks).  As a warm-up, we decided to take a 6-mile round trip ride to the grocery store in New Bight to pick up some snack foods and a bottle of rum.  The road is relatively flat and the breeze kept us from overheating.  Unlike roads in the U.S., the drivers here are more than happy to share the road with bikers, tooting their horns cheerfully to let us know they are overtaking, and waving at every opportunity.  Our butts weren't quite saddle-hardened, but the ride to the store was certainly do-able.

The ride to Fine Bay, 4 miles each way, was a bit more of a challenge.  Only the first mile is on paved road; the rest is a dusty twin limestone track.  It's not flat, either.  While the Bahamas are relatively flat islands, the highest point in the Bahamas is located on Cat Island, and there are undulating hills running north to south along the spine of the island, as well as dunes and cliffs overlooking the sea.  Though hardly the Tour de France, we were certainly wishing our bikes had more than a single gear.  Loose rocks and lots of brush create obstacles which require lots of attention, and I needed to get off and walk the bike a couple of times  on one loose, crumbly downhill section, as well as a steep uphill which was too much for my out-of-cycling-shape legs. Of course, the reward was miles and miles of empty pinkish windward beach.  We walked the beach forever, and spent a good bit of time allowing ourselves to be tossed about in the surf, much diminished after its encounter with the offshore reef, but playful nevertheless.

Our quest for the two days on which we had a rental car was, not surprisingly, to find more beaches.  Our first find was the Port Royal Beach.  We followed the main road to the settlement of Arthur's Town and then headed left (leeward) at the town green.  Pavement soon gave way to a dirt road, bordering Orange Creek.  Now and then, glimpses of blinding white sand revealed themselves, but it was only after we were past the creek, and a sign pointing to "Port Royal Beach" (the only beach sign we've ever seen on Cat Island) that we got a clue as to how we might access one of those beaches.  The dirt road gave way to a pair of tracks through the grass, and we eventually had to stop driving, as a fallen pine tree blocked the road.  We climbed out, and it was only a matter of moments before flour-like sand and topaz water glimmered past a row of casuarinas.  Exploration was our priority -- there always seems to be a corner, or a point, which I am dying to reach so I can see what lies beyond it.  The beach was about 2 miles long, and bordered perfectly placid water.  Unfortunately for us, the tide was rising, and the soft sand soon felt like wet cement, sucking our feet in.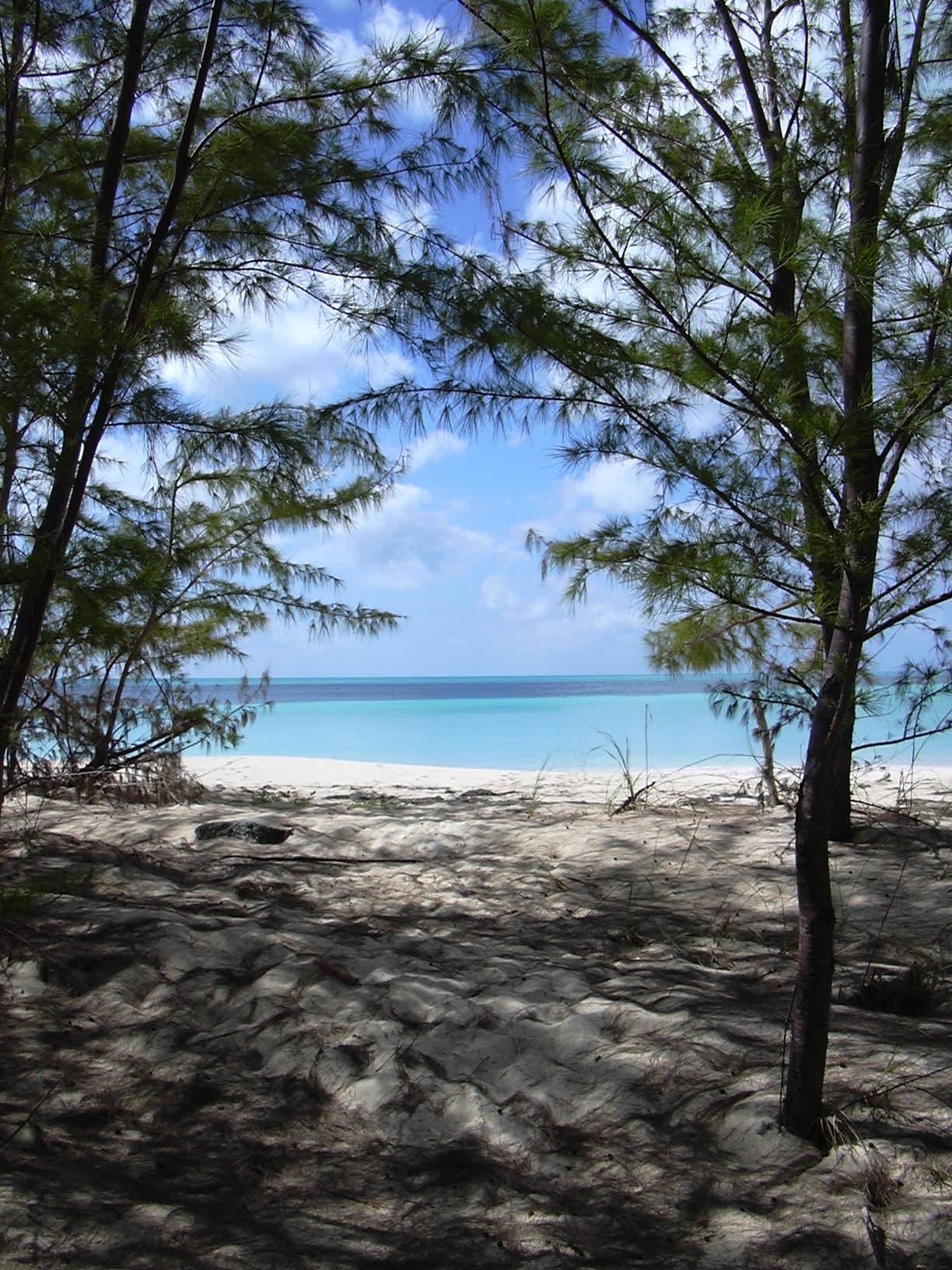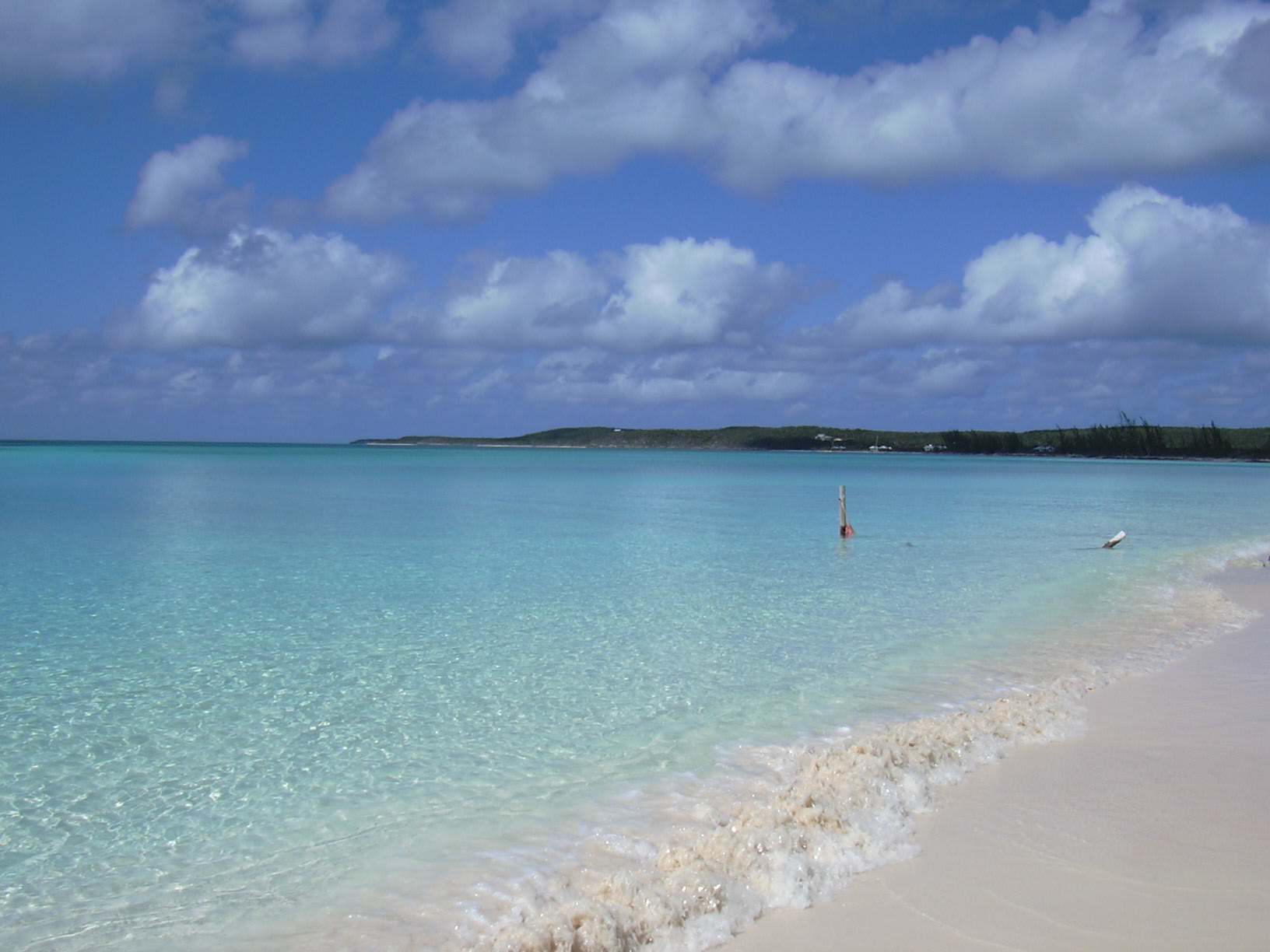 Getting to Port Royal's beach is not easy, but the reward is the quintessential Out Island beach, with no one to intrude on its perfection.

While the leeward beaches are achingly pretty, and paint a picture which is quintessentially Bahamian, it is the windward beaches that have all the personality.  Good or bad, they are littered with flotsam and jetsam from the seas, making them ripe for treasure hunting: pick your treasures: shells, beach glass, fishing floats (or shoes, bottles, and other trash).  And the surf makes them a lot more exciting for water play.  And getting to the collection of beaches east of Arthur's Town requires a journey that few people get to make: driving across a runway, 7000 feet long and able to accommodate 747s, and part of an active airport.  Luckily, not a very busy runway! 

We found ourselves crossing that runway a few times; the rough roads surrounding it eventually lead to a grand but unpaved boulevard with towering palms, planted long ago, intended to create an elegant median.  Once upon a time, a

developer hoped to use the lure of these stunning beaches to attract investors interested in building a resort here.  Nothing ever came of it, other than some limestone roadways and an attempt to create some sort of boat basin.  All the better for us, as this part of the shore is lined with one beach after another, separated every mile or so by an ironshore outcropping, accessed by sandy tracks.

The roughest ride we took was to a windward beach east of Bennett's Harbour.  Just finding a place to turn off the main road was a challenge, as none of the tracks seemed to go very far.  At one point, we found a promising track, only to go a short distance and find that the vegetation in between the tire tracks had been so long untouched that palmettos had taken root there.  Another track was largely clear, though we had to stop to clear bushes and trees off the road.  Once we finally heard the roar of the ocean, we found a long beach paralleled a string of islets, one of which had a white beach facing the land.  Here, beyond the surf break, the water was stunningly clear and the waves inviting of attempts (but mostly failures) to body surf.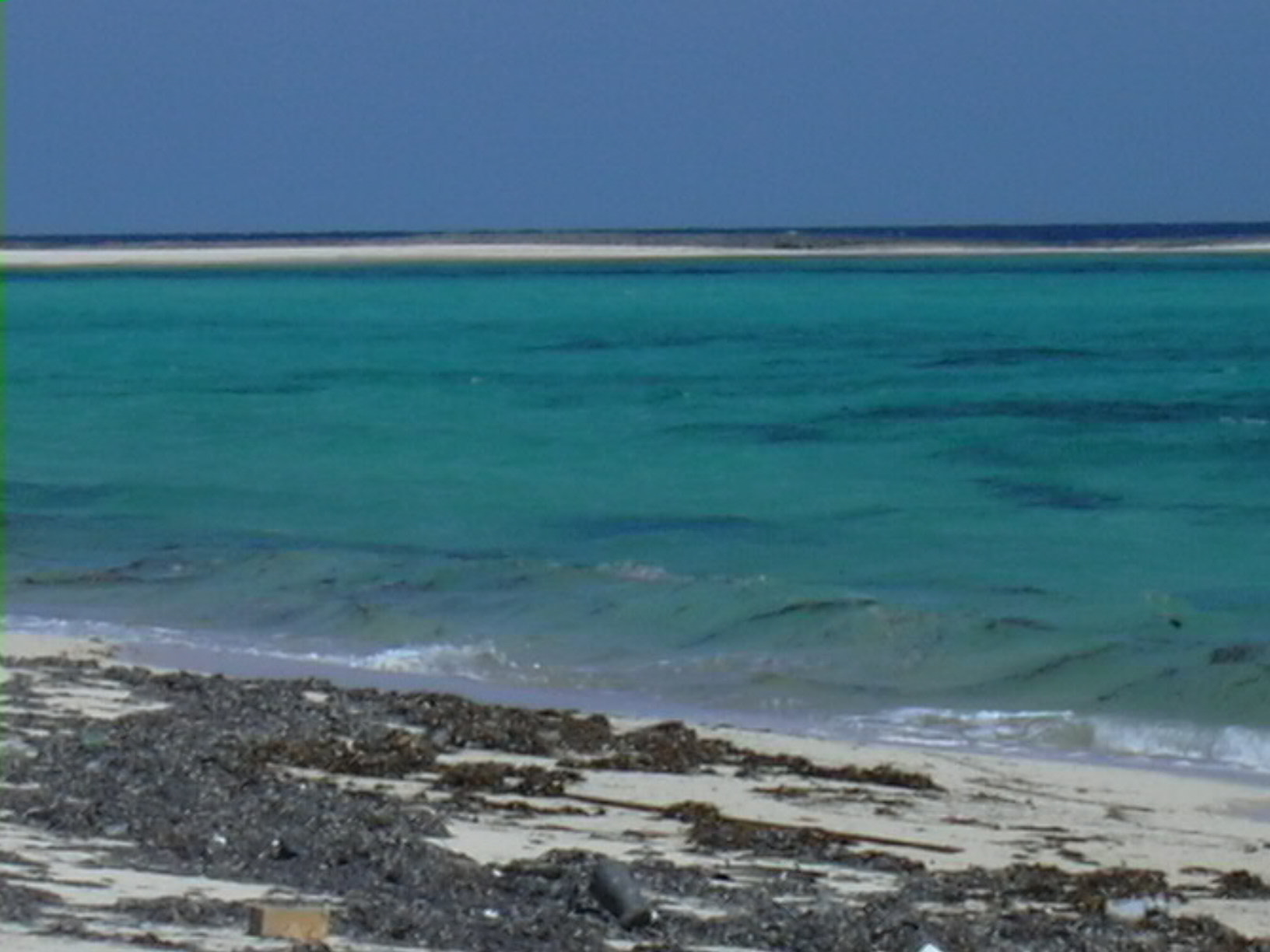 The ocean beach east of Bennett's Harbor is paralleled by a string of tiny, sandy islands.

There is an incredible generosity to the beaches of the Out Islands.  Most of us would be content with just a sliver of the pink-tinged sand of a windward beach, embracing somersaulting aquamarine waves.  But that would not satisfy these islands: what we ask for a little of, the islands deliver miles and miles of. 

When Can We Go Back?

The generosity of beaches on Cat Island is emblematic of the generosity of the people, local and expatriate alike.  Cat Island is not an affluent place, and some of the people live in what appears to us as grinding poverty.  Yet they never appear to begrudge a moment of their time or their company; they welcome you to their island and their homes with open arms and hearts, sharing with you their riches.  It's a place that has called me back, and I will  be sure to heed the call again.