Ports of Call

Anguilla -- Using Grand Case as our base, visiting Anguilla – visible from our windows and just 5 miles to the west – was a natural. Of course, sailing there was a much more complicated operation than just hopping across the Anguilla Channel; the only tenable anchorages are on the west side of the island, and we also needed to clear customs and immigration. It was lunchtime – a late lunch at that – before we arrived at Road Bay, and mid-afternoon before Guy had cleared us in. By then, we weren't especially motivated to do anything beyond hanging out ashore, and Sandy Ground was perfect for us.

Arriving at the dinghy dock, squired by Dinghy Captain Eric, we soon planted ourselves in front of the likeliest beach bar – Sunsets in this case (Johnno's is closed on Mondays). Sandy Ground's beach front is not at all the glamorous Anguilla of Cap Juluca and Cuisinart; rather, it's a working harbor for fishing and lobster boats, the port of entry, and the place where the charter sailboats come. The mellow vibe was perfect for our afternoon, even when we got waylaid by the voluble Ragamuffin Jimmy at Sunsets' bar. White sand, blue water, and a mango daiquiri are an appealing combination, especially when hearing of the threat of ugly February weather back home.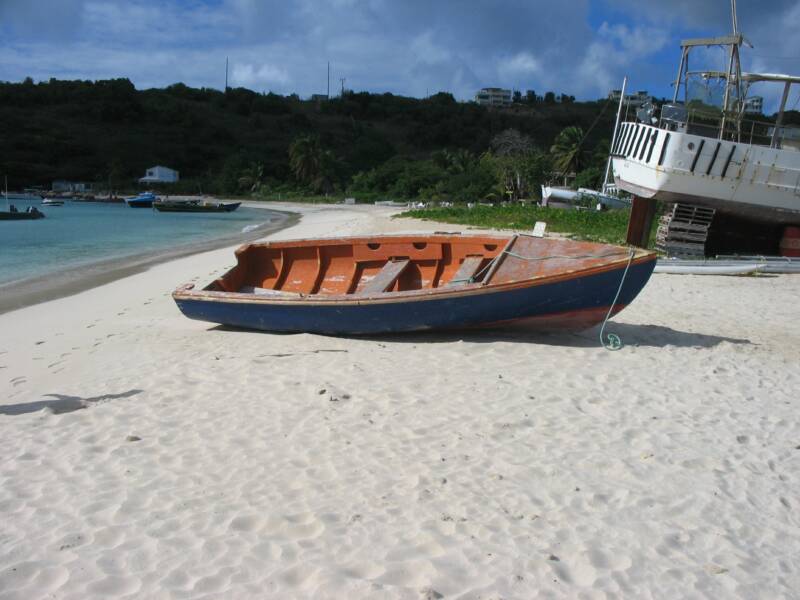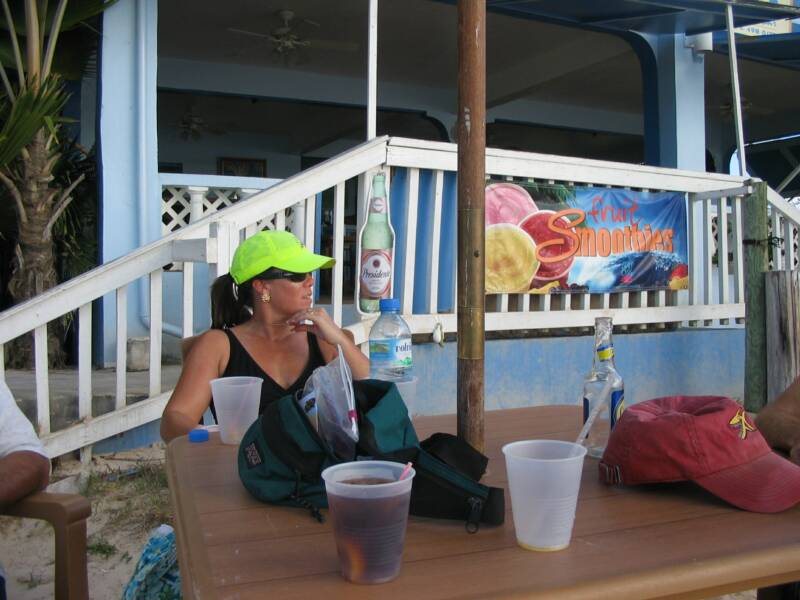 Julie and I walked the beach, checking out the scenery, as well as visiting the restaurants to check out the menus. We were persuaded by the owner of Sunsets to return there for dinner; I was totally won over by the presence of goat stew on the menu. Even if one doesn't want to eat curried goat for dinner, having it on the menu demonstrates a real commitment to local cuisine. And so, after happy hour aboard our ship, drinking wine we brought from St. Martin, we returned to Sunsets for a great meal of local food – fish soup, local butterfish (superb) and for me, that tempting and tasty goat stew.

Alas, that night, sleep was a non-starter for me. Drawing 12 feet with a bulb keel, Donnybrook is a natural racer, especially when sailing upwind; but this also limits how close she can anchor to shore. The further out one anchors, the greater susceptibility to swell and rolling. We had that going, as well as strange noises that sounded oddly like sizzling, crackling bacon – the noise turned out to be generated by shrimp feasting on the algae growing on Donnybrook's bottom.

Rather than cabbing to other beaches for a quick visit on Tuesday morning, the hardcore sailors among us decided to complete the circumnavigation of Anguilla we'd started on Monday. This was by far our most challenging day of sailing, but we were delighted, variously, by the speeds we clocked and by the flying fish skittering across the wavetops like fairies.

Tintamarre – After the long two days of journeying to and from Anguilla, on Wednesday we took a short day trip to the uninhabited island of Tintamarre off the northern tip of St. Martin for a day of serious beach time. Since it was a trip of roughly 5 miles, we just motored.

The beach facing St. Martin is a beauty, with no commercial concessions to mar it. However, we would hardly be alone in enjoying it, as a catamaran outing on Golden Eagle had deposited 40 bodies ashore, all of whom seemed to clump together. We made our base far from that crowd, and Rick and I crossed the interior of the island to visit the windward beach. The windward beach was not much for swimming, and only a short section of it is sandy before it gives way to mounds of coral rubble. But I have a special fondness for windward beaches because of all the interesting things that get washed up on them – from shells and sea urchins to all manner of jetsam and flotsam.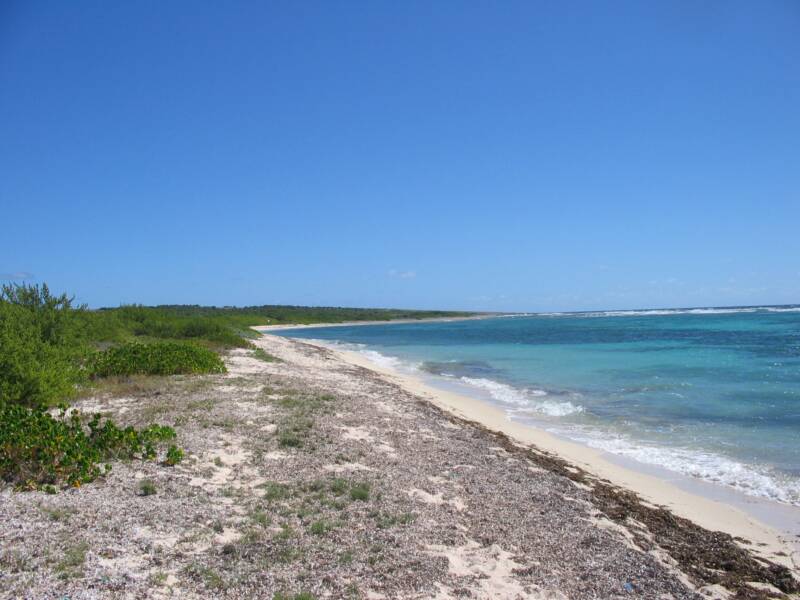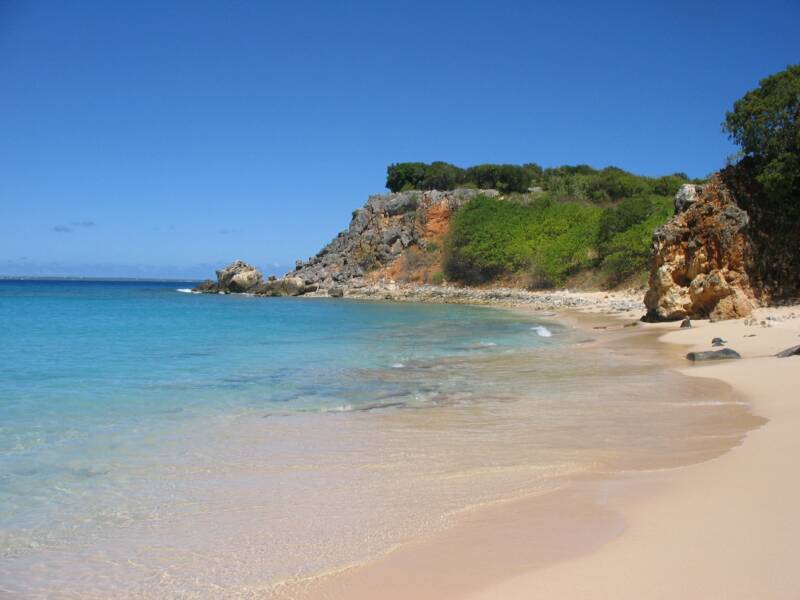 Whether windward (left) or leeward (right), Tintamarre's beaches offer much to explore and enjoy, especially before the crowds start arriving in the late morning.

After our windward exploration, we returned to our spot to find that the newly-arrived guests from Tiko Tiko had planted their yellow umbrellas just about on top of us, despite plenty of otherwise empty beach available to them. I don't understand this herd mentality, and I prefer to avoid it, but we were too mellow to bother moving. We whiled away the balance of the morning snorkeling, reading, swimming and strolling before radio-ing Eric to pick us up and give us lunch. A short motor back took us home to Grand Case, where we spent the rest of the afternoon on the beach in front of our apartment. Life is good.

St. Barth – Just like we got a small taste of Anguilla on Monday and Tuesday, Thursday and Friday gave us a taste of St. Barth. We arrived in the early afternoon, having jockeyed for space among the hundreds of boats anchored in the outer harbor, and had lunch aboard while Guy handled the entry formalities. St. Barth from this vantage point is an extremely pretty sight, having the prosperous and tidy town of Gustavia, with its red-tiled roofs, anchoring the harbor. The steep green hillsides are studded with villas. The inner harbor is busy with beautiful boats and buzzing tenders. I half-expected Steve Martin and Michael Caine, in their roles in Dirty Rotten Scoundrels, or Meg Ryan and Kevin Kline from French Kiss to make their appearances, because Gustavia makes me think of the French Riviera of the movies.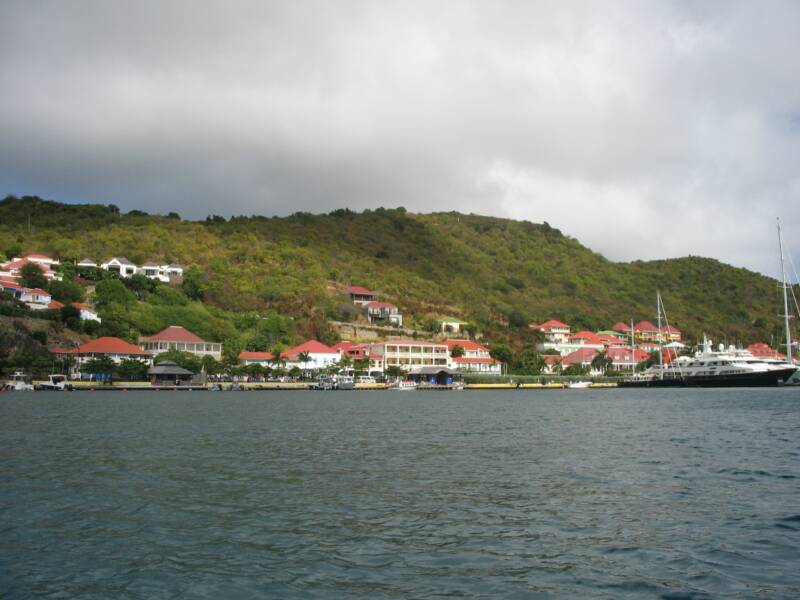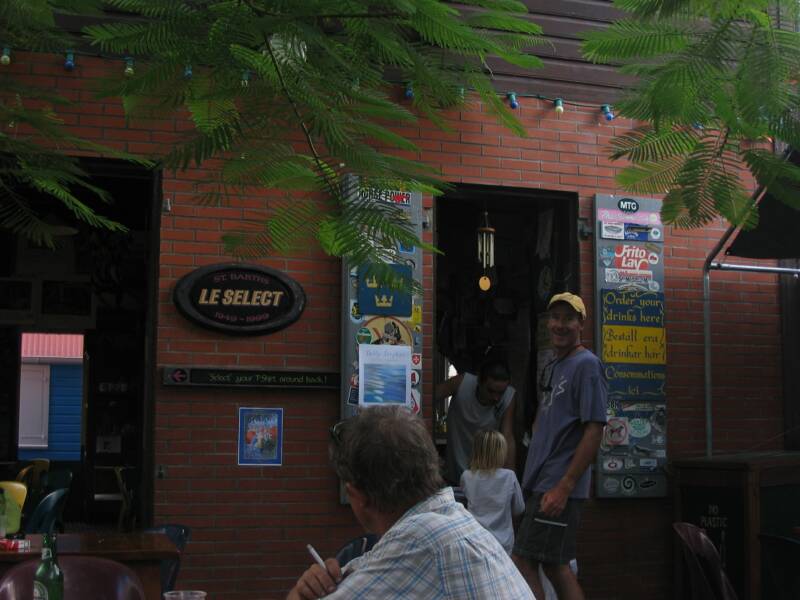 Gustavia harbour teems with megayachts that make 73" Donnybrook  look like a child's toy.  But are they having more fun than us?  After all, we are welcome at world-renowned dives like Le Select just like they are... and the shopkeepers and locals were just as welcoming to us as anyone.

We dodged rain showers as we explored the town. The part of Gustavia closest to the harbour is all about luxury shopping. All the biggest, most glamorous names are represented here, and many of the shoppers look so impossibly chic for the conditions that they could have been beamed in from Paris. I, admittedly, looked a little ragged; I had a bit of dinghy butt, was seriously windblown and a little sunburned, had no make-up on, and hadn't checked a mirror since leaving Grand Case. Nevertheless, the shopkeepers were uniformly welcoming (especially compared to Marigot), and I'd come prepared to drop some Euros (which I did).

As Parrotheads, Rick and I felt honor-bound to have a drink at Le Select. The timing of that coincided neatly with a downpour, so we took shelter under a roof. We can now tick another one off of Jimmy Buffett's list of Top 10 waterfront bars.

Later, after happy hour fueled by orange-ginger rhum we'd brought from St. Martin, we had dinner at La Route des Boucaniers on the Gustavia waterfront.  Guy and Eric joined us

for a pleasant evening of sushi appetizers and curried chicken and fish. I guess I'd been reading French menus for so many days that I almost didn't notice that the one I'd been given didn't have English translations; I could almost read it, but gave in when I realized that everyone else's menu was written in English. I also got a kick out of the restaurant's drink menu, which recommended drinks based on the diner's astrological sign. The one recommended for me was a caipirinha, which is my current drink-of-the-moment at home, Rick having given me two muddlers (for smashing up limes, one for the house and one for the boat) for Christmas this year.

Alas, it was another sleepless night for me, since the outer harbor is a noisy and roll-y anchorage. Fortunately, the sail back on Friday was easy reaching and running back to Grand Case.

Simpson Bay, St. Maarten – Our first day's circumnavigation of St. Martin gave us a look at what the island offered beyond Grand Case – which had proven pleasantly fulfilling for us. Wall-to-wall beach umbrellas on Orient Bay didn't appeal. Cruise ship docks and contrived America's Cup racing in Great Bay didn't beckon. But visiting the Sunset Beach Bar called out to us. Since Guy and Eric needed to get Donnybrook back to Simpson Bay Lagoon by Tuesday, we thought we'd help them get the boat down there, say our goodbyes, and then take advantage of the proximity to the airport and head to Sunset Beach Bar.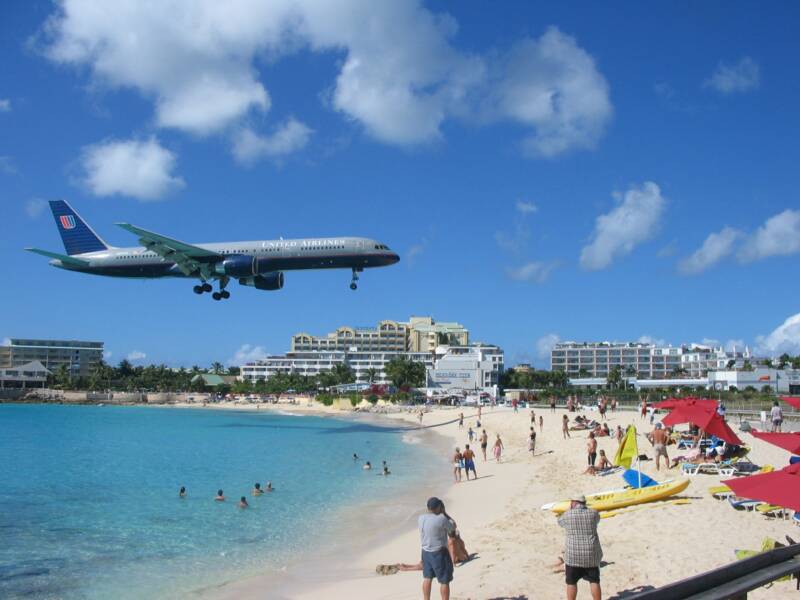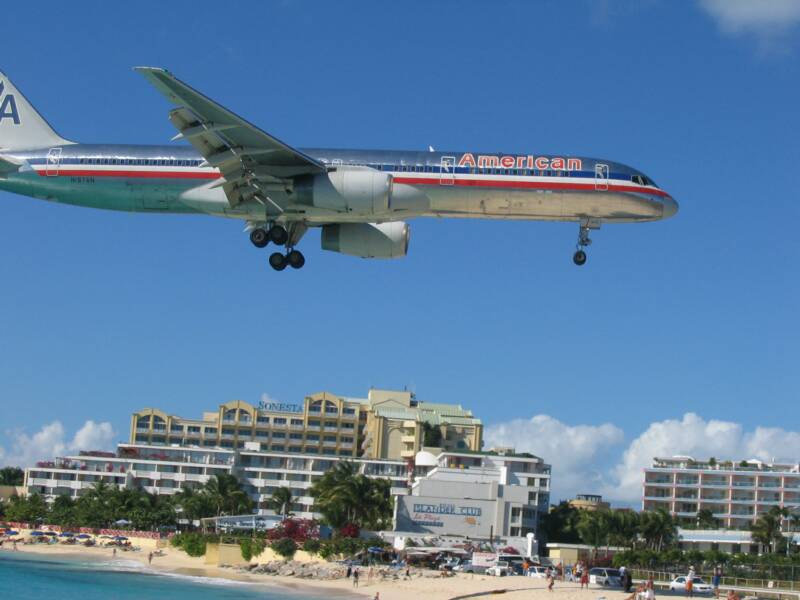 It may be a gimmick, but watching the jets take off and land at Princess Juliana Airport from Sunset Beach Bar is one of the coolest gimmicks ever!

Sunset Beach Bar sits at one end of pretty Maho Bay beach. It has all the makings of a quintessential Caribbean beach bar, of which Rick and I are connoisseurs. That, alone, would have been appealing enough. But the added … shall we say … gimmick . . . of SSBB is that the beach sits at the head of the runway at SXM. The bar has the flight arrival times for the biggest incoming jets posted on a surfboard, and the tower transmissions playing over speakers. Watching the big jets come – and go – is the sport here, and when they land, they appear alarmingly close. When they leave, the jet wash whips up a small sandstorm right behind the engines, and not a few risk-taking folks place themselves willingly in its way. Very cool. And the burgers and drinks aren't bad either.