SAILING ANTIGUA -- NOVEMBER, 2007

From its storied history as a naval stronghold, to the classic sailing of Race Week, to its place as the origin of the yacht chartering industry, one might expect Antigua to be oriented to bareboat sailing.  But it isn't, which is – strangely enough – a tremendous advantage to the intrepid sailor who wishes to get away from it all.

We were one of 3 couples chartering a Bahia 46 catamaran from Horizon Yacht Charters during Thanksgiving week (November 19-26, 2007).  We had a fantastic week of brisk sailing, perfect weather, and mostly-secluded anchorages which made us forget that Antigua is a mass-tourism destination.  Though getting there was a painful reminder…

The Agony and the Ecstasy

The agony of travel to the Caribbean is usually associated with airplanes and airports, and our case was no different.  We left BWI the Sunday before Thanksgiving, and the first leg to San Juan was a remarkably efficient experience.  But what we didn't expect was that the Antiguans filling our flight from SJU to ANU would be using this U.S. holiday week as an opportunity to bring all their earthly belongings with them to Antigua, preferably as carry-on luggage.  Not only were the overhead bins stuffed full, but my husband's seatmates were carrying boxes (multiple!) on their laps for the entire flight, without a word from the flight attendants, and then pushed and shoved their way off the plane.

It only got worse on arrival, as our American Airlines 757 was followed immediately by the arrival of Air Canada and British Airways 747s.  Those collecting bags at the carousel were loading teetering piles of luggage on carts and making a "line" (let's use that term loosely) for customs that wrapped around the arrivals hall.  We got a first row seat to observe the chaos, because we didn't get to leave the area until we were quite sure that Rick's duffel had not arrived.  Rick made a claim at the lost luggage desk, but they had NO COMPUTERS, and so could not give him any prognosis.  But we had plenty of time, as we stood in the customs line, to call American Airlines baggage service on my Blackberry, to find out that the bag had been bumped from our flight (not surprising, given how much stuff people had with them) and would probably arrive on the 7:50 p.m. Eagle.

Over 2 hours after arrival, we gratefully collapsed in a taxi and made our way to English Harbour, where I'd booked us a room at the Inn at English Harbour.  Here, we found an oasis as far from the airport insanity and package tour inanity as one could imagine.  We were greeted by a welcoming and understanding staff, not to mention breathtaking views from a hilltop overlooking the entrance to fabled English Harbour.  Moments later, a shuttle whisked us to our spacious room at sea level, all done in crisp whites and spare West Indian style, with multiple jalousied windows and french doors giving way to a private patio.  We located two of our crew (Skip and Harriet) who were also staying at The Inn (the other two, Bob and Phyllis, were at Jumby Bay), and tried to figure out the best way to get to the famous jump-up at Shirley Heights, which was the next hilltop over from us.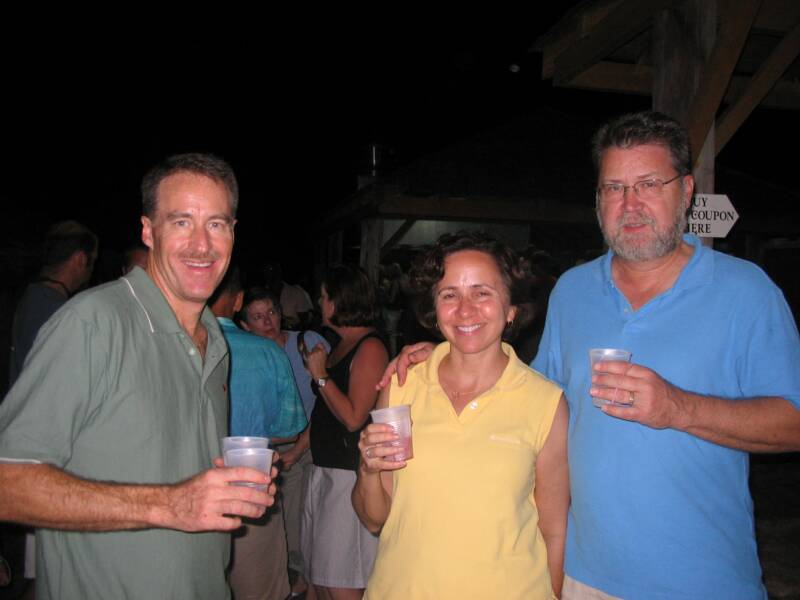 Rick with Harriet and Skip at the Shirley Heights Sunday night jump-up.

Believing we could walk up to Shirley Heights, we went in search of a path.  Finally, as dark fell, we asked a security guard for directions, who pointed us to a steep, dusty track that a goat would have trouble navigating with a floodlight.  Not liking our chances, we found a taxi (who would pick us up afterwards), and by 6:30 we were at Shirley Heights, listening to a calypso band and marveling at how many European (largely British – the bandleader asked for a show of hands) 20-somethings were crammed up here.  The somewhat pasty tourist crowd got considerably more interesting as the evening passed, more drinks and good barbecue were consumed, and more Antiguans arrived; the reggae band that started at 8:00 also helped matters.  Alas, our travels had left us exhausted, and we left before the party ended.  We ended the evening with a round of cocktails at The Inn's clubby, varnished bar.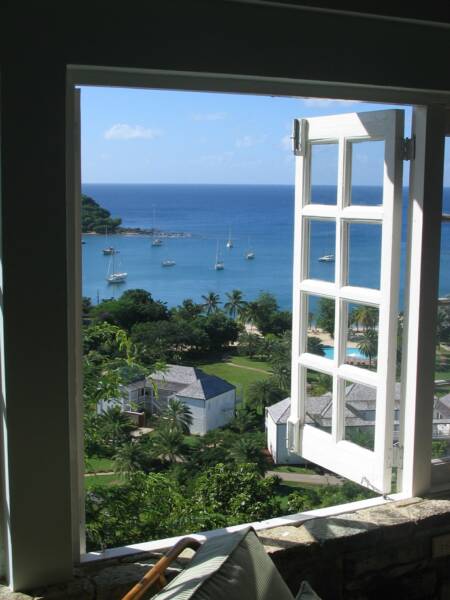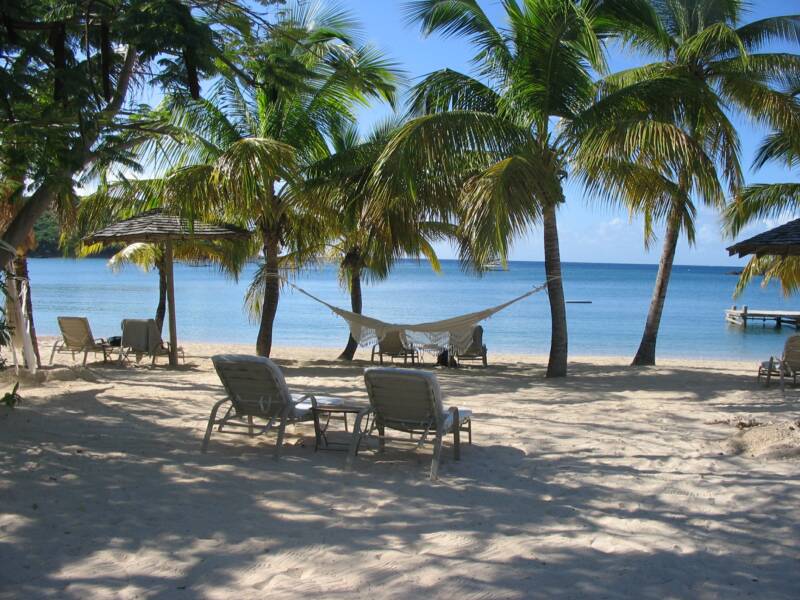 The Inn at English Harbour was an oasis away from the insanity and inanity of some of the rest of Antigua.  With a pretty beach and commanding views (not to mention lovely staff), it was place we were glad to experience, and loathe to leave.

Leaving the Shoreline Behind

On Monday morning, the Horizon base at Jolly Harbour gave us a good look of what land-based Antigua was becoming.  The Jolly Harbour complex looks like a town in South Florida: all concrete, exorbitantly expensive condos and residences, cutesy boutiques, and lots of yachts in the marina.  More is promised by developers.  Ack.

Of course, the redeeming quality of this was a good store for provisioning (15 kinds of pate, but true to island fashion, a very limited supply of fresh fruit and vegetables).  But the surly staff at the store were by far the most imposing hazard we encountered all week.  We also found convenient showers, a pharmacy (do your budget a favor and bring your own sunscreen; the price is bad enough in USD, but 2.67 times worse when you see it denominated in EC), and a quick lunch before shoving off.

The Horizon staff at Antigua are delightful, attentive, and efficient.  Our boat had just arrived from St. Maarten, yet we were fully briefed, checked-out, provisioned and pushed off the dock on a reasonably clean and ready vessel by 2 p.m.  Horizon supplied us with the Imray charts of the region, the Doyle cruising guide to the Leeward Islands, and a suggested itinerary.

Our boat is a Fountaine Pajot Bahia 46 catamaran named Drooy.  She sports 4 full cabins and en suite heads, as well as 2 pilot berths and 2 single berths in the fronts of the hulls.  The boat has a capacious cockpit (where we essentially lived), and a galley and salon on the same level.  With 200 gallons of water tankage, and a crew that took real pleasure in bathing off the swim platform, we returned to port with 50 gallons left – a good thing as there are only 2 places to refill water in Antigua, either of which would have required a major detour for us.  Drooy is 5 years old, and while showing her wear, performed reasonably well.  The only real areas of complaint that we had were a less-than-efficient refrigerator which nevertheless managed to preserve our food for the full week, but only with vigilant running of the engine and ultimately shifting key items (like beer and wine) to the freezer; an imperfectly engineered reefing system for the mainsail, which resulted in bat cars popping out of the mast track on our next to last day (and consequent inability to reef); and a dubiously designed holding tank system which, combined with tired joker valves, gave us unpleasant surprises in the heads.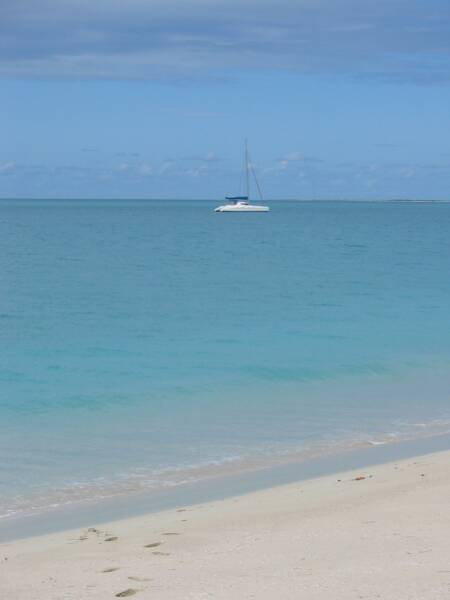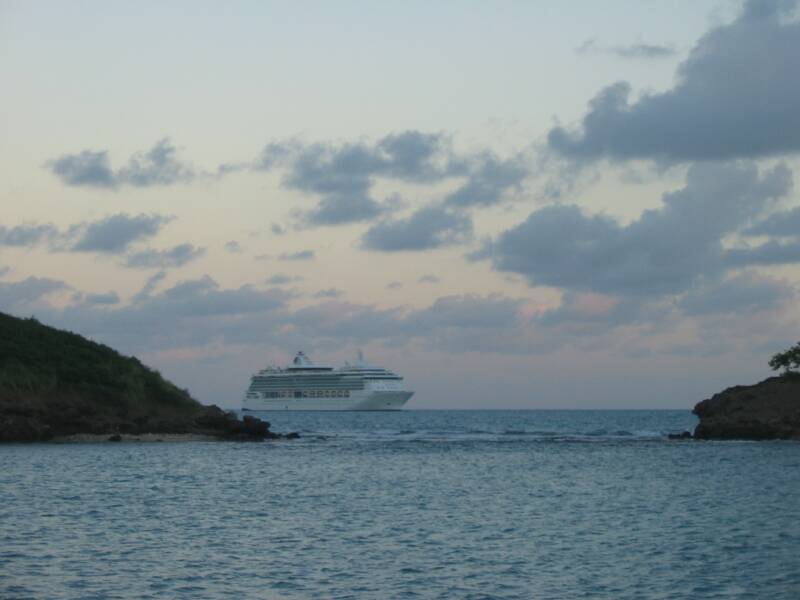 To the left is our 46-foot catamaran, at anchor off Barbuda.  Above, a cruise ship slithers towards St. John's harbour early in the morning -- just the sort of civilization we sought to avoid, and were most successful at doing so.

With the better part of our first day behind us, our first day's sail is brief, taking us away from civilization and staging us for the long sail to Barbuda the next day.  The winds are steady at 15-20 knots and we make Deep Bay within 90 minutes, sticking the anchor on the first try (as we would do all week).  The bay is one south of the entrance to St. John's harbour, Antigua's main port, and separated from it by a thin strip of land.  It's home to the Grand Royal Antiguan hotel, a curiously orange-painted high-rise which makes one think of Howard Johnson's, hidden back behind the tropical greenery.  Once anchored, we slip easily into what will become our routine: beach time, free time, swim platform showers, happy hour(s), dinner, more happy hour(s), then bedtime.  The absence of activity at the resort makes us feel like Robinson Crusoe, but in the morning, looming cruise ships sliding past the strip of land separating us from St. John's remind us we're not that far away.