ANGUILLA AND ST. MARTIN, March 2008

All About De Regatta

"De Heineken … it's de biggest regatta in the world. Lots of traffic. Extra bridge openings…." So chatted our taxi driver as we were stopped for the 9:30 Simpson Bay bridge opening on March 2, days before the regatta. We were too beat to join in much of the chat, having arrived on American Eagle this morning, after an 4-hour catnap at the SJU Best Western. It was just too much effort to explain that we knew all about the regatta, that it was the reason we'd booked tickets to come to St. Martin this particular week in the first place, that our own regatta ride had fallen through but we decided to come anyway. (We were splitting our week between Anguilla and St. Martin). And as we watched the bridge, we saw the boat we'd sailed from St. Martin last year,
Donnybrook
(see our report of last year's trip
HERE
) on which our 2007 crewmates were racing, pass through the bridge into the lagoon. It felt funny not to be part of the action.
But it didn't take long for me to be somewhat relieved that we weren't racing. As we took the ferry from Marigot to Anguilla, and plowed into 5-6 foot seas in the Anguilla Passage, I thought that it might not be so bad to be a spectator instead of a participant.

Not that we could get away from it all. It was only a matter of days before we found ourselves lunching at Johnno's in Sandy Ground in Anguilla. Although not one of Anguilla's most beautiful beaches (though a good photographer can make it look so), we'd liked the area when sailing here last year, and found ourselves drawn here repeatedly during this visit. It's the port of entry, and probably the most welcoming anchorage in Anguilla, and sailors seemed to congregate here. We know each other by our "Been-There-Done-That Gear." Between the mementos of races sailed and souvenirs from the well-traveled circuits that sailors frequent, we can spot each other at a distance. It wasn't long before we were chatting with the stranger in the Mt. Gay cap (NOOD regatta), Nipper's t-shirt (sailing in the Abacos), Pusser's shorts (sailing in the BVI), and hook bracelet (St. Croix) and being invited to crew for his now-shorthanded team. Remembering the seas in the passage, we declined.

By the time we ferried back to Marigot, the races were in full-swing, though the seas in the Anguilla Passage and the winds had not died down any. We pulled in to Marigot as some of the fleet were finishing their races. And from our balcony at Le Petit Hotel in Grand Case, we got a front row seat for watching the racers zoom past us for the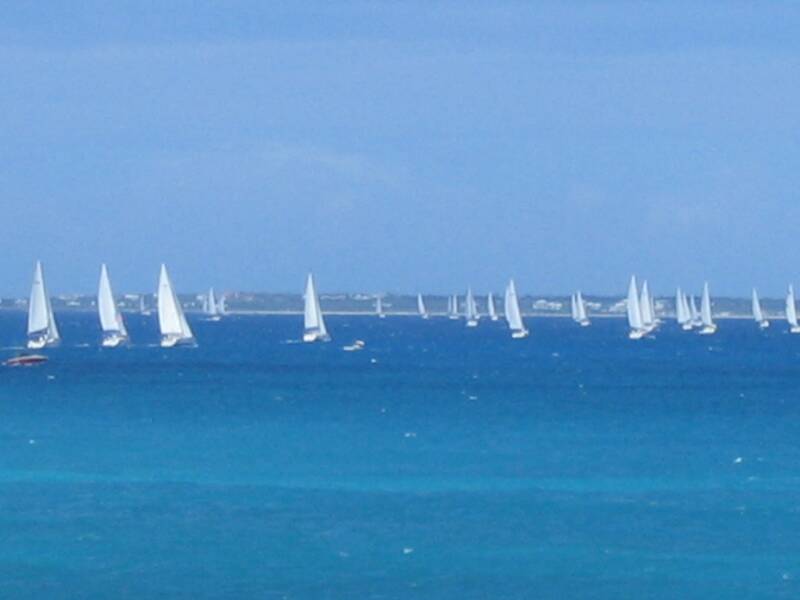 rest of the week, from the insanely fast Gunboat catamarans, to the stately "Big Boats."  This, I can get into!

We caught up with our racing friends the day after the regatta ended, with an enjoyable wait for our flights home at Sunset Beach Bar. They were bruised and battered and full of stories of death-defying feats that took a lot more nerve than walking alongside traffic on Grand Case Boulevard on the way to dinner. At the airport, we met up with even more of our Annapolis sailing brethren, recognizable from their gear. It was fun to share a beer with them and hear their stories. But at the end of the day, I was glad to be a passive observer and not a participant.

We'd planned to be participants in the Heineken Regatta, but our boat fell through.  We came anyway, and our hotel in St. Martin gave us a front-seat view of the race without having to endure high winds and choppy seas.

Anguilla – Beaches and Bars

I'd long thought the British Virgin Islands to be the Caribbean beach bar capital. And while the BVI may have a large collection of boat-accessible beach bars, Anguilla can give the BVI a run for the money for beach bars in general. Of course, a pre-requisite for a good beach bar is, first and foremost, a good beach. And Anguilla enjoys an outsized reputation for outstanding beaches.

We began our Anguilla stay with lunch at Gwen's Reggae Bar, on Shoal Bay East, where we were staying at Ku. Set in a stand of palms and sea grapes at a quiet end of the beach (a stunning strand of white sand and turquoise waters), Gwen's seems to be nothing more than some wood decking and a roof, held together with green, yellow, red and black paint, and a constantly smoking barbecue. Guests – a combination of locals and visitors -- wander in from the beach or the road, barefoot and sandy. The soundtrack is reggae, sometimes live and other times recorded. A jewelry maker sells her creations of polished native stones hanging from waxed cords or silver wire. The menu is limited: grilled ribs, chicken, and seafood. We liked Gwen's so much, we made a return visit a few days later.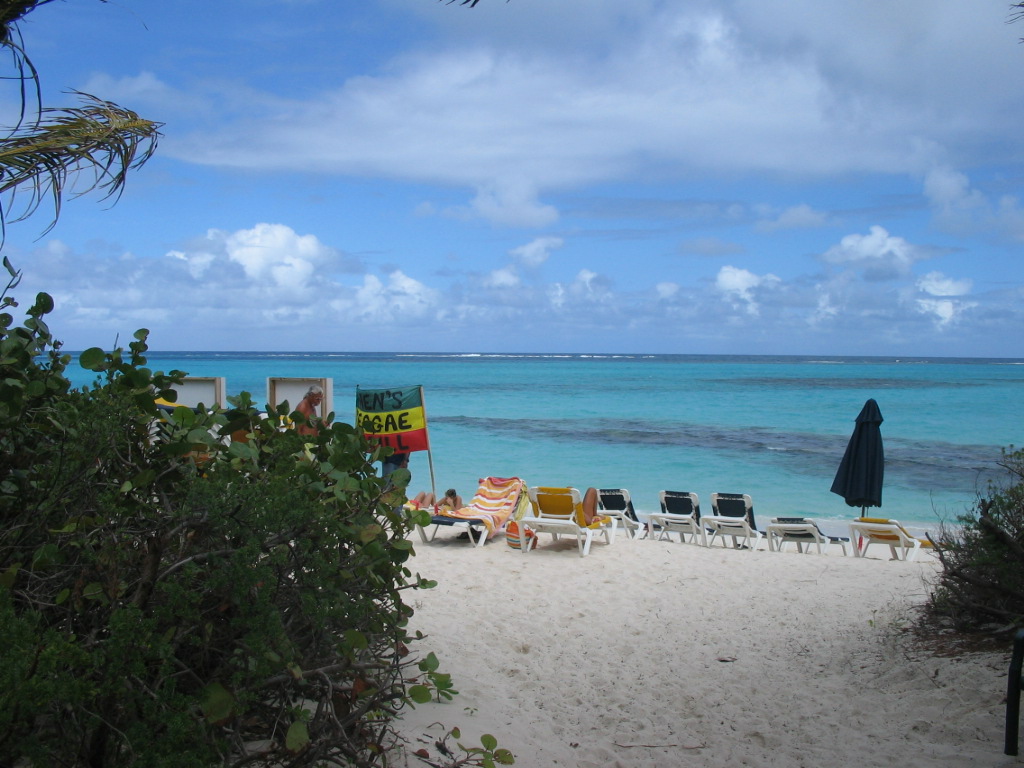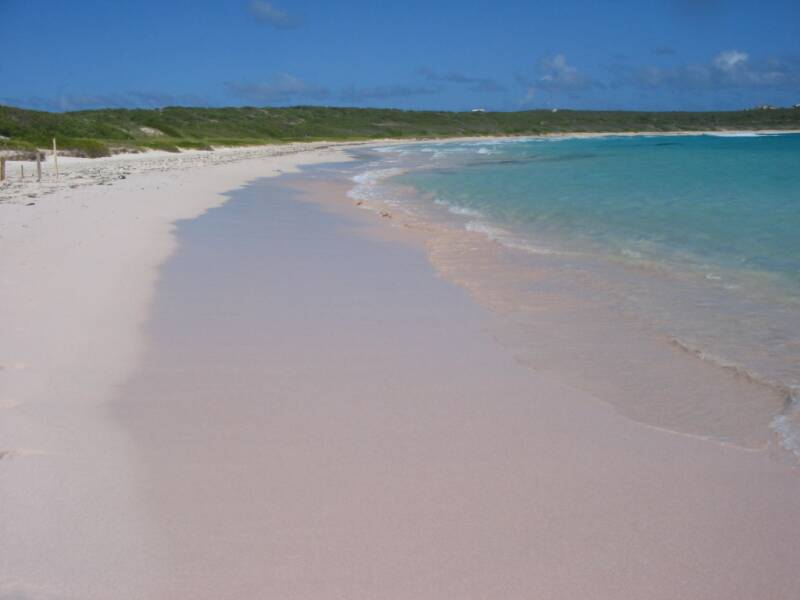 Shoal Bay East provides the backdrop for Gwen's Reggae Grill, top.  Meanwhile, gorgeous and isolated Savannah Bay is home to Palm Grove (Nat's Place).

A lot more difficult to find, and requiring driving unpaved roads, was Palm Grove (or "Nat's Place"). Nat's is the only "enterprise" on uninhabited Savannah Bay, a long windward strand of tossing blue surf crashing on reef and rock. As insubstantial as Gwen's might appear, Nat's makes Gwen's look downright palatial. An attraction is the charming proprietor himself, and judging from the number of business cards stuck to the walls, we were not the only ones holding this opinion. Here, the drill is going up to the window, placing your lunch order, and then borrowing some of the umbrellas or chairs provided by Nat and hanging out on the beach for a while. After about an hour – this is REAL island time -- you come back for your food. In my case, it was my favorite meal of the week – a whole snapper steamed in garlic and peppers, with johnnycakes. Yum.

Johnno's, in Sandy Ground, seemed to attract sailors, which made us feel right at home. Fish sandwiches, friendly banter across tables, waitresses who could handle their smartass guests, and an appealing "working" beach setting (Road Bay is the commercial port) combined to make a pleasant setting for lunch.

We happened upon Bankie Banx' Dune Preserve unintentionally. In our search for great beaches, we found ourselves strolling along Rendezvous Bay, home of the tony Cuisinart and Temenos resorts. Caught in a downpour, we ran for the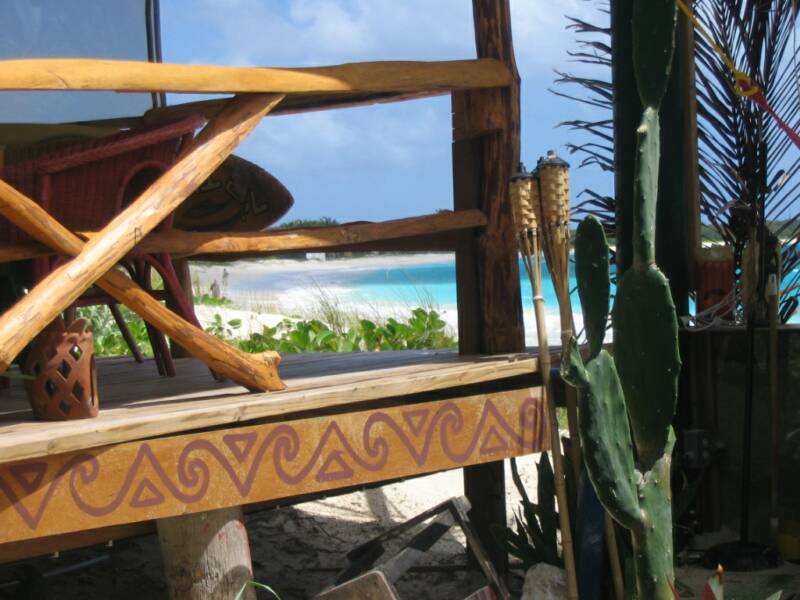 the nearest shelter, which was the Dune Preserve. Built from jetsam and flotsam like a magical treehouse climbing up seagrape-covered dunes, the Dune Preserve – which was not yet open for the day – demanded a later visit. We came back for lunch on a sunnier afternoon, and were rewarded with an amazing raw seafood and seaweed salad (conch and snapper), followed by grilled snapper. Like all the other beach bars we visited, the vibe is barefoot casual, and Bankie himself was hanging out that day. Unlike the other beach bars, food at the Dune Preserve was quite expensive, though we found it commensurate with the quality of the food.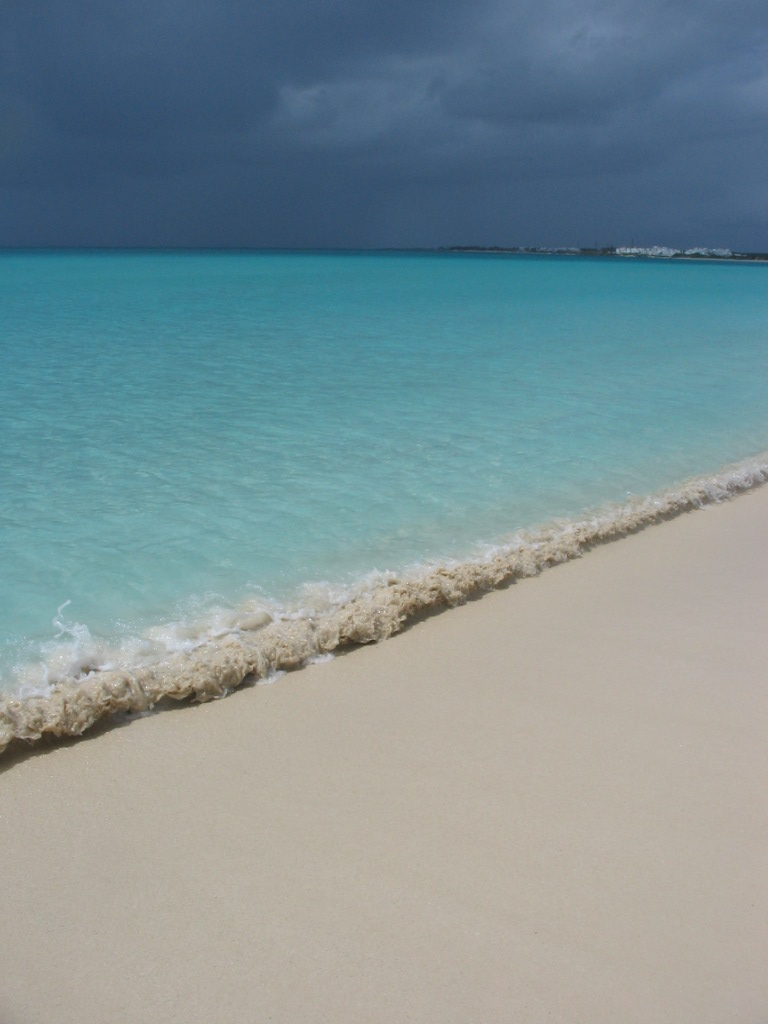 Through one of the deck areas at Bankie Banx's Dune Preserve, we get a tantalizing view of Rendezvous Bay.  Even cloudy skies don't mar the appeal of the turquoise water and powdery sand.

Although we were staying right next door to well-known Uncle Ernie's, we didn't make it there at all. In fact, I found myself a bit peeved to be paying for the most-expensive room category at Ku (a beachfront suite) only to find my patio and my bedroom windows not more than 3 feet away from Uncle Ernie's, and my "view" of the beach to be the dozens of beach chairs and umbrellas filled with the crowds of daytrippers

to whom Uncle Ernie's caters. This didn't inspire us to spend much time on our own beach during the day. Once the daytrippers departed in the late afternoon, Uncle Ernie's closed for the day, so had we wanted to have dinner at Uncle Ernie's, it simply wasn't an option.

As noted, Anguilla's beaches are beautiful, and we'd rented a Jeep so that we could explore them. However, having had the opportunity to visit many beaches in the West Indies, I would say Anguilla's are a bit over-hyped. Shoal Bay East, for example, though perfectly beautiful, is probably not even the best beach on Anguilla, much less one of the 10 best beaches in the Caribbean, as the PR folks constantly tout. But then, I guess if I share too many of my secret favorites, they'll become victims of their own popularity, so I'll keep mum…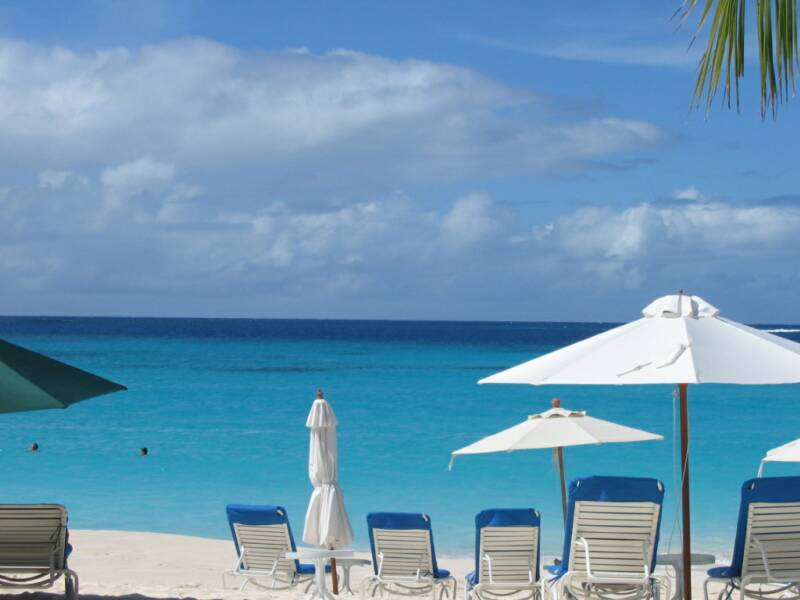 Shoal Bay East, as seen from Ku.

Just as we found the beaches of Anguilla over-hyped, we felt like we'd not gotten value for what we'd paid to stay at Ku. On the plus side, the property as a whole is very attractive, the resort amenities were as promised, and the service was friendly and attentive. But our "beachfront" suite really only gave physical and visual access to the beach past vegetation, a 4 foot block wall, and the view-obscuring umbrellas and chairs at Uncle Ernie's. While I can appreciate having a bit of privacy, what made it altogether worse was that not a single window or door in our suite had screens, sealing us away from some of the great pleasures of being oceanfront: being lulled to sleep by the sound of the surf and the feel of the seabreeze. And the suite itself,

while bright, clean and airy, needed maintenance (shower took hours to drain, tiles cracked, cabinet doors not closing) and upgrading (e.g. wicker furniture of "Golden Girls" vintage painted white). I understand that Anguilla is a high-priced destination and that this was high season, and I am willing to pay the price … as long as I get value.

Eating and Drinking our Way Across the Leeward Islands

Unlike what I felt were slightly oversold beaches and accommodations, the highly-regarded dining options on Anguilla lived up to their billing. The beach bars alone offered great, if casual and down-to-earth, food. For dinners, we stepped it up a bit and even wore shoes. Not least of the excellent meals we had was dinner at Kuyah, the restaurant at Ku – although I am admittedly a sucker for anyplace that puts curried goat on the menu and can be counted on to order it. We also enjoyed dinners at The Barrelstay in Sandy Ground, Veya in Sandy Ground, Deon's Overlook (overlooking Sandy Ground … is there a theme here?), and Zara's in Shoal Bay East. For the most part, we stuck with fresh seafood, knowing we don't have much chance to eat snapper, mahi mahi, and conch so recently caught at home.

During one of the very few interludes of rain, we took the opportunity to visit the Pyrat rum facility in Sandy Ground. Though I understood that tours can be had, we also know that Pyrat is aged, blended and bottled here, but distilled elsewhere, so we had no burning desire to tour. Instead, we spent some quality time in the tasting room, checking out Pyrat's offerings (including a fine $180 vintage), and purchasing a few to take home. (While Pyrat is generally available in Maryland, not all blends are, so we stuck to the special stuff that wouldn't be easy to come by.) Indeed, we sampled Pyrat rum throughout our Anguilla visit. Interestingly, it was quite hard to come by just a 20 minute ferry ride away in St. Martin.

But, when we did make that return trip to St. Martin, we quickly settled into Grand Case and took advantage of all of its culinary pleasures. Lucky for our waistlines, we stayed about as far away from the restaurants as possible, so that the longish walk helped burn off some of the calories. For lunches, we stuck with the lolos, and for dinners, ate at L'Escapade, La California, and Bistrot Caraibes. Having eaten pizzas in places not known for them, my expectation of pizza at La California was somewhat low, but I was pleasantly surprised by what I got – an ethereally thin crust, flavorful sauce, and piquant and somewhat chewy cheese. I'll be thinking about that pizza for a while! I'll add, also, the service was uniformly friendly and charming, and our mangled greetings of "Bonsoir!" were returned with warmth.

During our last visit, our traveling companions touted Calmos Café as a favored destination, and we too fell under the spell on this trip. As we walked down the beach on the afternoon we returned to St. Martin from Anguilla, we just sort of stumbled in, ordered drinks, found beachside chairs, and soaked up the atmosphere. From the playfully bantering bartenders, to the relaxed multilingual crowd, to the potent drinks and beautiful view, we were hooked. That first day, we turned around and went right back for pre-dinner sundowners as well, resuming my current fascination with ti punch as beverage-of-choice. Though I doubt making my own will have the same allure….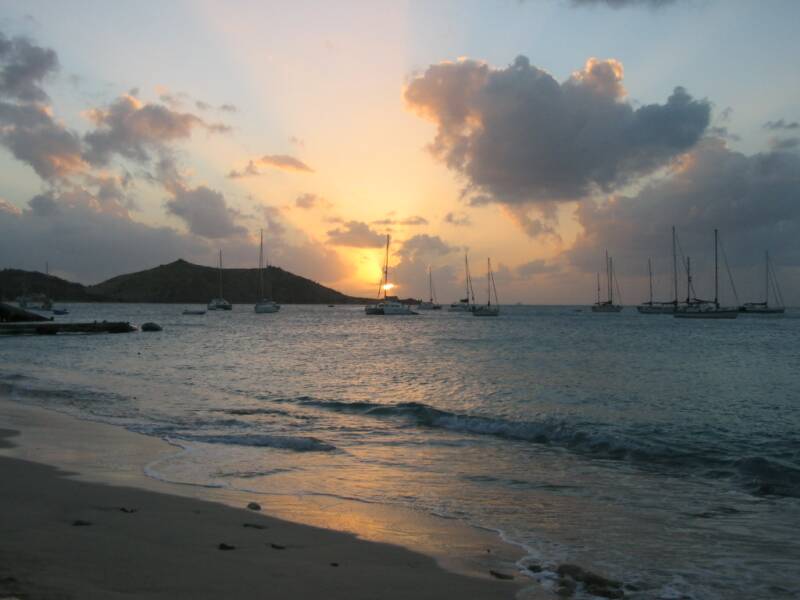 Sunset over Baie Grand Case, from Calmos Cafe.

French Island Style

Ti punch is the quintessentially Franco-Caribbean cocktail. And it's all part of what we find so attractive about staying in Grand Case. While I have working knowledge of several languages other than English, French is not one of them, and I love that an honest attempt at French is met with corresponding goodwill, and not the rather unwelcoming attitude reputedly faced by non-Francophones on other French islands. Being in Grand Case is transporting, for it's clearly Caribbean on the one hand, yet feels quite Mediterranean on the other.

Staying at Le Petit Hotel was part and parcel of that experience. Grand Case can look a bit squalid to the unaccustomed eye, but Le Petit

is like a gem set in somewhat tarnished metal. Resident manager Stephanie, and Caroline who was on site over the weekend, were helpful and friendly. Le Petit is not a full-service resort, but every need was met – from continental breakfast in the morning (fresh croissants, coffee, juice), to luxurious toiletries, to blossoms strewn about our room on arrival. Our room was stylish, yet timeless, evoking both the West Indies and the Mediterranean. Our bed, with featherbed and duvet wrapped in Frette linens, was positively sybaritic. And most importantly, I was able to open the louvers and let the surf into my dreams.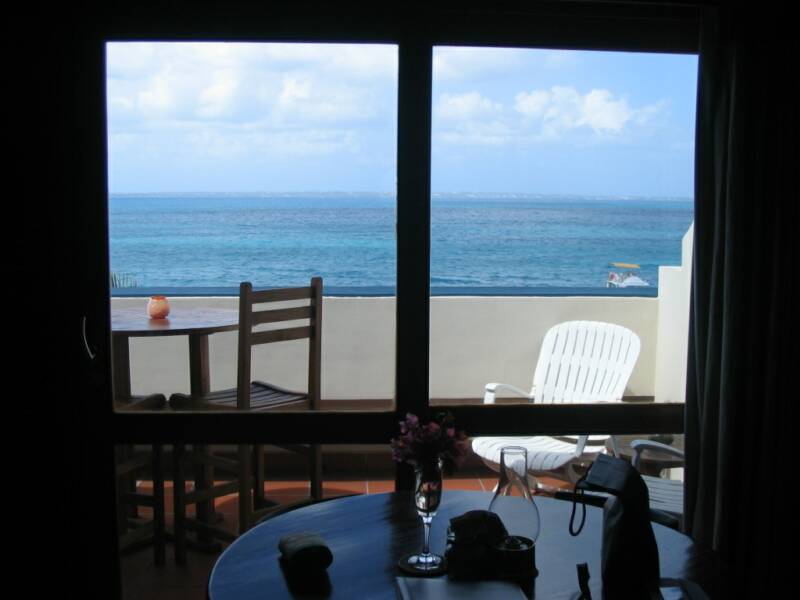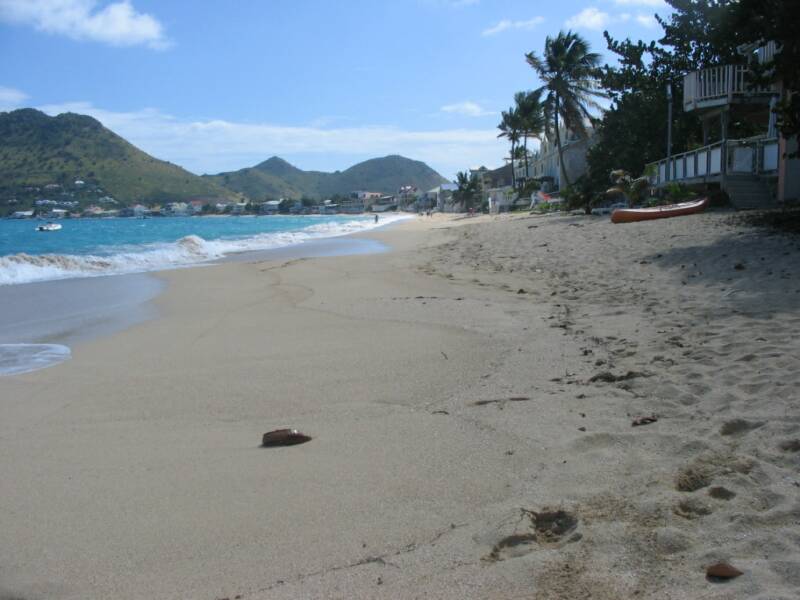 A room with a view: our room at Le Petit Hotel was comfortable and stylish, and gave us a view of Baie Grand Case.  For as lively a location as Grand Case may be, the beach is relatively quiet.

Though the village of Grand Case can be quite busy, the beach is surprisingly quiet. We spent a lot of time on our balcony or in lounge chairs on the beach, watching the Heineken boats go by, the planes land at Grand Case airport, or the surf toss and turn like a restless sleeper. Aside from spending a couple of hours in Marigot (shopping for French luxuries which are a minor bargain, and digging into some curried goat at a Creole eatery), and a half-hearted attempt to rent a car for a day to cruise around the island (no luck – they were all spoken for at the local rental agency), we didn't get out of Grand Case until departure day, when we spent many diverting hours at Sunset Beach Bar. We'd kept ourselves available for a call to fill in on one of the Heineken boats, but it never came. And we didn't really care.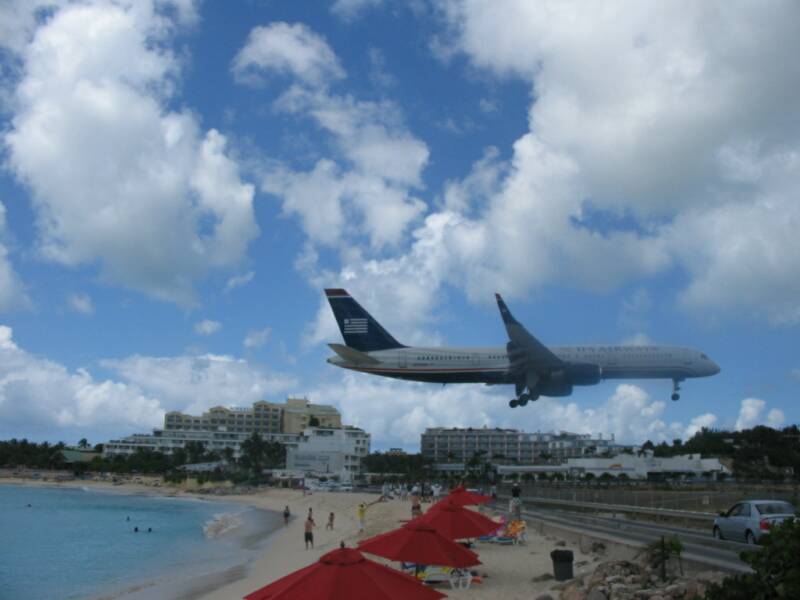 A visit to St. Martin is properly concluded with lunch and drinks at Sunset Beach Bar.

Sundays are especially fun days to be around. There's a festive air, since a lot of residents are off work and enjoying the beach and the town alongside the visitors. As we sat at Talk of the Town, waiting for lunch, I watched a busload of cruise ship daytrippers roll slowly through. Behind their hermetically sealed windows, in their climate controlled bus, I can just hear someone saying, "Oh Harv … that just doesn't look hygienic …" as one of the grill chefs spoons up some rice and beans. As I take in the sights and sounds of the lolos …the multiple languages and dialects, the rainbow of complexions, the children delightedly dancing to the musicians, the smell of smoke off the grills, the slight tang of salt on my upper lip, I think: "Hygiene schmygiene … pass the hot sauce!"