ST.MARTIN AND NEVIS - November, 2012

Sea Glass

As I've probably written before, when I first visited St. Maarten on my honeymoon, I was not impressed. I found it crowded and congested. Even though I got my passport stamped to view an unfamiliar landscape, there was just too much of the stuff I wanted to get away from to make it feel like the exotic escape I sought. On the recommendation of many people, my new husband and I drove one night to Grand Case, on the French side of the island, for dinner. Yet, even though I was seeking something "different," the rough road, stray dogs, and stretch of decidedly un-polished restaurants looked scary enough for us to turn tail and go back towards our comfort zone.

Over the many years since that visit, the hard, shiny, sharp-edged and somewhat brittle young bride that I was has been transformed like a piece of glass tossed in the ocean. I've been caught in the currents, tossed around in the sand, seen a lot of seas, and come through it with the surfaces buffed and the edges smoothed. Through this slightly blurred perspective, I got another look at Grand Case – used as a home base for a week of sailing around St. Martin, Anguilla and St. Barth -- and decided I liked what I saw. Liked it enough to return a few years ago in combination with a stay in Anguilla, and again just last week to stay 3 nights before heading to Nevis.

Grand Case is, perhaps, best viewed through the slightly squinted eyes you might need to see through a chunk of sea glass. The beach is far from the prettiest on the island, though it offers a long stretch for strolling, good spots for swimming, views across the channel to Anguilla, the pace of a tropical place where people live and work, and the sounds of the surf to lull one to sleep. The various establishments that line the shore and main drag may be in various stages of repair and visual appeal, but their doors open with a friendly "Bienvenu" and their offerings are crafted to delight.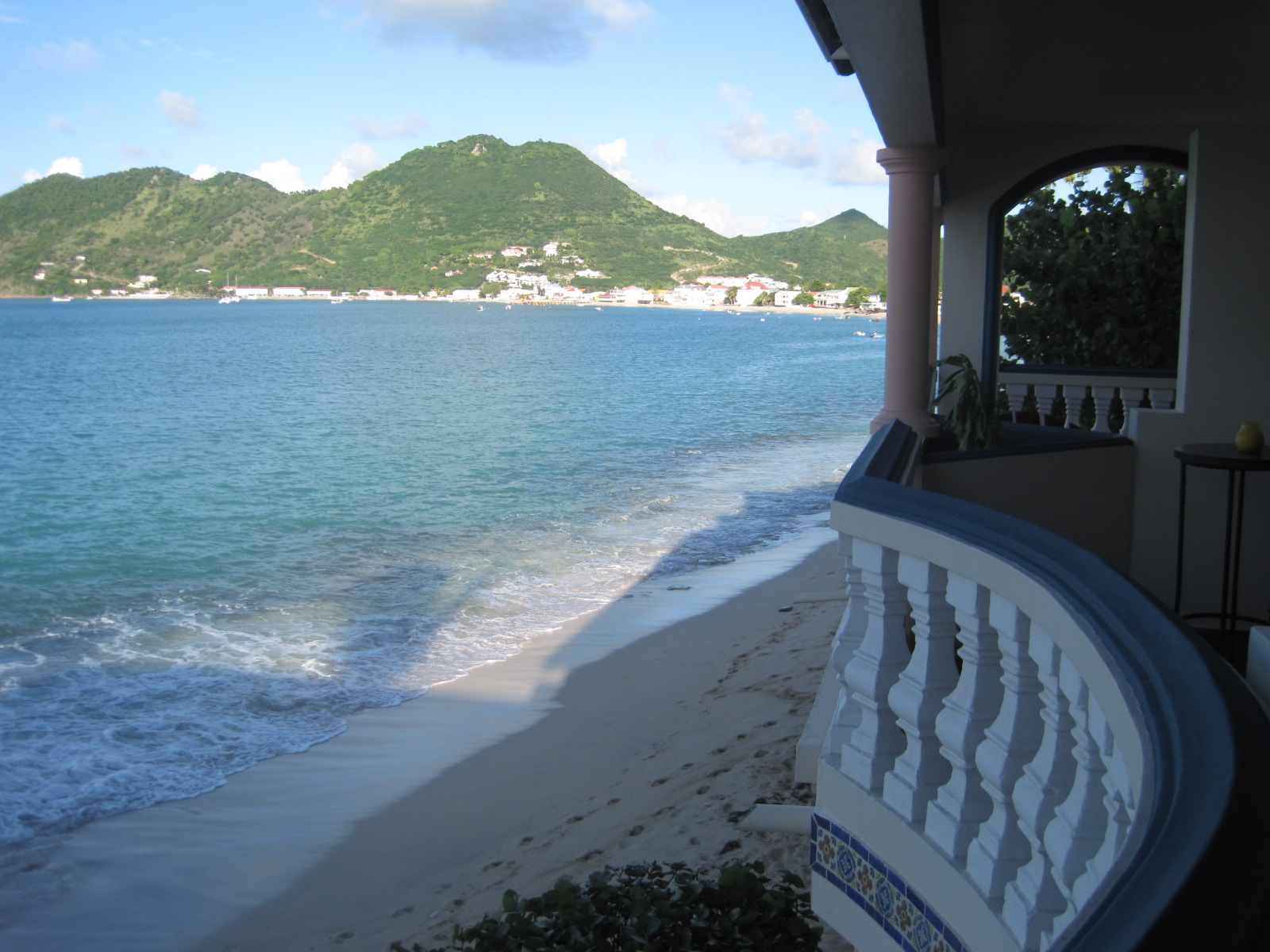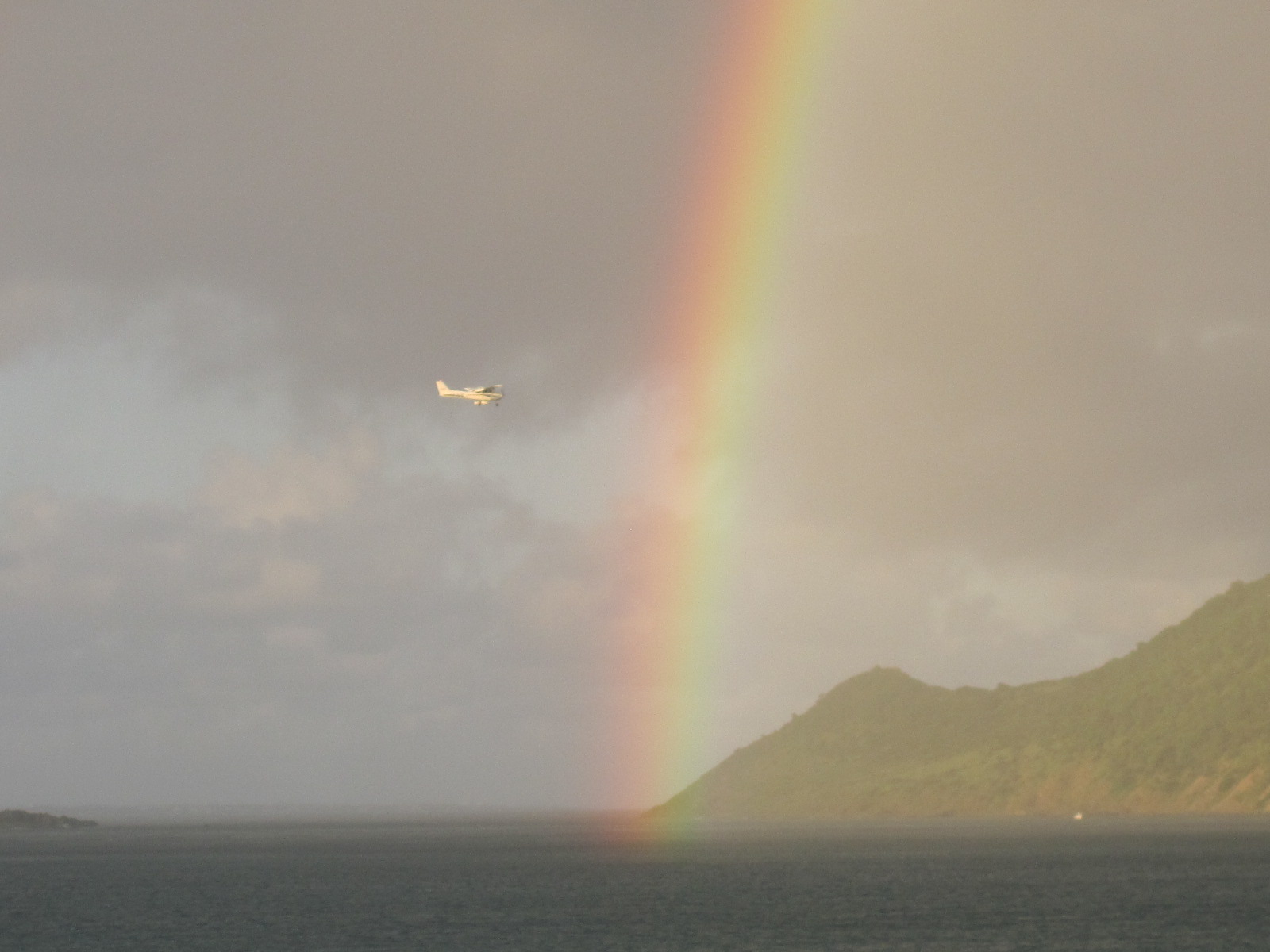 The view from our balcony at Le Petit Hotel let us enjoy the beach, the village, the sea, the weather, and the planes landing at the small Grand Case airport.

My trip to SXM was preceded, as always, with the threat of complications. Nervous about the combination of union pilot "actions" at American Airlines and my typically bad travel luck, I booked a complete set of (fully-refundable) back-up tickets on USAirways. Hurricane Sandy made a shambles of the week before departure, necessitating diverting our attentions to securing two boats and our home, as well as dealing with cancelled days of work. Thankfully, in the Chesapeake Bay region, we were spared a direct hit, and life soon returned to what passes for normal (though, sadly, not so for our neighbors further up the coast). Finally, at an obscenely early hour on Sunday November 4, we were finally off to Miami, and then on to SXM on AA, arriving right on time, all worries about the southbound trip having been for naught. Moving quickly through immigration and customs, we met Lesley from Kenny's Car Rental just outside the terminal, picked up our rental car, and were on our way to our Grand Case home base, Le Petit Hotel, on the beach at the edge of the village.

This was a return visit to Le Petit Hotel. Le Petit is just the kind of place I love to stay: small (fewer than a dozen rooms), charming, well-located, friendly, and thoroughly a part of the place where it is located. We arrived hours earlier than we'd told our hosts, having finagled an earlier flight from Miami, but that in no way diminished the warmth of the welcome from on-site manager Jean-Francois. The hotel had just re-opened after major renovations, and we were just the second pair of guests to check in. Our second floor room had been re-done in Euro-chic style – dark slate floors, sleek grey appliances and cabinets in the kitchenette, and a smart new bath with black and white fixtures that had me wanting to renovate my own recently-renovated bath at home (hate it when that happens!). But, most importantly, the beds were still richly clad in high-count Italian bedding, and our private balcony looked right out over the beach.

In no time at all, we shed our travel clothes, broke open the bottle of wine that was a thank-you for coming back to Le Petit, and made plans for the evening – which was not to make much of a plan. We strolled down the beach to Calmos Café for pre-dinner drinks. Like Le Petit, Calmos is one of those places that keeps calling me back, with its easy-breezy-beachy yet cosmopolitan vibe. The view of Baie Grand Case and the sunset is spectacular, and it's easy to plant my feet in the sand to the accompaniment of the surf, the many languages being spoken around me, and the eminently flirt-worthy waiters with their deliciously French-accented English (and yes, the occasional – ironically-worn, I suppose – beret). One ti punch followed another (I confess to drinking them with a side cup of ice, but that doesn't make them any less potent), and the sun set. We eventually peeled ourselves off the beach loungers, wiped the sand off our feet, and went in search of dinner.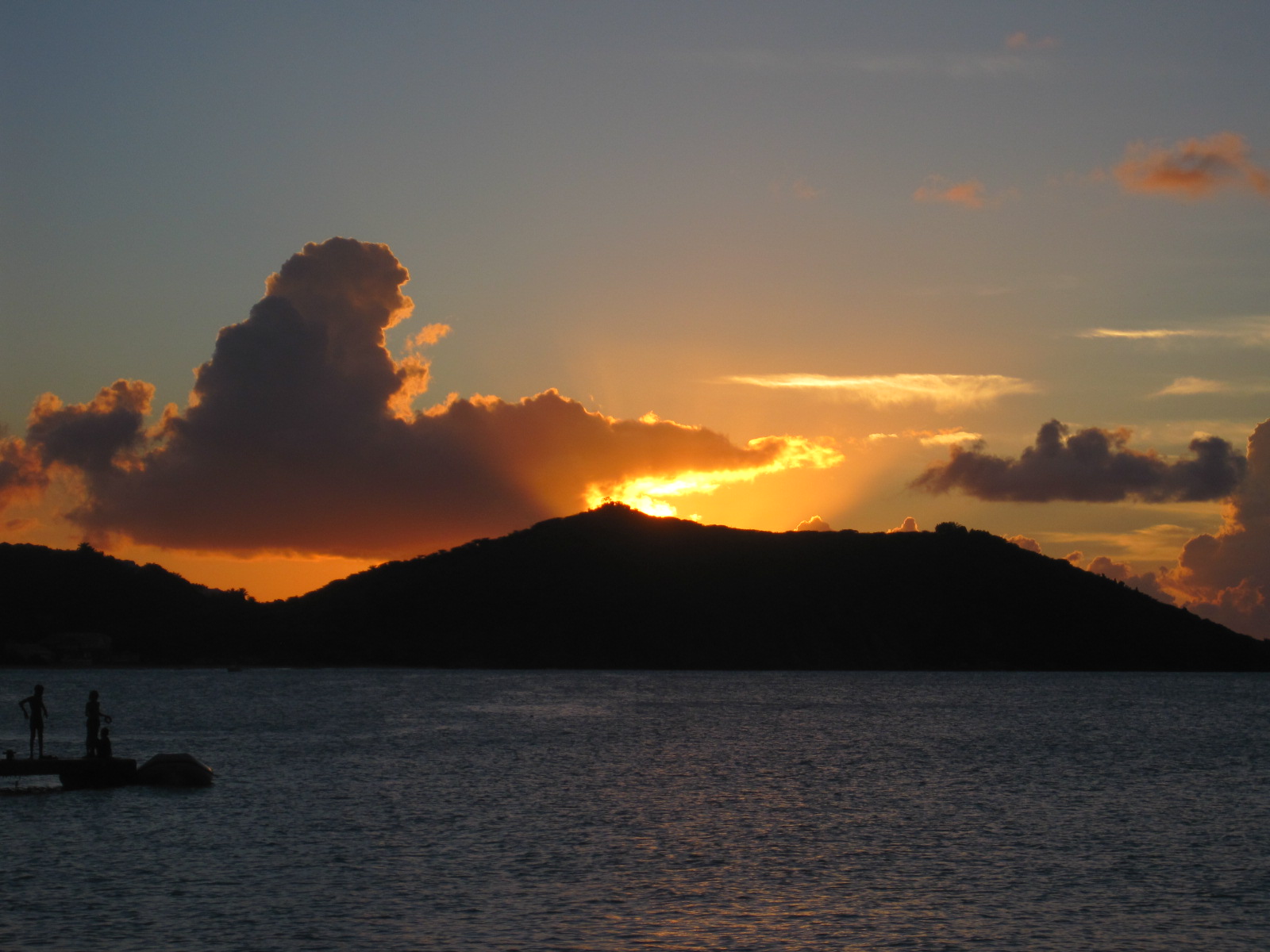 Though we made a walk-by reservation at L'Estaminet, our other dinners were walk-ins. It's early enough in the season for reservations not to be required. Our first night, we ate at Le Tastevin; the next at Bistrot Caraibes; and the last at L'Estaminet – a combination of old favorites and new ones. As always, our good faith efforts at speaking French were tolerated, if not welcomed. Our meals were beautifully-portioned combinations of classical techniques, French and Caribbean ingredients, and local flair. So, the mushroom risotto topped with a garnish of seared foie gras (L'Estaminet) was just as noteworthy as the whole grilled sea bass (Bistrot Caraibes). There are few dining experiences I enjoy more than picking apart a whole fish (ever had fish cheeks? So good!), so while the sea bass was promised to be fileted, I asked them to leave it untouched, and it was perfect that way. Per

custom, each dinner was followed with a complimentary shot or two of flavored rum; luckily, we walked to and from every dinner.

Days in Grand Case were decidedly un-ambitious and lazy. Le Petit is not a full-service hotel, but every morning in the lobby, we found all we needed for a simple breakfast: bread, pastries, yogurt, juices, coffee, fruit. There is something so decadent about sitting in a light hotel robe on a balcony overlooking the sea in the early sunlight, watching inter-island flights take off and land at the Grand Case airport, and eating French bread. From there, beach time, lunch, more beach time, cocktails, and dinner.

We did venture out to Happy Bay one day, a new destination for us. Per Jean-Francois' directions, we parked our car at Friar's Bay (doors unlocked, nothing in the car) and then hiked over to Happy Bay. The hike took all of about 7 minutes, up and down hill along a trail through some brush (including an encounter with a pig!). What a gorgeous beach! A creamy crescent facing Anguilla, with plenty of palmy and sea-grapey shade, and a great soft bottom for swimming and wading. The beach wasn't especially crowded, but it wasn't exactly empty either. I'm not sure what the legal status of naturist sunbathing is here – whether it is tolerated in fact, or in practice – but the people who stayed a while were about 1/3 fully-suited, 1/3 topless, and 1/3 au naturel. Curiously, at least 2 cruise ship excursions made hit-and-run visits here. At least couple dozen visitors came via wave runner-type vehicles, and another couple dozen came via party catamaran, all sporting matching wristbands. They made noise, splashed around, snorkeled, swam and gaped – for no more than 30 minutes – then left. Box checked?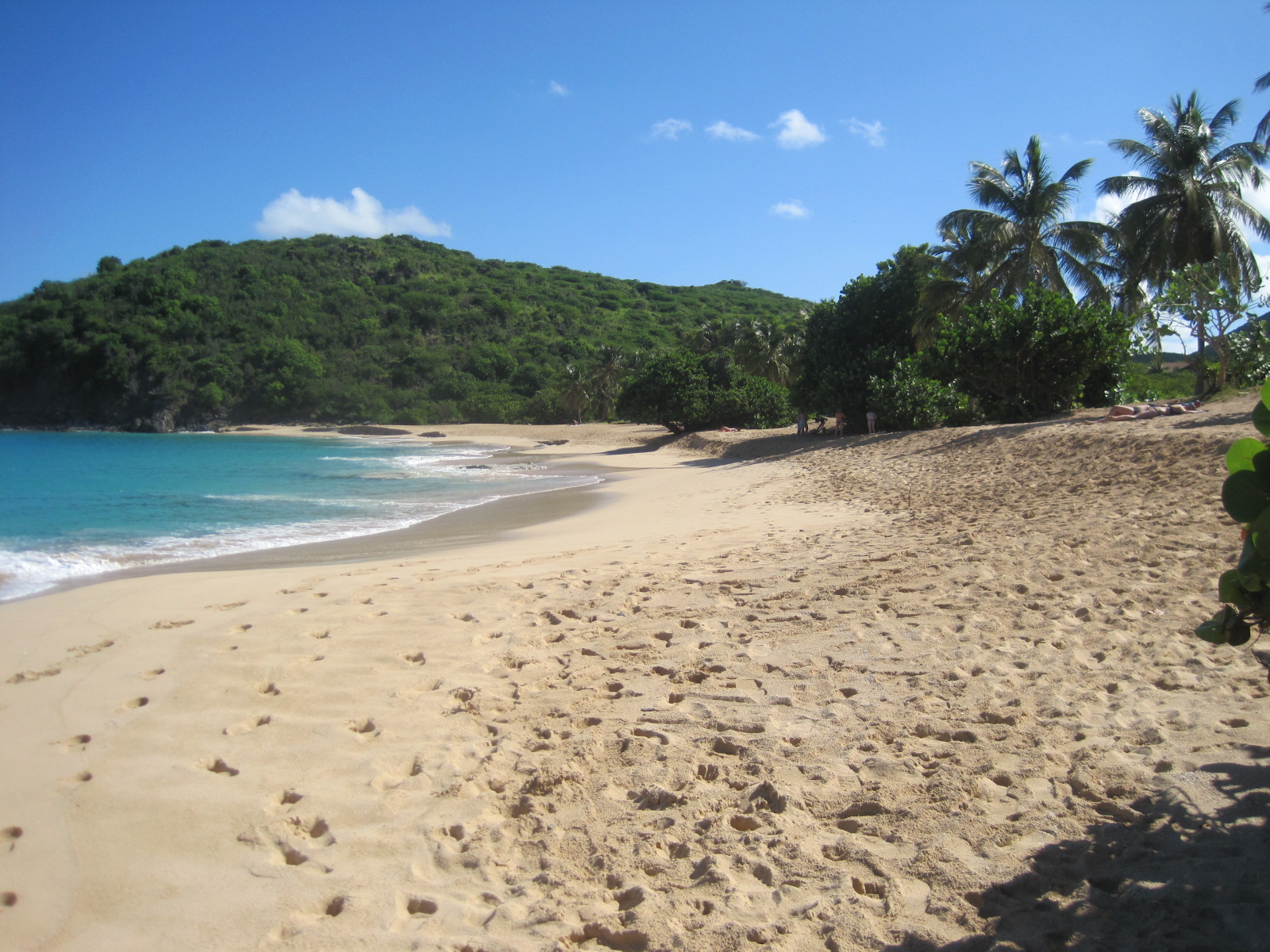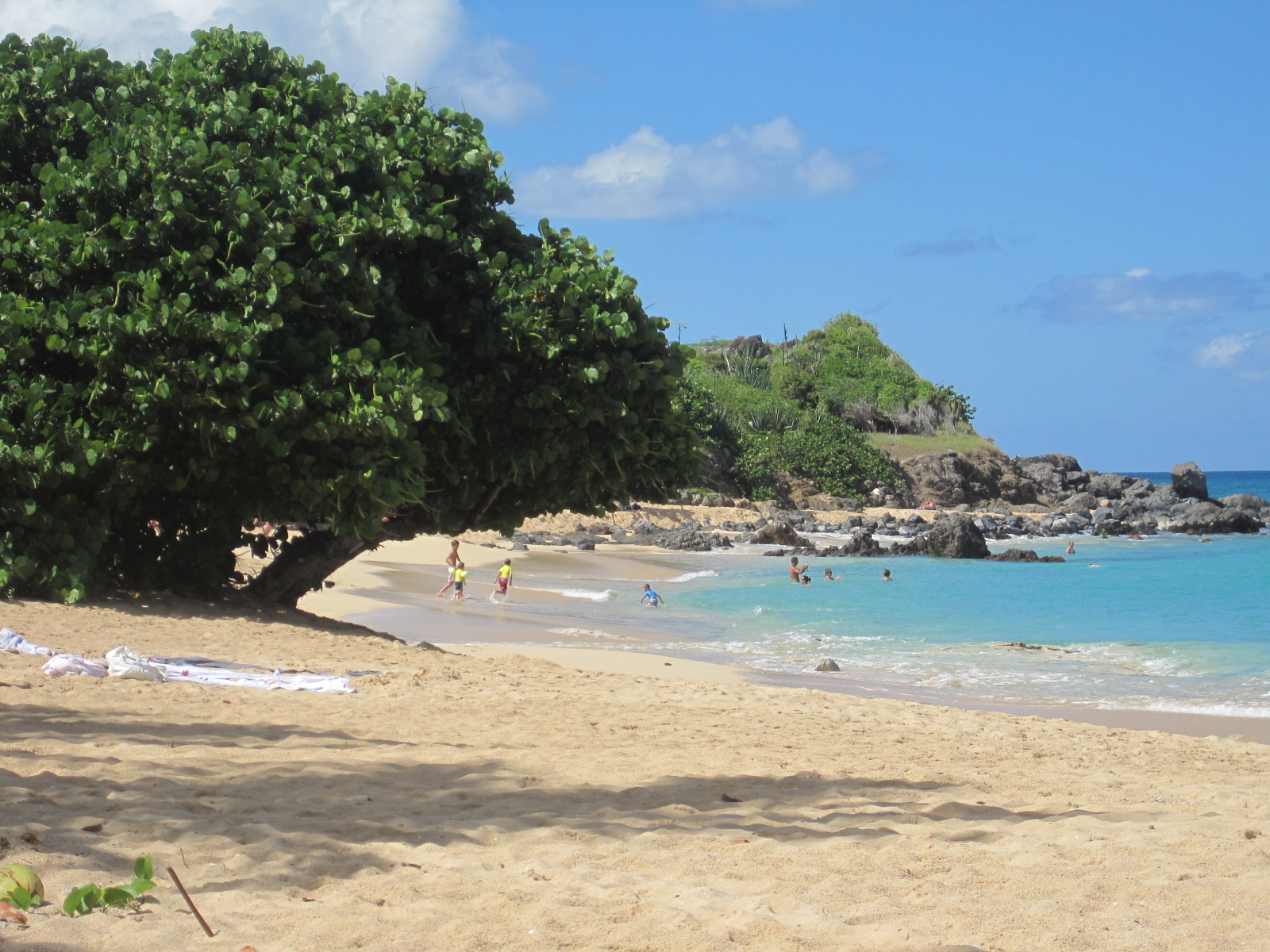 Happiness is... Happy Bay.

Afterwards, a great lunch at Friar's Bay Beach Café, which offers the unique combination of beach bar ambience but with what I call the full "Voila!" service – where they bring your French-inflected food covered with a cloche before unveiling it. And it's followed with the customary rum shot. I loved retreating to a beach lounger after my lunch of beef tartare, prepared tableside. Not quite the usual lolo lunch (which I enjoy just as much).

Our final day in St. Martin was planned to be something other than aimless beach lounging. Leaving our luggage behind at Le Petit, we ventured into Marigot, where I worked on my French …. Longchamp, L'Occitane, Chanel, Lancome. There are some good deals to be had; I couldn't afford not to…. Then the search for another favorite island delicacy for lunch: goat (in this particular case, served to us by a Cameroonian lady whose daughter lives not far from us in Maryland). After collecting our bags, we had every plan to watch the big planes land from Sunset Bar & Grill. But what had once been a laid-back and not-too-crowded beach bar (during past high seasons, including Heineken Regatta week, no less), now looked impossibly crowded. So we turned in our car and headed for the airport.

Doors: Locked and Unlocked

One of the reasons for choosing to stay in St. Martin before heading to Nevis is how difficult it can be to reach one of my favorite slices of paradise. The last time we went to Nevis, we flew American to Miami, then on to St. Kitts, then took a taxi to Cockleshell (aka Reggae) Beach, took a water taxi to Oualie Beach on Nevis, and then another taxi to Nisbet Plantation. Whew! Lots of opportunities for what the airline industry euphemistically calls "misconnects." In St. Martin, we had the opportunity to recover for the longer part of our journey, and then take a short commuter flight on WinAir directly to Nevis.

Although I've got only the one flight under my belt, I can't stress how easy it was to take WinAir from SXM to NEV. I'd made the reservation months ago on WinAir's website, and the few modest schedule changes were emailed to me from an actual person. Check in was breeze, and though we had a slight delay, we were en route only a few minutes after scheduled departure. After about 25 minutes, a touch-and-go stop in St. Kitts to drop off a single passenger, and then 6 minutes later, we were on the ground at the small but attractive NEV airport. With only 7 passengers on the flight, customs and immigration took moments, and then we boarded a taxi for the 5 minute ride to Nisbet Plantation.

I have to say that this trip's combination of St. Martin and Nevis created a perfect balance of destinations we love. St. Martin is cosmopolitan, busy, Gallic; while relaxing, one needs to keep on their toes. Nevis, on the other hand, is lightly-populated, low-key, nature-oriented, genteel, and English, where nudity and profanity are equally frowned-upon. In St. Martin, you leave your car door unlocked because you have to; in Nevis, you do it because you can. At least until those pesky green vervet monkey learn how to drive.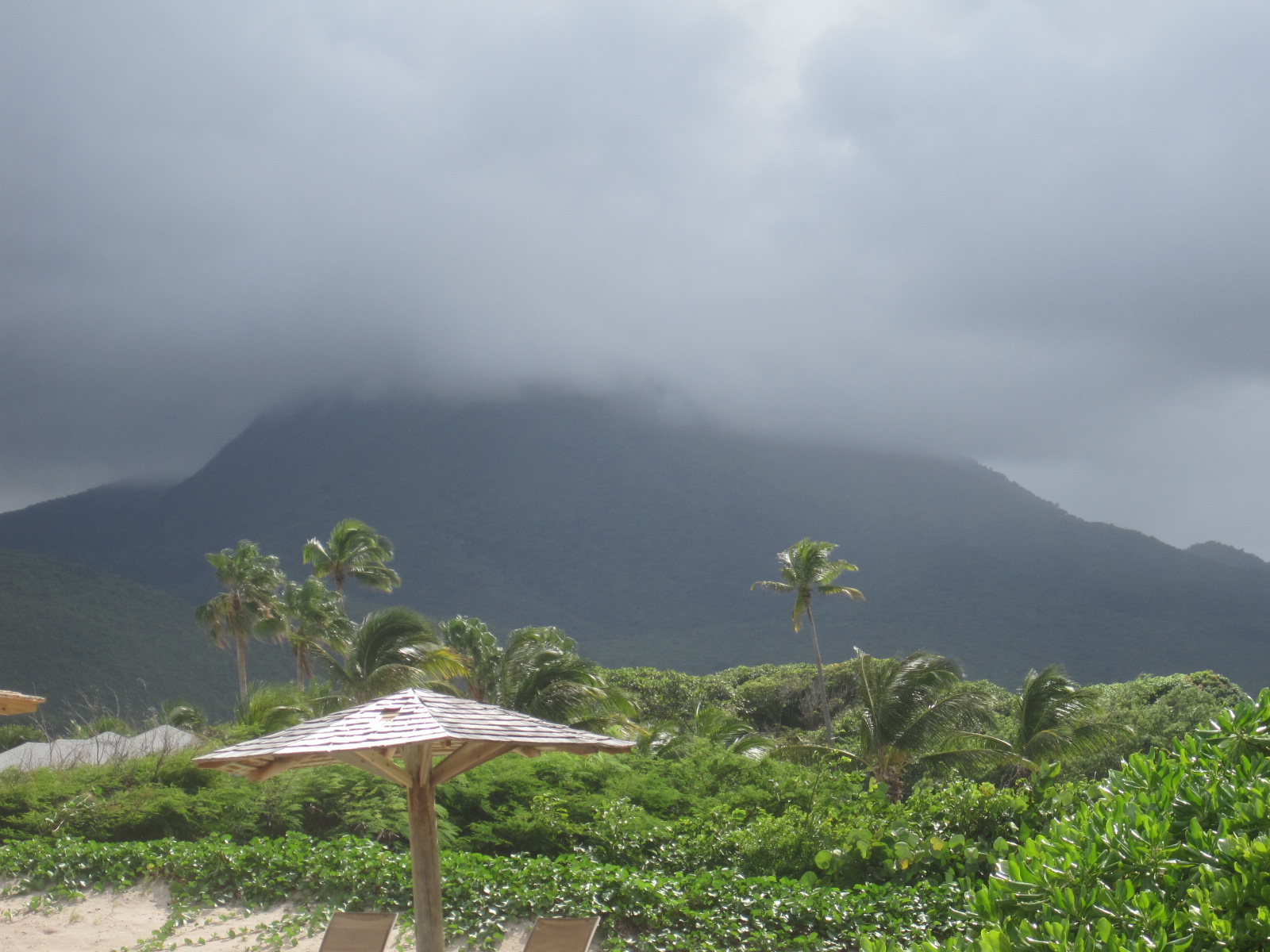 Every glimpso of cloud-shrounded Nevis Peak succeeds in taking me to my "happy place."

Those People Are Pushers

After checking in at Nisbet and meeting the new general manager, we were whisked to our oceanfront suite, rum punch in hand. Just as quickly as we settled in at Le Petit, we changed into proper dinner attire (closed toe shoes and long pants for men), opened the louvers to let in the seabreeze and the sound of the palms and the surf, and headed to dinner in the Great House (dinner, breakfast, and afternoon tea are included in our room rate here). As third-time visitors, we know the drill here, and are known to many of the staff, who welcomed us home.

Dinners at Nisbet are a fairly elegant affair, offered as they are in the historic Great House. We typically come to the bar for a drink beforehand (where crudité are passed and there is often live music) and a chat with bartenders Dan and Kaddy, as well as whomever else might be around. Dinner includes an amuse bouche, starter, entrée, and dessert. There are always Nevisian or Caribbean selections on the menu, as well as classic European choices; my preferences lean toward the local offerings.

It really wasn't until Thursday morning that we got a good look around, arriving as we had well after dark on Wednesday night. Our suite was the same as ones we'd had before (but a mirror-image layout): comfortable bedding, tropical colors and flowers everywhere, a roomy and well-equipped bath, and a balcony overlooking the palm-lined grounds and surf-crashing on the reef. Plenty of outlets to plug in our increasing inventory of electronic toys, and free (albeit spotty) WiFi. I'd asked for our room to be stocked with those necessities of vacation: Mt. Gay rum and Diet Coke.

Breakfast includes a full menu, as well as daily specials, and is offered in one of the beach restaurants. Here, again, we were greeted with warmth by Violet, Angela, Glendina and Nikeeva. We'd discuss our plans for the day, and got hints as to when and where we should go if we wanted a change of scenery. And Thursday night features the famed (at least on the island) Nisbet beach barbecue, which includes not just Nisbet guests, but attracts visitors to, and residents of, the island. The evening starts with cocktails, where we met a pair of English couples with whom we ended up sharing a dinner table; then the amazing array of grilled food (super tuna, great ribs); all of it is followed with live music and dancing.

Since lunch wasn't included in our room rate, we'd use midday to explore (if we were so inclined), but each day included serious beach time. The storms and tides of the intervening years had taken away some of Nisbet's beachfront. It has noticeably eroded, but there's no telling what the next seasons might bring. Just like any other beach, Mother Nature takes, and Mother Nature gives, with no rhyme or reason we can discern. But as before, the beach is dotted with discretely placed and plentiful palapas and loungers, so that we never feel crowded by other guests. A beach attendant brings ice water a few times a day, and stronger beverages on request.

While it would have been easy to sit on the breezy beach all day, with an occasional stroll or swim, we ventured out most days. For me, an absolute necessity is a lunch (or drink) stop at Sunshine's, on Pinney's Beach. Sunshine's is Nevis' iconic beach bar, and has a magnetic pull on me, and the attraction is especially strong whenever I find myself around 17 degrees N latitude (or wish I were). It's not much to look at – a wooden shack painted red, green, yellow and black, located with several small sheds and covered tables on a prime stretch of modestly attractive beachfront, across the channel from St. Kitts. The mood is decidedly mellow and the lunch specials appealing (try the lobster salad). But the most essential element is the Killer Bee cocktail. Don't bother trying to figure out what's in it. Many types of rum? Passion fruit juice? Bitters? Nutmeg? Ginger? Who knows and who cares! What must be reckoned with, however, is how deceptively lethal this concoction is. It's delicious, and you don't feel the brain cells being murdered, so you order another. But the time you want a third, your tongue feels a little disconnected from your brain, but don't worry – the bartender just KNOWS you want another, and delivers it lickety-split. By the time you've finished the third, the cartilage in your knees has melted. (Good thing my husband and jeep driver is smart enough to stop at one.)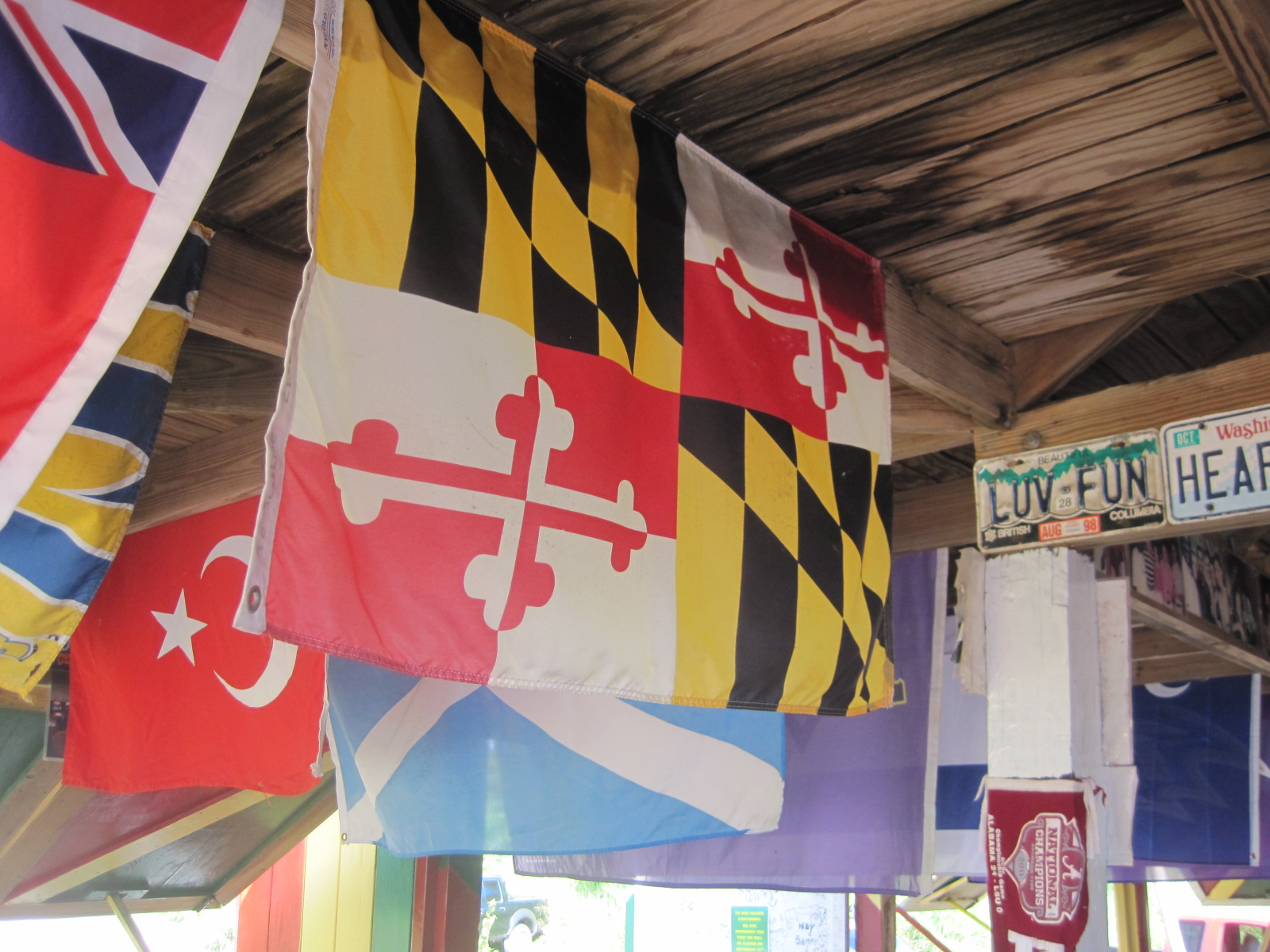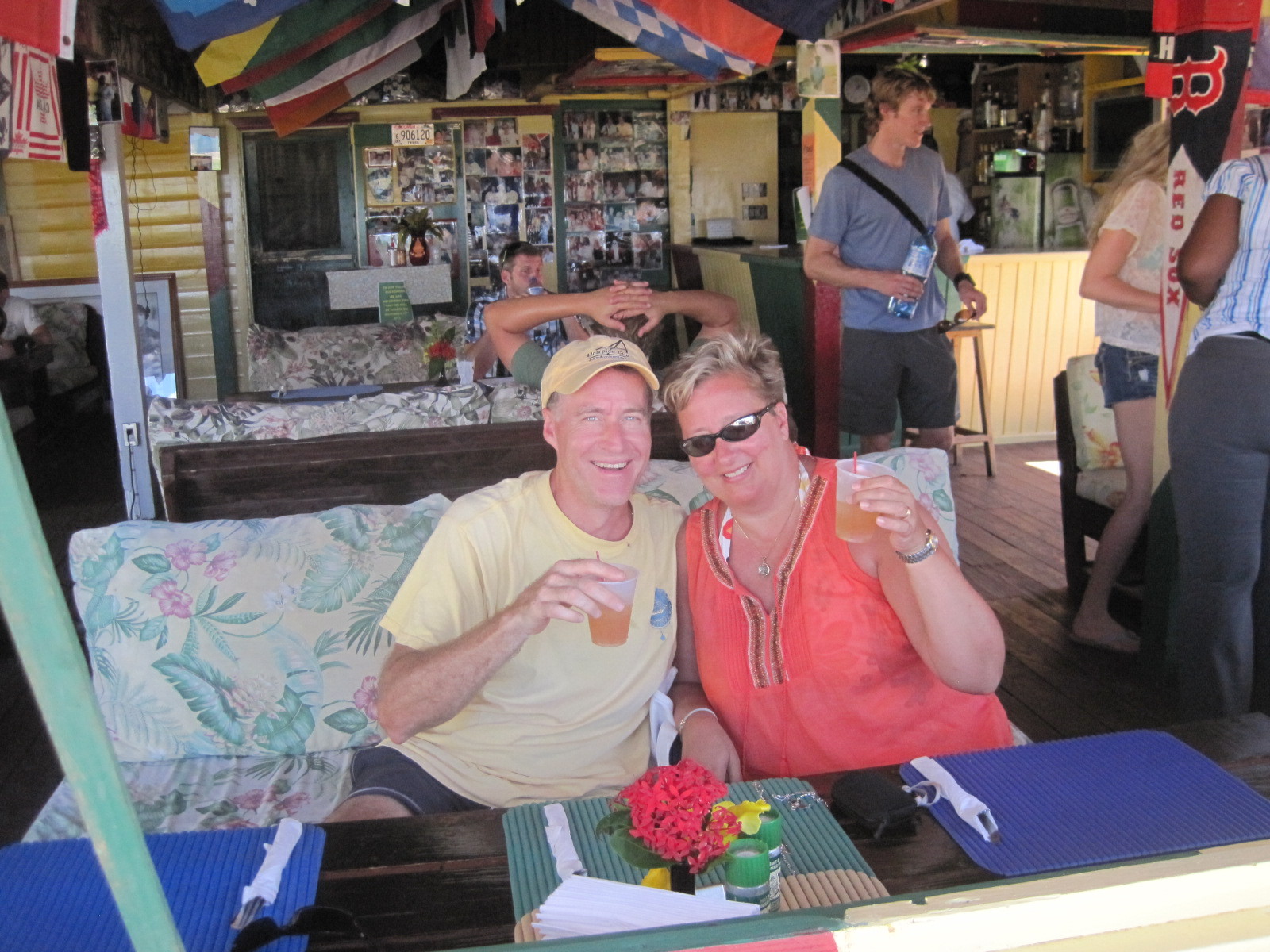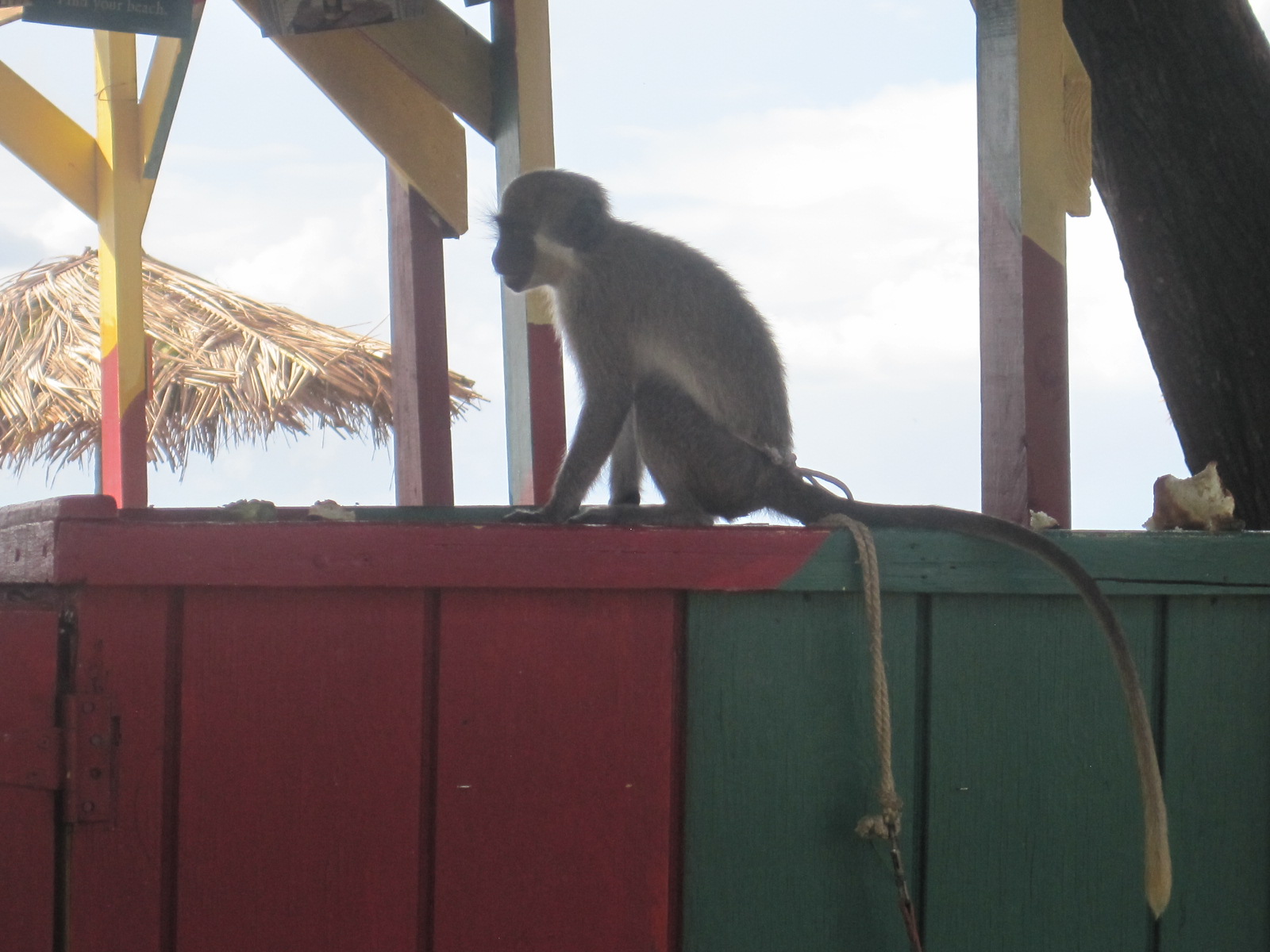 It isn't just the Maryland flag that makes is feel welcome at Sunshine's.  It's the entire vibe ... beach location, friendly staff, resident monkeys.  Those comfy loungers make it hard to leave.

We visited Sunshine's twice, the second time after a torrential downpour which found the main bar area full. As we wandered towards another bar area, the bartender carefully re-directed us to a covered picnic table. Killer Bees in hand, we watched the scene unfold in front of us. A semi-tame monkey named Frisky bounded around the secondary bar area, while a group of island men lunched on a stew that appeared to be made of whole fish that most visitors would eschew (e.g. I spied a barracuda head in one of the bowls). We chatted with another visitor who was playing with the monkey; it turned out he was on assignment in Nevis from the Four Seasons in Baltimore (or, as we acknowledged, "Smalltimore" – though we didn't play the game of seeing how few degrees of separation we were from someone we both knew. We didn't need to). As the fish-eaters made to depart, we noticed the large machetes they were wielding. Then we noticed that they were dressed alike in denim shirts and shorts. Yes, only in a tiny and gentle place like Nevis can you be enjoying drinks on the beach 10 feet away from the island equivalent of a chain gang without an armed guard or barbed wire fence between you.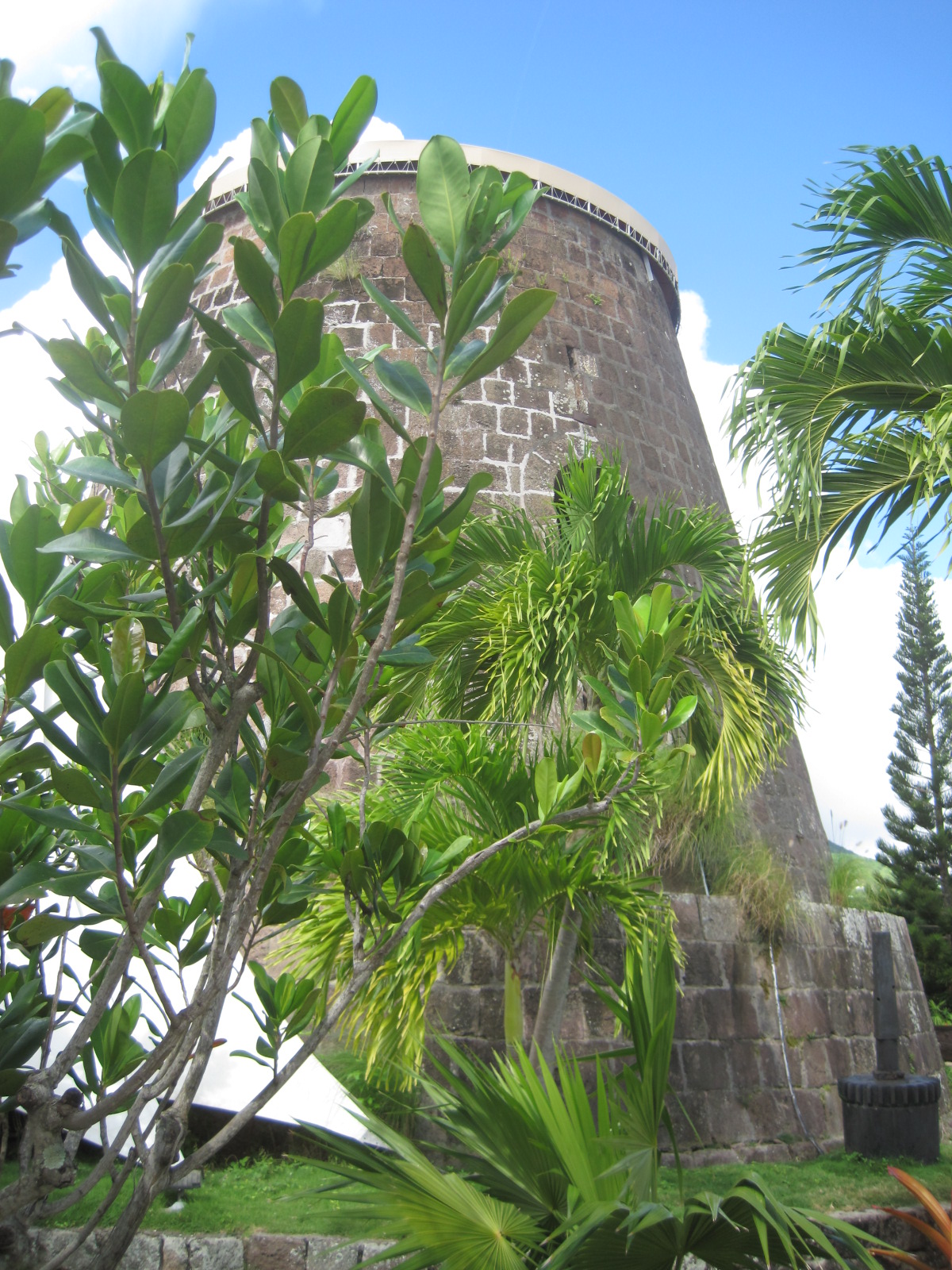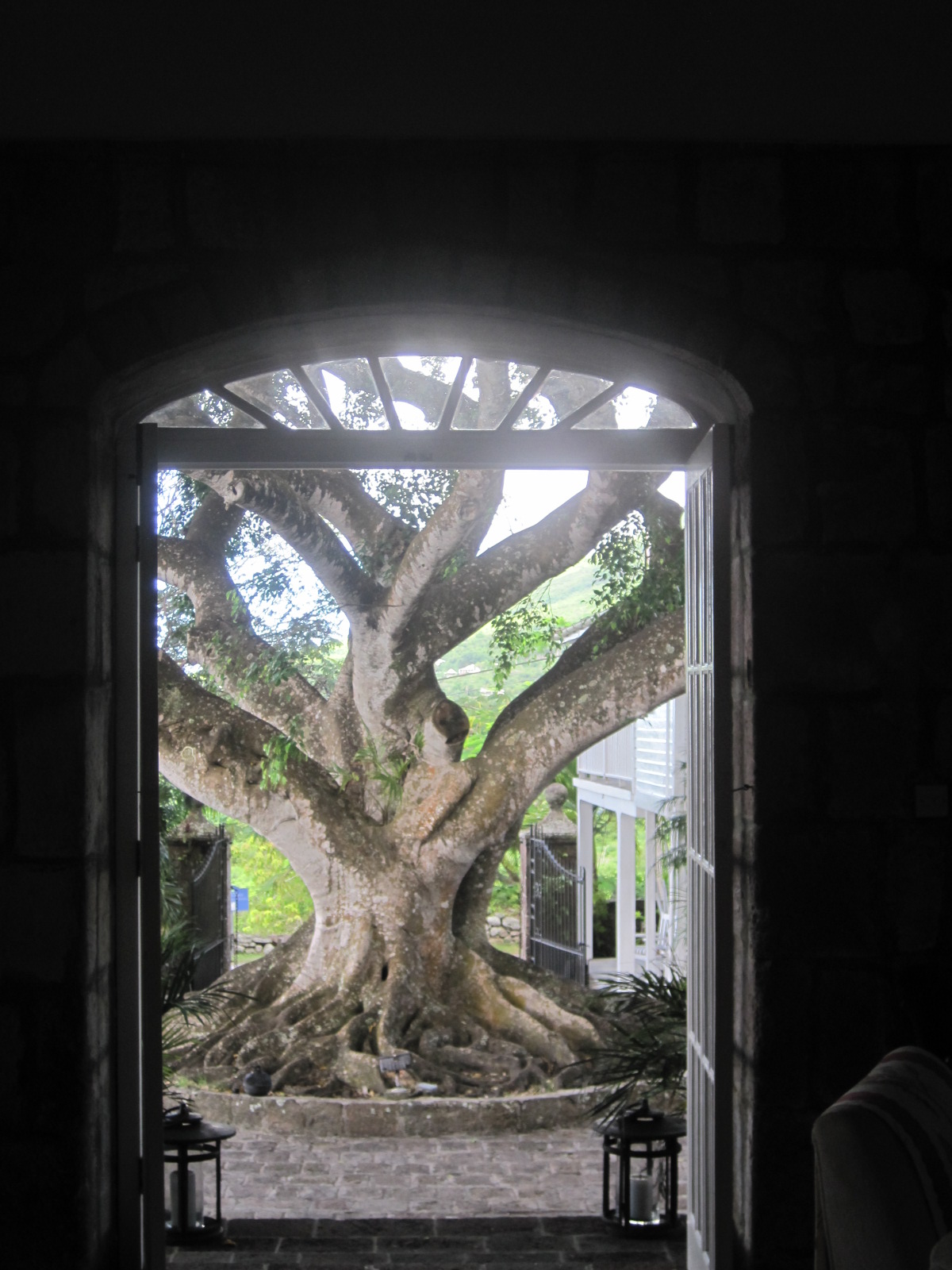 Montpelier Plantation, up in the mountains, offers a contrast to Nisbet's beachfront location.  However, the typical Nevisian welcome and respect for the past puts it on common ground.

While the staff at Sunshine's push their own peculiar and recidivism-inspiring intoxicant, other places on the island have their own allure. When not taking the wayward path to more Killer Bees, we used our wheels to visit other plantations – a return to Golden Rock, as well as a first-time visit to Montpelier. Nisbet is the only plantation hotel in St. Kitts and Nevis that is on the beach; the others are in the mountains. As spectacular as the palm-lined setting of Nisbet is, the mountain plantations are equally breathtaking. Up steep, narrow and rough roads edged with lush tropical foliage and dangling vines, both Golden Rock and Montpelier are built within and around the stone ruins of sugar plantations. The air up here is noticeably cooler, and the monkeys bolder and more numerous. The owners of both of these beautiful plantations have been worthy stewards of the history in their hands, while overlaying – in both cases – thoroughly modern elements; while it would seem that the interplay would be discordant, it creates an oddly harmonious and very inviting whole. We were warmly welcomed at both plantations, staying for lunch at each, and after asking to do so, were given free reign of the properties to look around and take pictures. But for the characteristic Nevisian welcome and some overlap of staff, one could easily spend half a vacation in the mountains and half a vacation on the beach and feel like you were on different planets.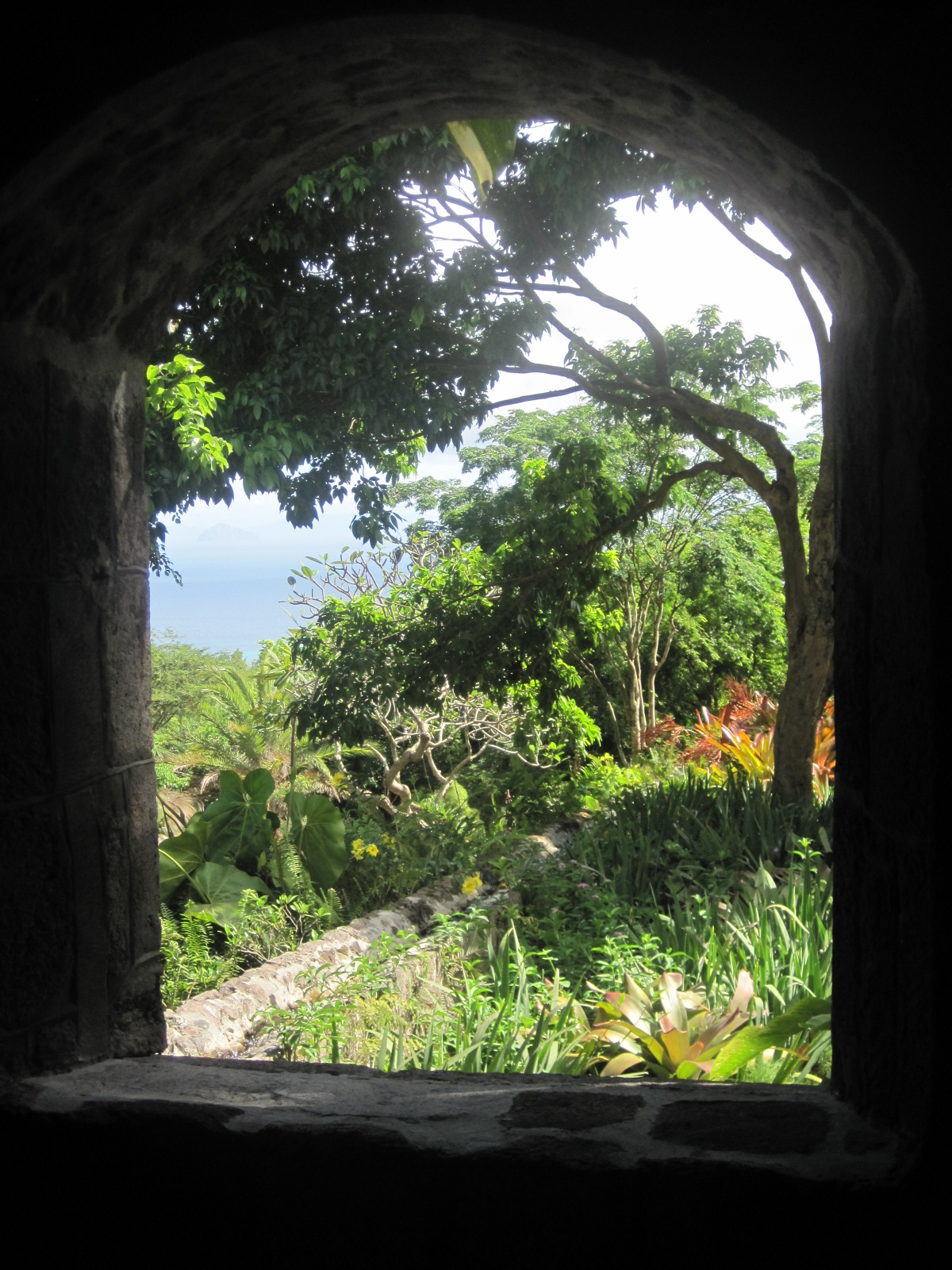 We loved returning to Golden Rock Plantation, which offers unparalleled views of the sea, and the best fish sandwich on the island.

Nevis is one of the prettiest islands in the Caribbean. Crowned by the almost-always cloud-covered extinct volcano which is Nevis Peak, the rest of the island is swathed in a luxuriant gown of verdant rain forest, punctuated with riots of flowering vines and trees. The fragrance of flowers wafts over you from time to time. Here and there are the occasional grand homes, many more small but colorful residences, and the ruins of sugar mills. Goats jaywalk, while green vervet monkeys play hide-and-seek in the trees and steal fruit. Everywhere, you see the shimmering sight of the Caribbean Sea; not the placid pale blue of the Great Bahama Bank, but the deeper turquoise of the further "down island" Windwards. But aside from the natural gifts of this beautiful place, the people are the jewel in the crown. Nisbet Plantation's greatest asset is its staff, and that is true of every place on the island that we've visited as well.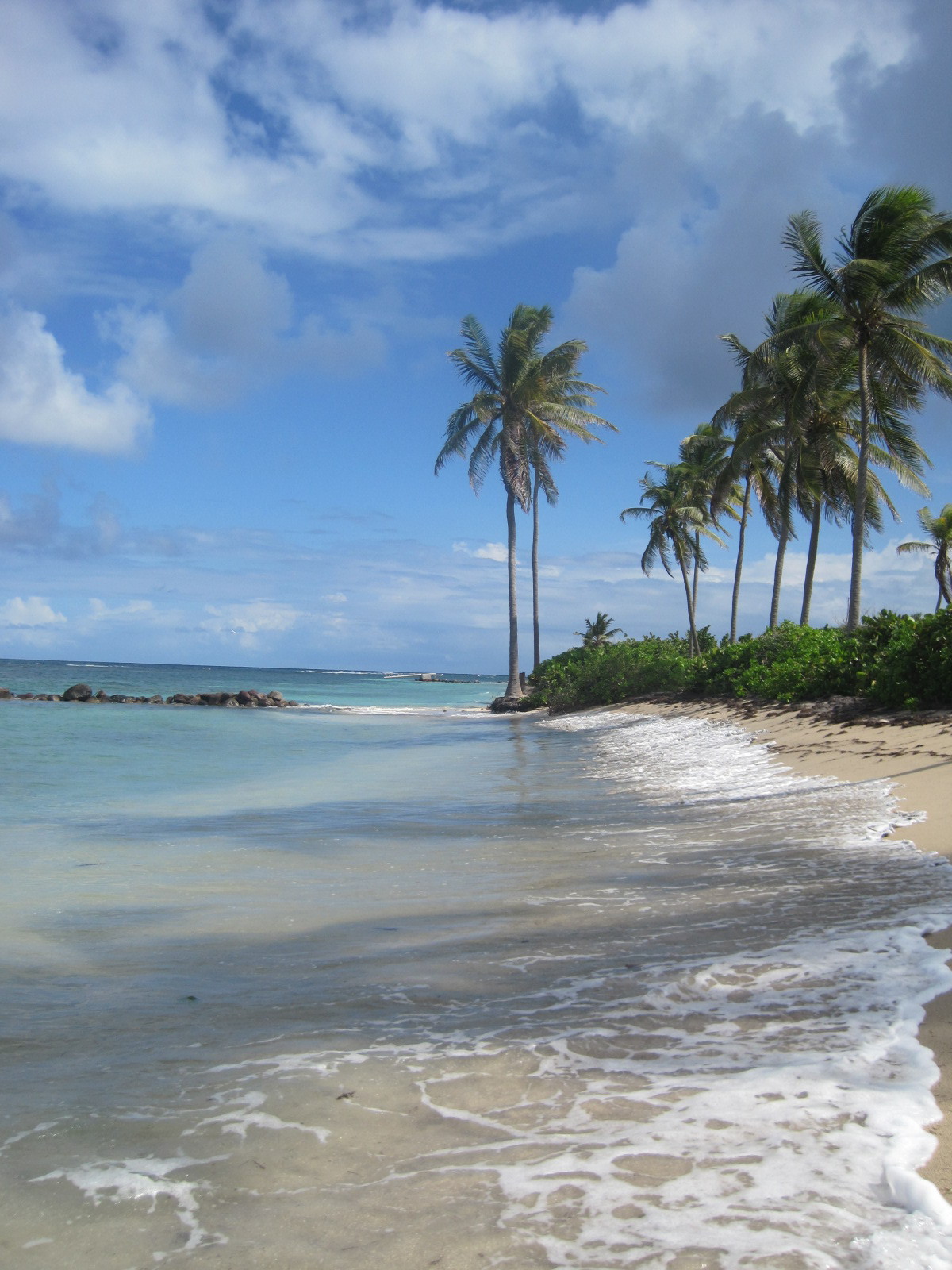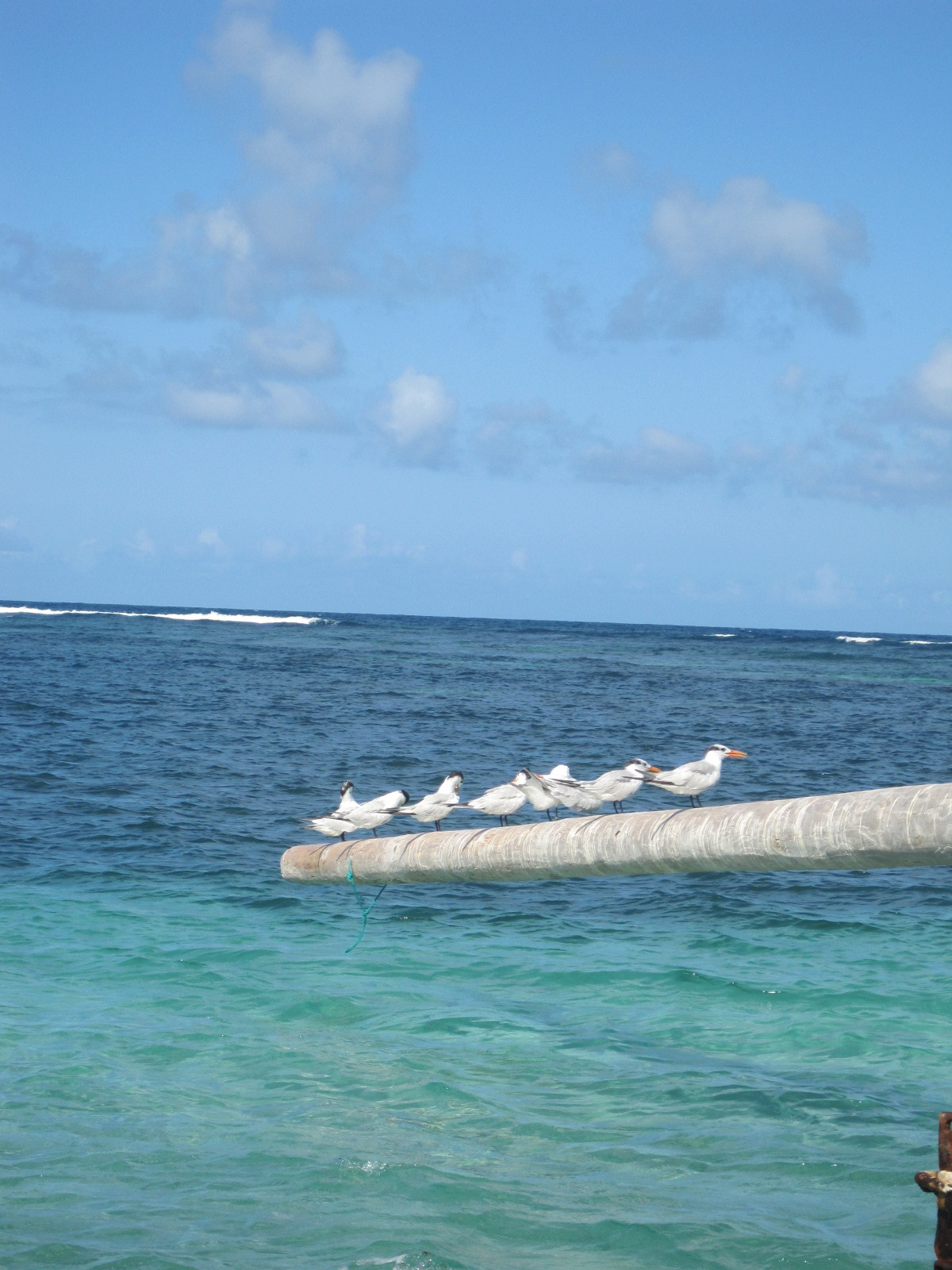 The Secret Handshake

One of the things I've learned over more than 20 years and 3 dozen journeys throughout the Caribbean is that there is a "secret handshake" that consists of two principal elements. First off, it's a way of interacting with people, of learning their customs, that inevitably leads to a more pleasant encounter and can open doors. Almost universally, Caribbean islanders don't respond favorably to an abrupt statement or demand; the way they interact is with eye contact, a greeting, sometimes an exchange of names if you are strangers, a bit of small talk, and perhaps some gentle joking (usually of the self-deprecating sort) or flirtation, before getting down to business. This is not how most urban East Coast Americans typically act, but applied universally – not just in the islands – it's amazing how well it works. And how good it feels to have done so. So, while you may not get a hug from your waitress or a handshake from you taxi driver in New York City, the way you do in Nevis, you might just make someone's day.

Secondly, most people I've encountered in the Caribbean are very proud of their homes and are delighted to share them with you, and show them in their best light. But this is a two-way street. A visitor should not ignorantly arrive to their destination without doing any research – it really helps to know about your destination, to use the knowledge as both a demonstration that you have cared enough to learn about the island, and an entrée to learning more about it. Eat and drink as the islanders do, and if you aren't sure how they do it, ask.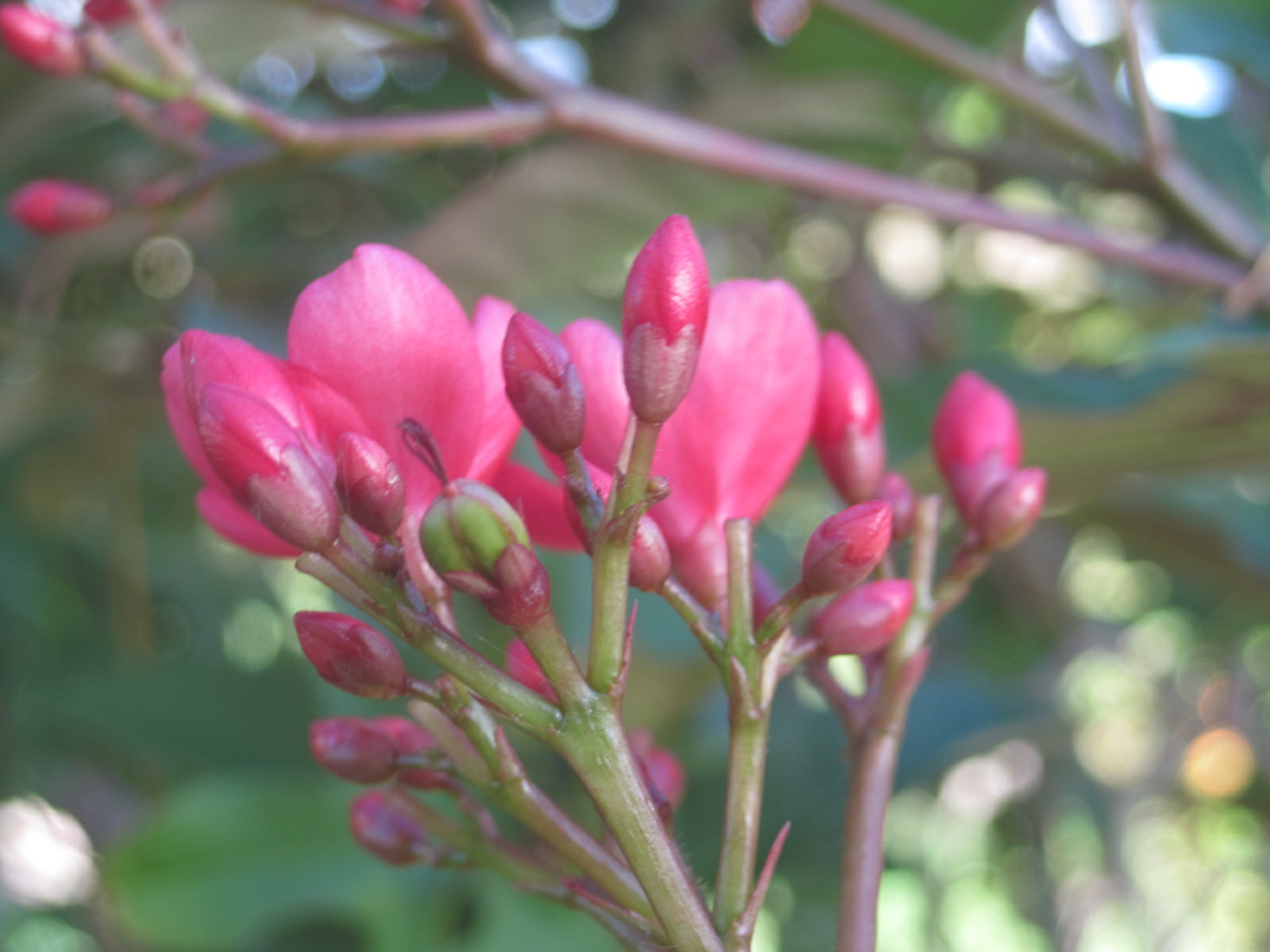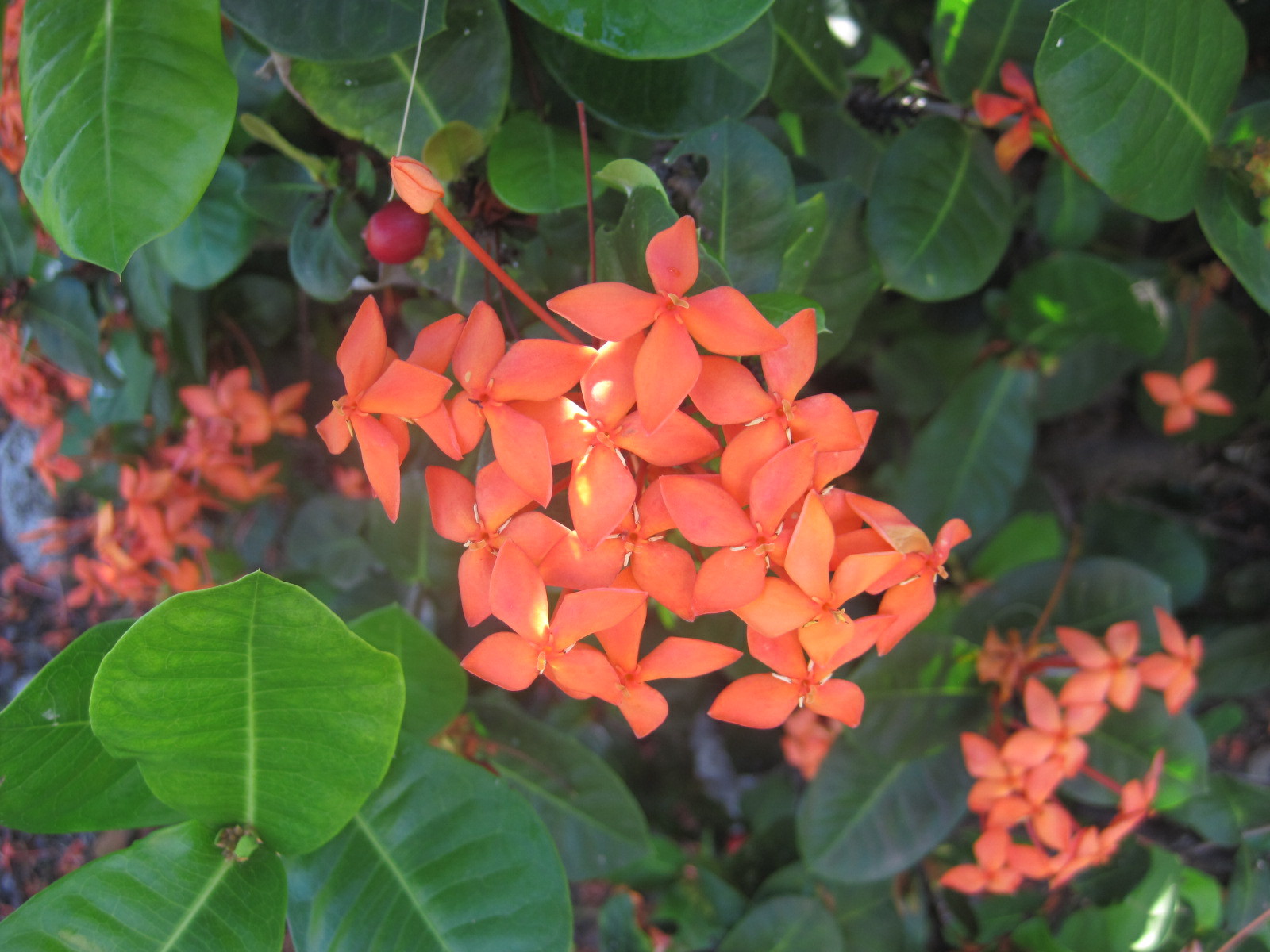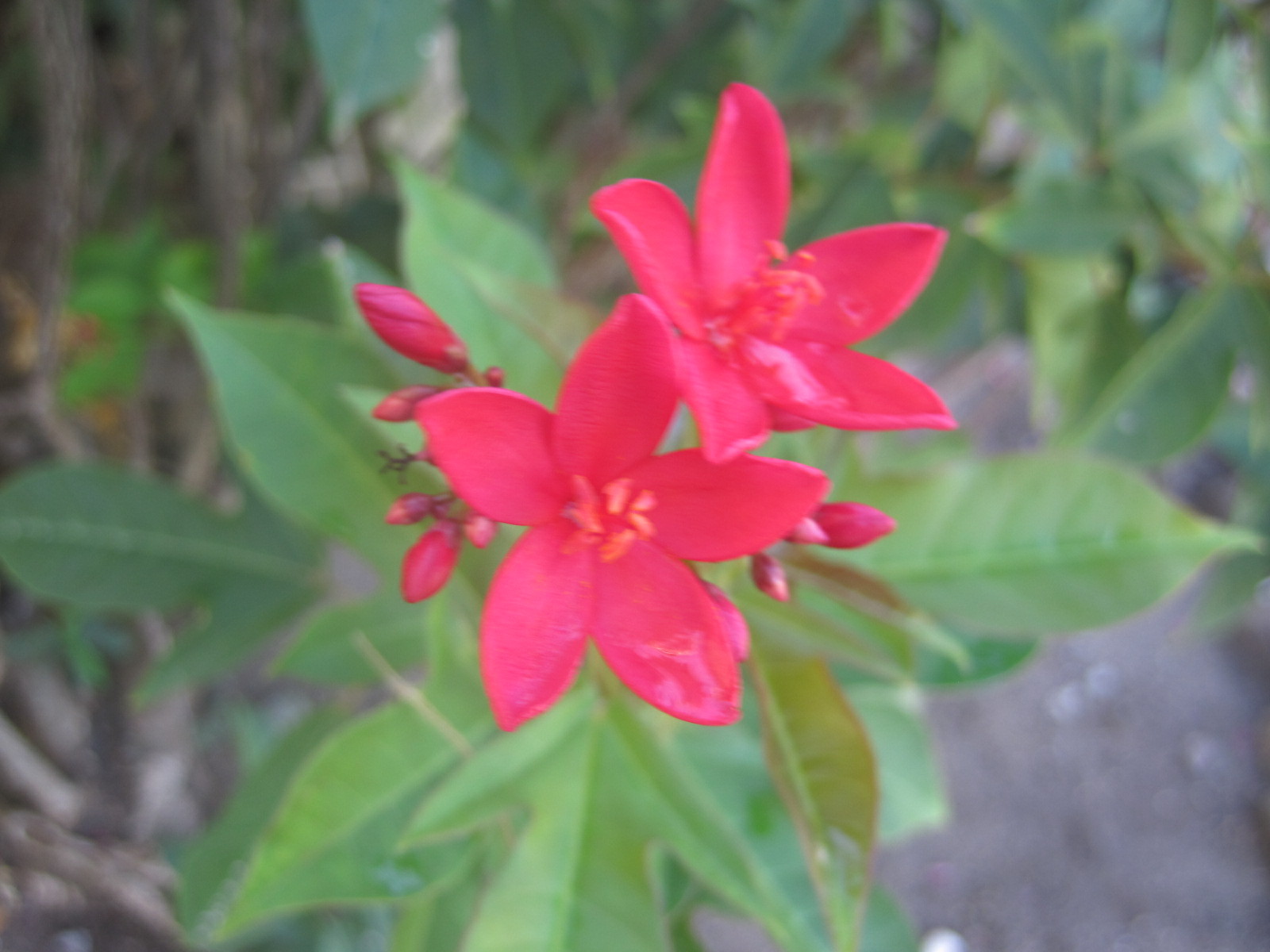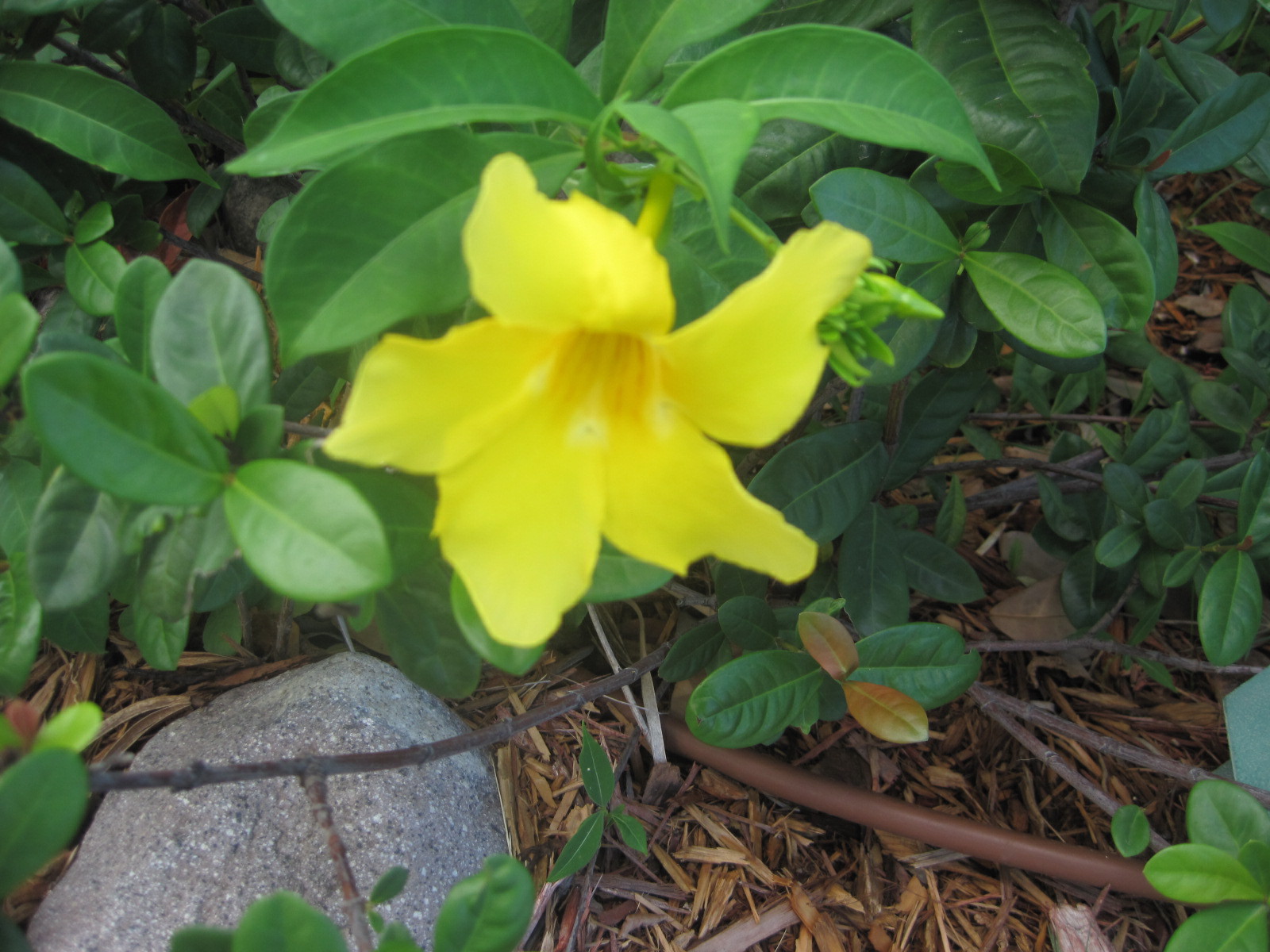 Cold Reality

Of course, the warmth of the Caribbean sunshine, the beauty of the islands, and the welcome of the people seems to disappear as soon as one enters the maw of the airport. On our return home, we did the arduous taxi/water taxi/taxi run to the airport in St. Kitts. Then check in, passport control, and security. Then, an hour delay in flying to Miami. Then passport control, baggage claim, customs, re-checking bags, security. Then a delay flying to Baltimore, including an extra 30 minutes of very turbulent circling before a rough landing which evidently required evasive action to avoid an obstacle on the runway. Then the endless wait for luggage (45 minutes) which was seemingly being carried by goat cart. Finally home. They must do it on purpose, to make paradise seem far away, and to make us crave the next fix.