A Chesapeake Odyssey - June, 2004

Homer's epic poem The Odyssey  begins with Odysseus held in thrall by sea nymph Calypso on the island of Ogygia.  Just as Homer's Odyssey starts with Calypso, my Chesapeake odyssey started with Calypso.  After a dozen years of owning boats and sailing the Bay, never for longer than a few days, it was high time we devoted more than a long weekend to exploring our home waters.

The Boat

A couple of years ago, we chartered a Sabre 38 for a long weekend sail on the Chesapeake Bay from Sailing Emporium in Rock Hall on Maryland's eastern shore.  As soon as I set foot on that boat, somewhat abused as she was being a charter boat, I knew this was my next boat.  The stars aligned, and we acquired our own Sabre 38 (Mark II) in February of this year, christening her Calypso.  She proved to be the perfect platform for our week's adventure.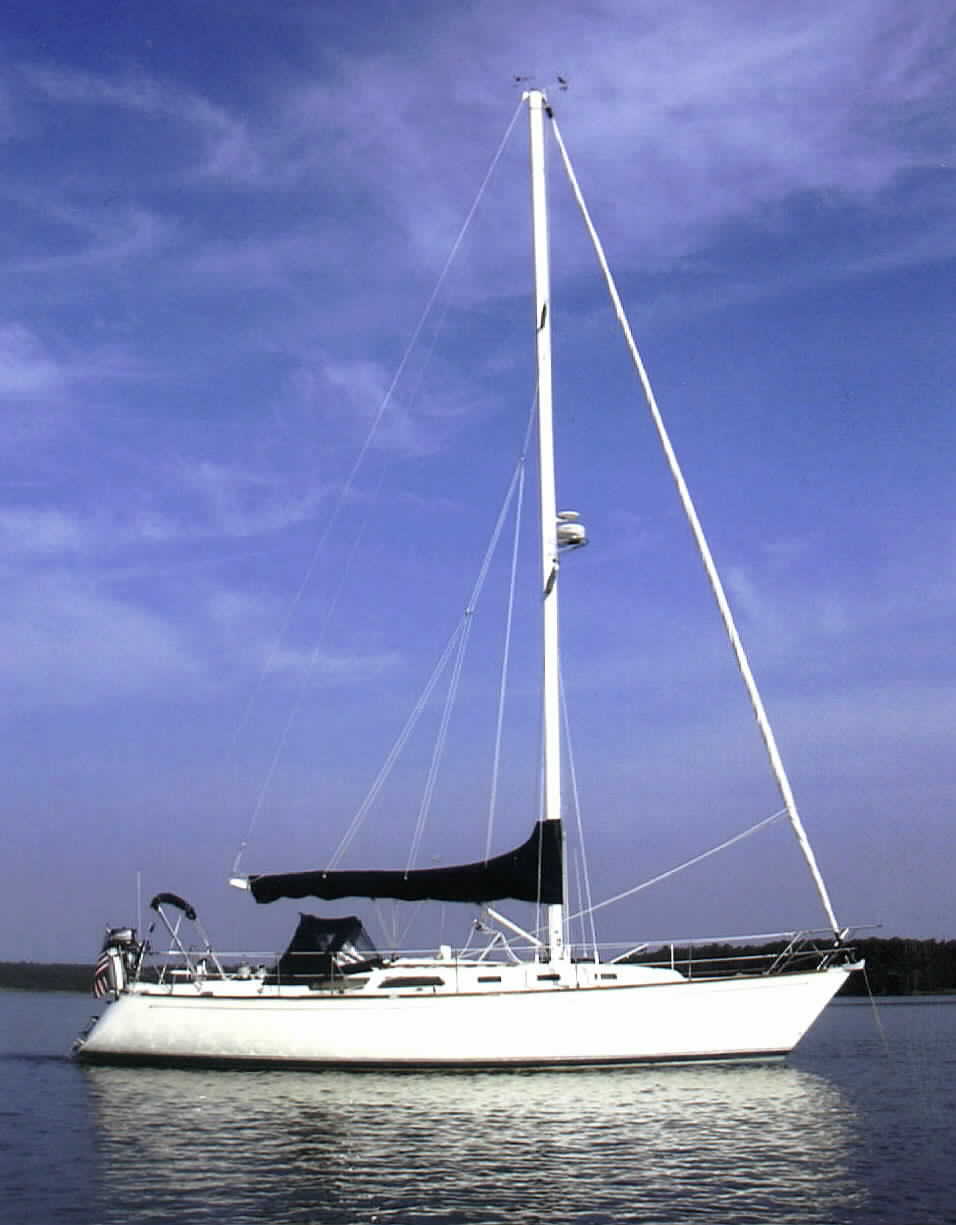 Calypso at anchor in the Little Choptank River.

Calypso's vital statistics:  38'8" LOA, 12'4" beam, draft of 4'3" with the centerboard up and 8' with the centerboard down (essential, for the notoriously thin waters of the Chesapeake).  Tankage consists of 106 gallons for water, 30 gallons for holding, and 45 gallons for fuel.  There is a roomy v-berth forward, with plenty of storage, a bench, and a vanity with sink, and a full private aft cabin.   The fully-equipped galley includes engine-driven refrigeration and a 4-burner CNG range with oven.  There is comfortable head, complete with a separate stand-up shower that can be curtained off.  Our dinghy is a 9" Apex rigid-bottom inflatable with a 6 hp 4-stroke Nissan outboard.

Provisioning

It would have been nice to have the likes of Bobby's of the BVI to take our order and deliver our groceries dockside.  Bobby's prices for that sailing essential, RUM, would have been nice as well!  Instead, we settled for our local Safeway --  where the prices and selection were familiar -- and our local liquor store, where the prices for rum are too high but the selection of wine is stellar and well-priced. 

We could have done less than a full-blown provisioning run, but since we planned on staying in remote anchorages when possible, chose not to count on being able

to get to grocery stores.  This proved to be a good decision, since we had plenty of storage for all of our food, as well as efficient and effective refrigeration.  And we didn't have to spend any time chasing down food.

Home Base - Annapolis

After a Saturday night stay at the Renaissance Hotel in Washington, DC (where we stayed for a wedding), we dragged our sleep-deprived butts home, loaded up our stuff, and headed for our marina, which is located in the Maritime Republic of Eastport (the part of Annapolis on the other side of Spa Creek, which seceded from the rest of Annapolis -- much like Key West seceded from the United States to become the Conch Republic).  Eastport is, in many respects, the center of Maryland sailing, and hosts dozens upon dozens of marine enterprises and hundreds if not thousands of sailboats.  Our slip is right on Back Creek near its mouth, across from the Annapolis Sailing School and in sight of the mouth of the Severn River and the Chesapeake Bay.  I liken getting out of our slip on a weekend day to merging onto the Capitol Beltway during rush hour without the benefit of an on-ramp.

Of course, despite the congestion, the location has its benefits.  Nothing is quite like being in the center of things, and the access to the Bay is unparalleled  even if the entrance to the Severn River is a bit like sailing in a washing machine.  We always run into friends when we're in Eastport, and finding a hand to help out with a boat chore is never a problem.  (Indeed, while I provisioned on Saturday, Captain Rick recruited a friend to get the boat fueled up and pumped out.)  Restaurants and bars are within easy walking distance, and downtown Annapolis proper is a few minutes further away on foot.

After stowing all of our stuff, we headed to Davis' Pub for a quick lunch, and by 1 p.m. we were merging into Father's Day traffic on Back Creek and entering the open Bay.  The weather was sunny and cool.

The Anchorages

One of the wonderful things about the Chesapeake Bay is its sheer variety.  Its navigable waters border one of America's most populous metropolitan areas, enabling one to anchor or take a slip in the heart of Baltimore or Washington, DC.  Yet, just a few hours' sail away, one can easily disappear in an empty creek or cove, with only the wildlife for company.  In between are charming colonial-era towns such as Annapolis, Chestertown, St. Michaels, Oxford, and others, as well as semi-suburban enclaves with (mostly) attractive homes and all the conveniences.  Our journey covered a range of these possibilities, but not including the cities -- we get enough of those every day!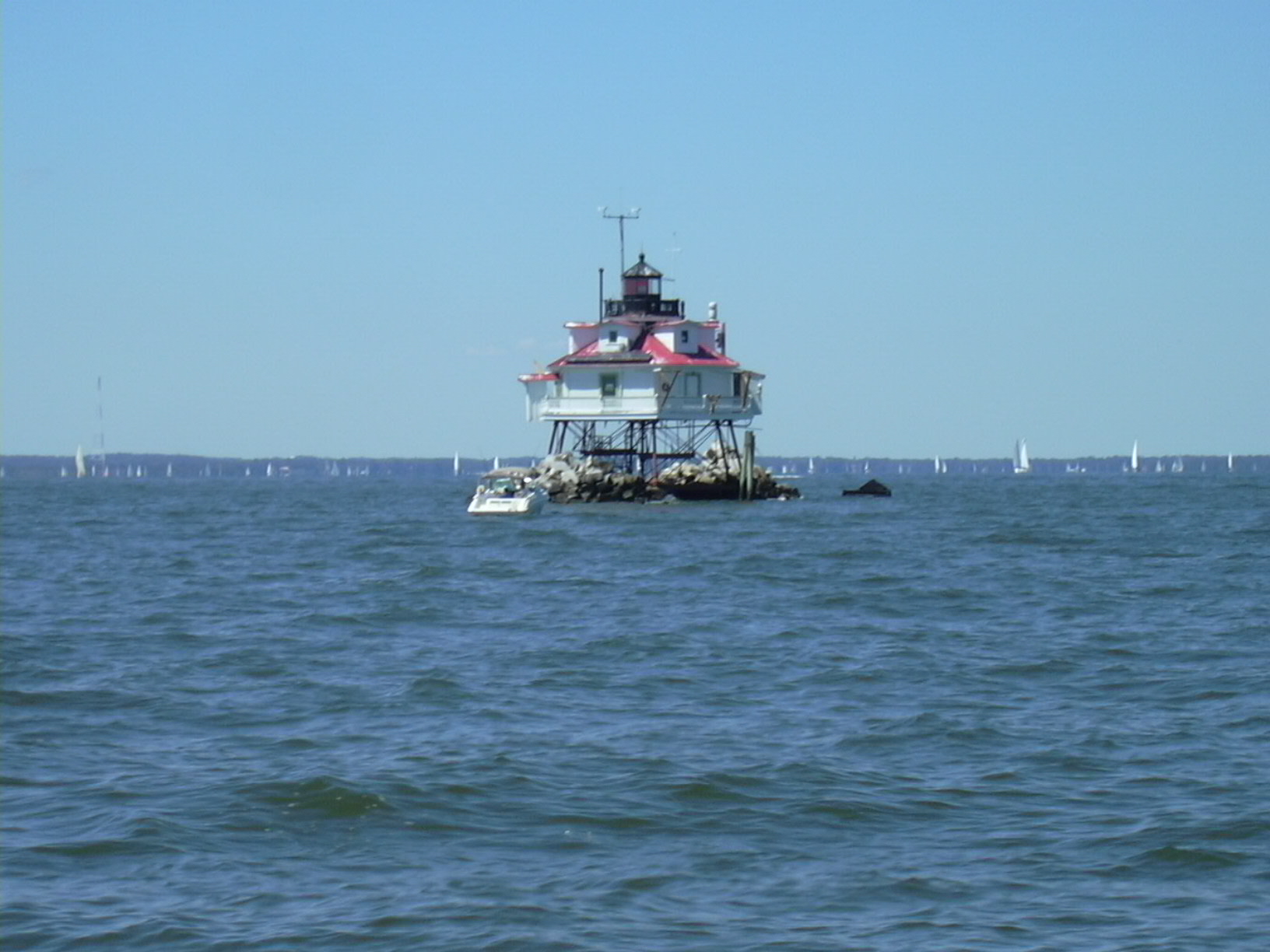 We leave the emblematic Thomas Point Light in our wake as we head further south down the Chesapeake Bay.


The West River

The West River qualifies as one of those semi-suburban destinations, and was our goal for Sunday evening.  The West River and the Rhode River, which share a common entrance from the Chesapeake Bay, are the second major rivers south of the Severn on the western shore of the Bay.  Home to several large marinas and a large fleet of sailboats, the West River is a busy place on weekends, though the traffic wanes by Sunday night.  Given our afternoon departure, we didn't want to be too ambitious, and I wanted to spend my first night of vacation having dinner out instead of cooking.
Sunday, though pretty as a picture, was not especially breezy,

though breezy enough to push us to our destination by about 5:30 p.m.  The Rhode River is one of the few places on the Bay where we've ever dragged anchor, as the mud at the bottom is somewhat loose.  On this occasion, we didn't fare much better, failing to set our 35 pound Delta in 4 attempts.  After circling around and considering our alternatives, Captain Rick tried to set our back-up Danforth, which stuck on the first try -- I guess having more surface area helps! 

Following sundowners, we dinked over to Pirate's Cove for dinner, which was full of Father's Day diners, making us glad we'd made reservations.  Dinner was a Chesapeake classic: cream of crab soup, soft-shell crabs, and rockfish stuffed with crab.  When in Rome


The Little Choptank River

We found ourselves heading for the Little Choptank River both Monday and Wednesday evenings.  The Little Choptank, which is on the Eastern Shore, qualifies as very remote, which feeling of remoteness was enhanced by the fact that we were there on weeknights. 
Monday's sail to the Little Choptank demonstrated the utter futility of relying on National Weather Service forecasts this week.  The forecast was for NO wind, and instead we had a brisk southerly breeze of 15 knots; naturally, we were heading south  What started as exhilarating tacks to make some southbound headway turned into a punishing beat as the wind and seas increased.  After hours of sailing, we finally conceded defeat and motorsailed the rest of the way into this wide, shallow river whose color is notably greener that the areas to the north.   Not being familiar with this area at all  though it is as well marked and charted as any other in the Chesapeake  we inched our way into our chosen anchorage on Fishing Creek, which would give us protection from the predicted south winds.

A Midwesterner by birth, I always marvel at what is called a "creek" in this part of the world.  My experience of creeks in Illinois is of narrow rivulets that sometimes swell in the spring snowmelt or summer cloudbursts; my boat could span the bank-to-bank distance across the creek nearest my childhood home.  In comparison, the cove in which we anchored in Fishing Creek was at least 200 yards from shore to shore, with lots of swinging room and only two other boats for company Monday night. 

The low, sandy shoreline is dotted with large, attractive homes, which ruled out the possibility of landing on the attractive beaches.  Unfortunately, though it was warm enough for us to think about swimming, a cursory check of the waters revealed that summer plague: nettles (jellyfish), lots of them.  So, we satisfied ourselves with reading and hanging out, enjoying mojitos, a dinner of grilled steak, and an excellent Maryland wine (a syrah/chambourcin by Boordy Vineyards).  Clouds rolled in, but it was the summer solstice and it remained light pretty late.

On Wednesday, we returned to the Little Choptank from Solomon's Island.  Dogged by light northerly winds (we were headed north), we tacked back and forth across the Bay for hours, in the company of a pretty blue Bristol and a pretty blue Hinckley (which, at 42 feet long, still probably had less waterline than us, and which we consequently left in the dust).  Rain fell intermittently, so we tricked ourselves out in foul weather jackets and pants.  By 2:30, we gave up trying to sail and added an engine assist.

This time, we needed protection from the north, so we chose a creek further in  Phillip's Creek.  One of the invaluable resources we used on this trip, the Shellenbergers' Cruising the Chesapeake: A Gunkholer's Guide, described a snug unmarked little spot within the creek, between tiny Cherry Island and the shore, as an idyllic spot to anchor, and declared attempts to sneak in there as the ultimate gunkholer's challenge.  Never one to pass up a challenge, Captain Rick decided we had to get in there.  With my knuckles white and my eyes glued to the depth sounder, we tiptoed into that little slot, miraculously never nudging bottom as we wedged ourselves in this tiny little strip of 7-foot-deep water.  I had no idea how the heck we were going to get out of there when the time came, but we were settled and well-anchored for the duration.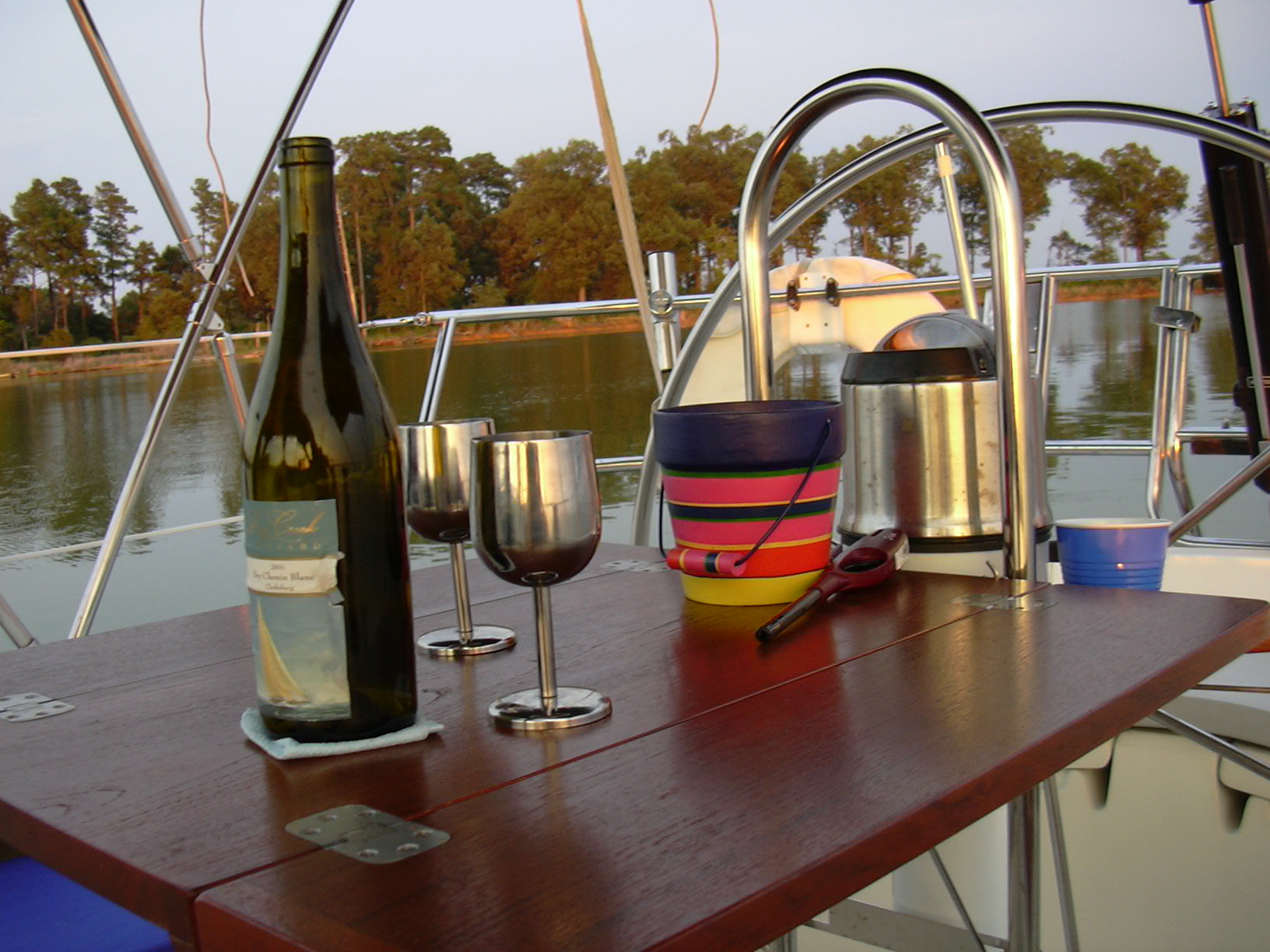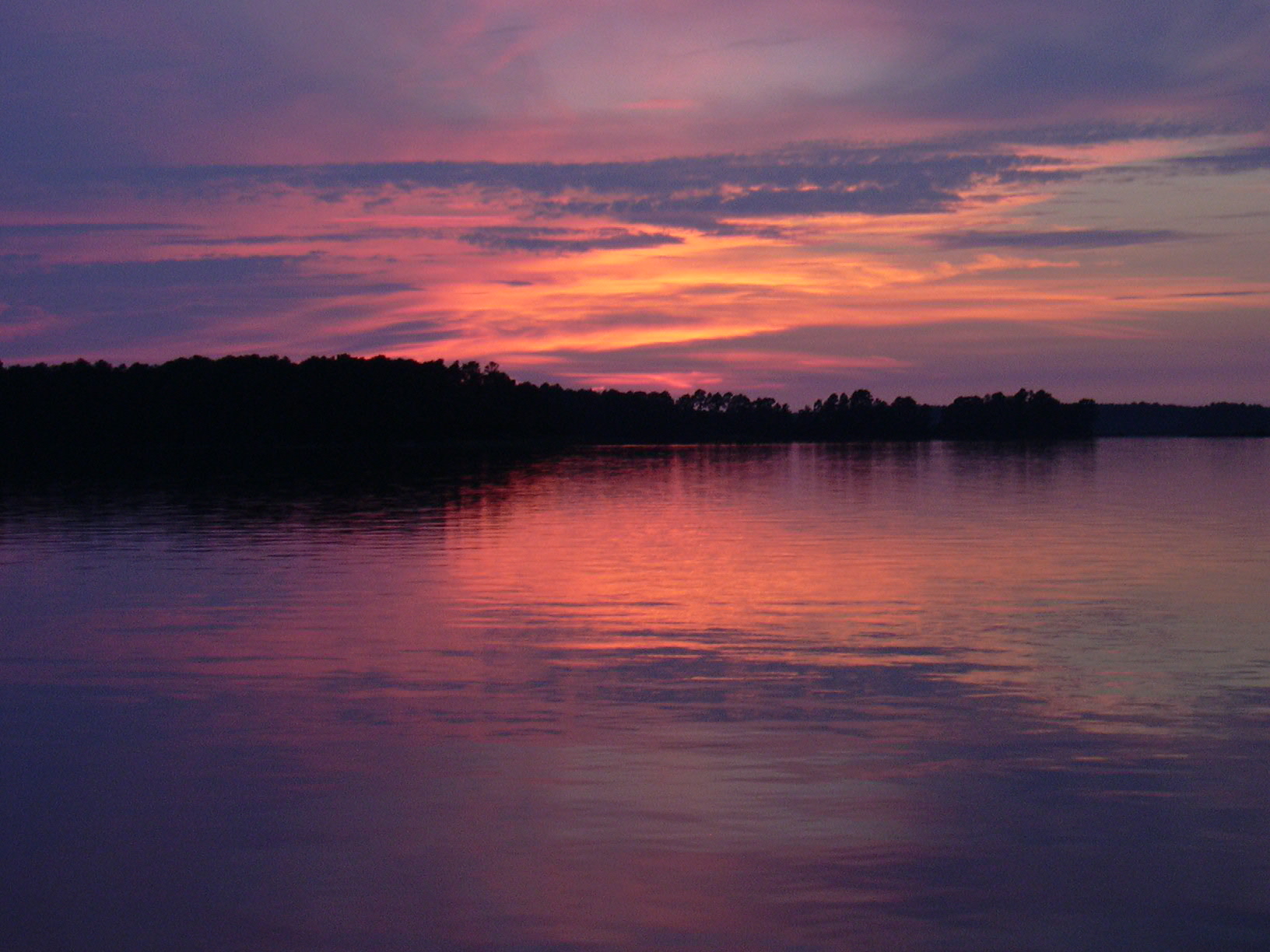 Evenings are the sweetest time of day on a sailing trip.  Time to wind down with some wine and watch the waning of the day.

Phillip's Creek is quintessential Chesapeake.  The beauty of the Bay reveals itself slowly, subtly, insinuating itself into one's consciousness.  It's not the brash majesty of the crashing Pacific, nor the lush vivid colors of the tropics.  Here, the line between land and sea is blurred, where low lands yield reluctantly to the insistent touch of the tea-stained water.  The day's lingering clouds contributed to a spectacular sunset, painting the sky purple, pink and orange, and we get to enjoy it undisturbed by another soul.


Solomon's Island

On Tuesday, our destination was Solomon's Island.  We wanted one marina night in the middle of our week so we could pump out, so we booked a slip at Zahniser's.  As seems to be par for the course this week, we had winds on our nose and ended up motor-sailing most of the way to the Patuxent River, on the western shore.  It always tickles me to think that, had I enough time and right watercraft, I could follow this river west, take a turn into the Little Patuxent River, and end up in my backyard.  I couldn't feel further from home, though.
Solomon's Island is a historical town with a seafaring tradition.  Across the Patuxent River is Patuxent River Naval Air Station, so the old-time quaintness of the town is interrupted regularly by the sights and sounds of military aircraft going through their paces.  We reached Zahniser's by 1 p.m., so we got plenty of time to enjoy the town as well as this resorty marina.  It was the hottest day we'd see all week, so having shore power to turn on the AC for a little while, as well as having a pool, was awfully nice.

After the formalities of checking in and making dinner reservations, we headed poolside for lunch, and then explored the town.  The infamous Tiki Bar wasn't open as we passed by, but we did get to enjoy the shops, the waterfront promenade, wildly painted seahorse statues, and ice cream, before gathering clouds convinced us to head back to the marina.  A bit more laying about poolside.  Then we attempted to take advantage of the vaunted showers here  Zanhiser's has a code-locked bath house for its paying guests, with individual bathrooms, as well as free baths in a separate building for use by cruisers who are not marina guests.   The private baths were indeed nice BUT there was NO HOT WATER.  To add insult to injury, we discovered, too late, that the free showers had hot water.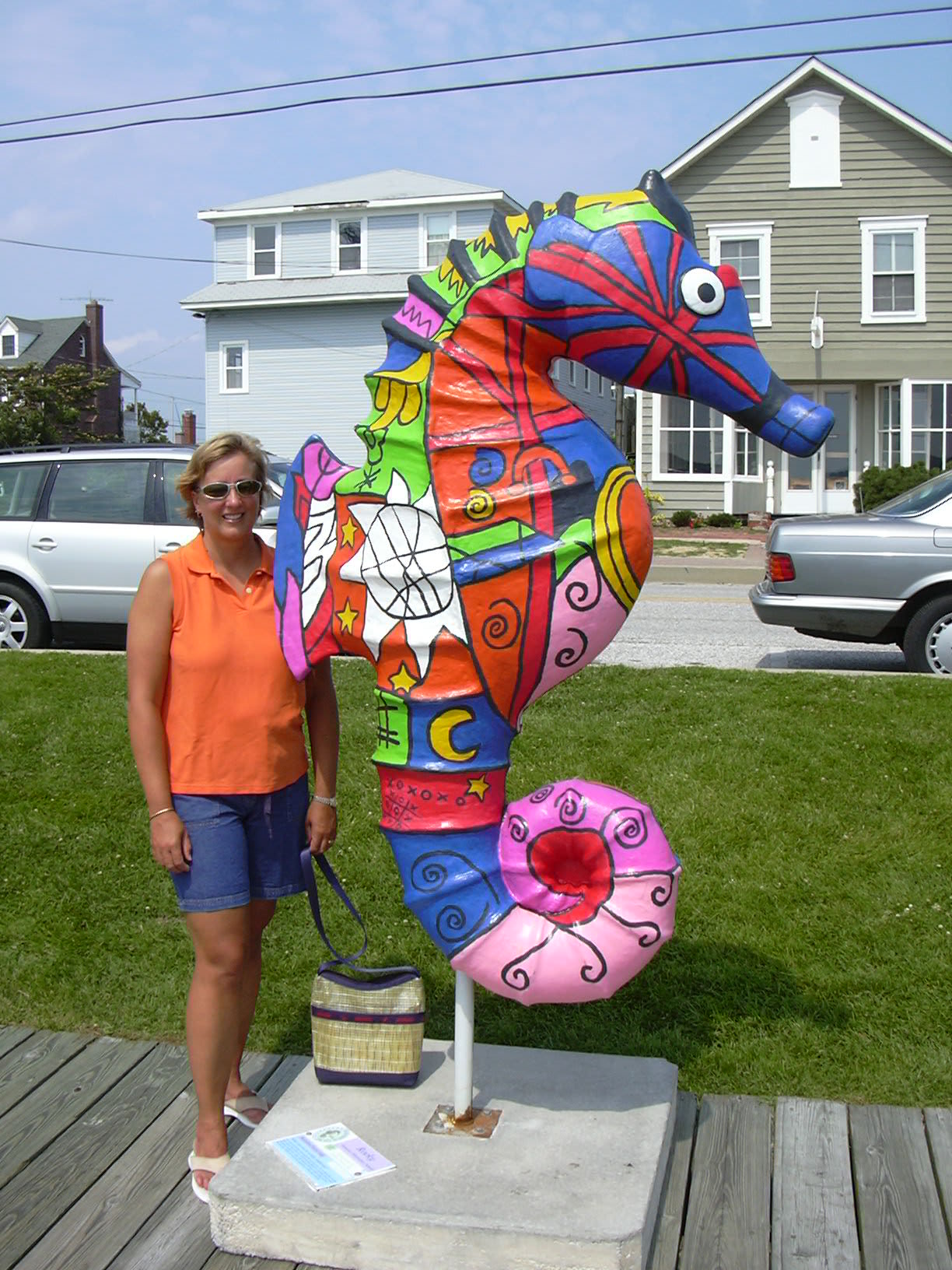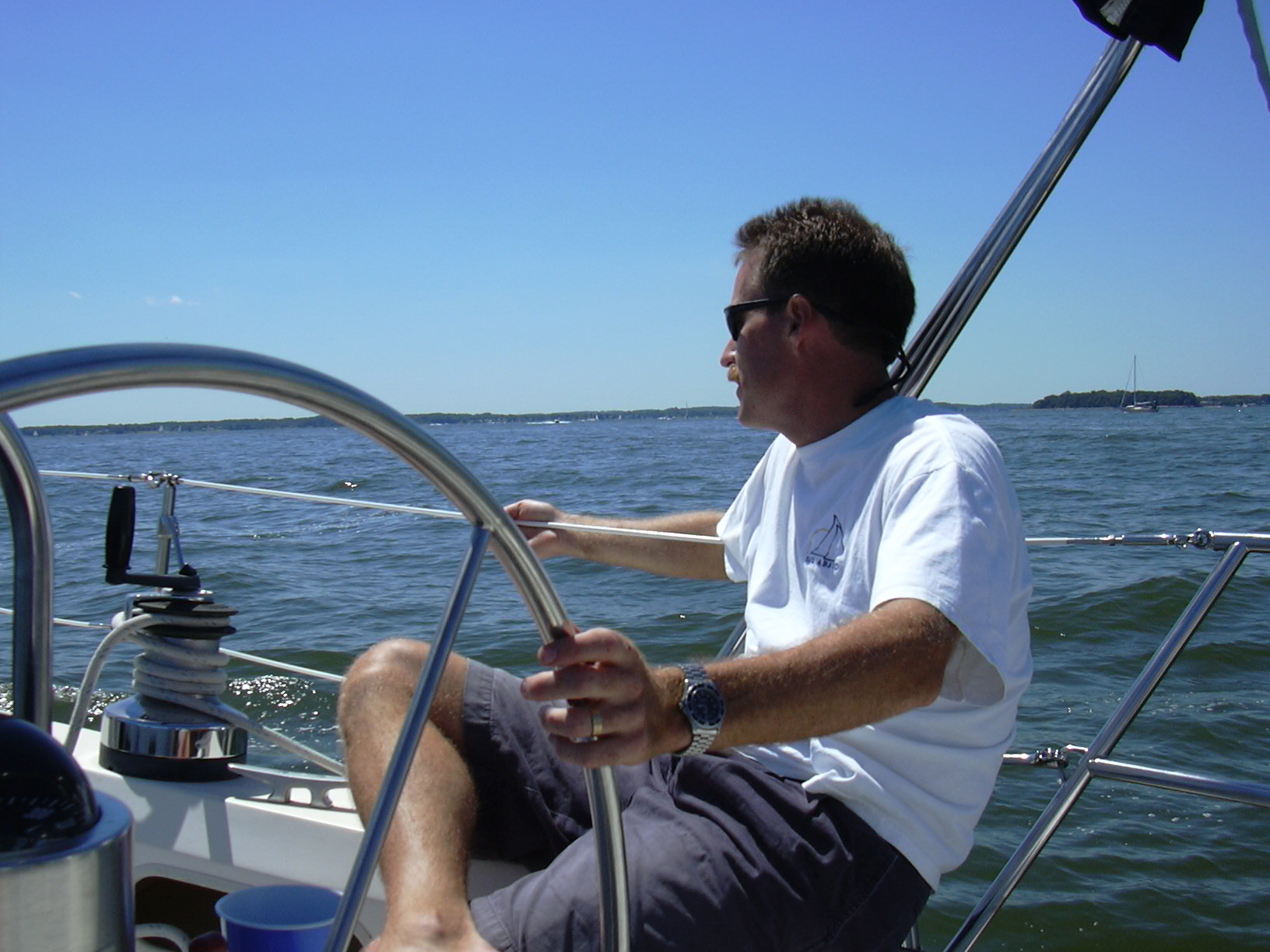 Best Mate Eva enjoys the public sculptures in Solomon's, while Rick takes the helm.

As soon as I returned to the boat after showering the eerie calm of the afternoon was replaced by wind in the rigging which sounded like a swarm of

killer bees.  The wind roared in and a torrential thunderstorm dumped inches of water.  I was snug in the saloon, but Rick was waiting it out on the bath house porch and ran over when the storm let up a bit.  After sundowners, the storm cleared and we had dinner at the Dry Dock restaurant at the marina.  It was terrific -- elegantly casual fine dining overlooking the water.  We stuck to Maryland seafood again, though livened it up with a New Zealand (Matua Valley) sauvignon blanc.

At 4 a.m. the next morning, we had a classic Hatch Drill.


Choptank River

We had only one schedule to meet this week, which was to be in Oxford by early Friday afternoon for the Sabre Regatta.  This meant that our goal for Thursday was to be in the Choptank River.  Thursday morning dawned warm and airless, so we motored from the Little Choptank, past Tilghman Island, into the big Choptank River.   We chose the second major creek  (from the west) on the north shore of the Choptank --  Broad Creek  and then turned into Leadenham Creek from there.  Finally, we poked into Baby Owl Cove by about noon.
Thursday was an utterly lazy day at anchor.  The heat tempted us to jump in the water, but as soon as Rick dipped in, a giant jelly swam up alongside.  So much for that!  Instead, we did a few boat chores, read a lot, took sunshowers, and basically hung out.   Both of us were sure we'd have Sabre company by the end of the evening, but the only other boat that anchored in the cove that night was a single, small Cape Dory.


Oxford

One of the most attractive towns on the Chesapeake is Oxford, on the Eastern Shore.  Bounded by the Choptank River, the Tred Avon River, and Town Creek on 3 sides, the town crowns a small peninsula that is a favorite summertime haunt of sailors and other city denizens.   Over the years, we've come here many times, by land and by sea, and come to know it well.  However, this time around, beyond Mears Yacht Haven (where we stayed for two nights), Oxford Boatyard (the Sabre Regatta location) and Schooner's Landing (where we had lunch on Friday), we saw nothing of the town.
The Sabre Regatta

Every year, Sabre Yachts holds a regatta for owners of Sabre sailboats and Sabreline motor yachts.  Every other year, the destination is Maine, Sabre's headquarters; in-between years are other locations  this year, Oxford, Maryland.  Sabre takes great care of its owners  even if they are the 3rd, 4th, 5th, etc. owners of their boats  so we were looking forward to the event, as well as catching up with some of our sailing friends.

Aside from fellowship with Sabre owners (many of the females of this species, including me, wearing Lilly Pulitzer plumage), good food and drink, and some sailboat racing, one of the prevalent themes of the weekend was getting vendors (and wannabe vendors) in front of us.  Boy, did we get a lot of stuff!!  It seems like every sailing magazine and every supplier of hardware wanted to get us wearing or using their hats, shirts, key chains, cork-pullers, cups, mugs, etc.  Lewmar had brought one of their America's Cup style winches (looks like upside-down bicycle pedals that you crank with your hands) which was connected to a timer to see who could do 30 revolutions, under simulated load, fastest.  Captain Rick and I tried it in "mixed doubles."  We actually had to sign a release before we were allowed to try it, got some professional coaching  including a reminder to BREATHE while doing it  and then we were off.  I scoffed a bit at the breathing reminder, but halfway through it, I did find that I'd forgotten to breathe, so intense was the exercise.  In any event, Rick and I managed the best mixed doubles time and took home some Lewmar goodies (in addition to the pair of winch handles we scored as door prizes, one as a direct win for us and the second coming from the couple who sold us our boat but had gone over to a motorboat and no longer needed their prize).

The headline event of the Sabre Regatta was, indeed, a race.  Initially, I had no intention of racing since it seems so boring.  But, I was told that it's even more boring NOT to race, and that attendees who don't race tend to feel left out of the action.  With that as incentive, I scored us a ride on a Sabre 452, the largest boat in the fleet.  Brand new, and the former Annapolis Boat Show boat, this baby seemed far too beautiful to drag around the buoys, but the owner was ready to race.  So on Saturday morning, I dragged out my sailing gloves and readied myself for my first racing experience -- with my main jobs being handing the winch handle over to Captain Rick (who did the jib trimming) when he needed it,  as well as doing some mainsheet trimming (when my progress was too slow, the co-owner simply pressed a button, since it was an electric winch).  Much of the race was spent with the two guys doing all the work, and the 4 girls serving as rail meat, with lots of chick-talk.  We acquitted ourselves respectably, crossing the finish line second, despite a botched (by the race committee) start.  Nevertheless, after taking into account the super-low PHRF rating of the boat we were on (66), we gave back too many seconds to finish for prizes.

Sunday morning, after a Maine-style blueberry pancake breakfast, with the Sabre management team flipping the flapjacks, we had to hustle home since our vacation was over.  The day started windless, so we motored out of the Tred Avon and Choptank, congratulating ourselves for having just 4'3" of draft as we touched bottom a couple of times in the shoaling channel leaving Knapps Narrows.  We then motored back across the Bay to the frenzy that is the mouth of the Severn on a weekend.

Going Home is Never Easy

Since we didn't leave the country, much less our home state, we were spared some of the vacation hassles that island travel entails.  No need to worry about luggage limitations, no passports, no airport security, no flight delays, and  most notably for me  no natural disasters.  And yet, though we were never more than 100 miles from home, we felt at times as faraway as we ever do on the most remote and obscure island.  At the end of the week, during which we were blessed with great weather despite not always cooperative winds, we had that same sun-kissed, boneless feeling we get during a tropical escape.  And, we came to appreciate even more what a remarkable, miraculous cruising area we are lucky enough to call our home waters, and that after a dozen years of sailing, we've barely scratched the surface.