A CREW OF MOOR-ONS

BVI SAILING CHARTER ON SPACE DANCER

June 11-19, 1999

Part 1:  Arriving in Tortola

As of this June (1999), Rick and I have been married for nearly 10 years.  Our actual anniversary is not until August 18, but that is the HEART of hurricane season, and I'm not about to travel to the islands in August or September ever again (see our 1998 trip report)!  In any event, we've sort of chosen this BVI sailing trip to commemorate it, even though it turns out we did little to mark the occasion, much less spend much quality couple time together.  But the trip is symbolic of who we are as a couple.  After all, we discovered and fell in love with the islands together, this being our fifteenth trip down.  And sailing is something we do together.

About six years ago, Rick and I took a crewed sailing trip in the
BVI
with our friends, Doug and Jodi.  Doug is an engineer, and he and Rick have been friends since high school.  We didn't know Jodi until Doug started dating her, but we have since become great friends (tough call as to whether Rick and Doug are better friends than me and Jodi).  Rick and I are even the godparents of their firstborn, Andy.  Anyway, that first sailing trip, along with mine and Rick's trip the autumn before, were appetizers, whetting our appetites for more. We LOVE the BVI, and even having been there twice, there is so much left to explore as well as to re-visit.  So, we decided that our June trip should be in the BVI.
While this decision was being made, another campaign was afoot, and that was the efforts of Pete and Sue to join us on this trip.  Sue is a college friend of Doug's, and the couples are close friends and live near each other in Akron.  Pete really wanted to do this trip, and though he had no sailing skills to offer, he had cooking ability (offering to make breakfast every morning), paramedic skills, as well as general enthusiasm.  We wanted to meet them before deciding whether to invite them to join us, but figured that since they were Doug and Jodi's friends, we'd give them the benefit of the doubt, and they would have to turn out to be really repulsive and unacceptable before we would exclude them.  And so we met them in November, decided they passed our test, and from then the entire trip was a "go."

I took the initiative and handled most of the planning.  We booked with Footloose, which is affiliated with the Moorings, and also planned to stay at Moorings' Mariner Inn.  Soon, the vacation countdown began, with lots of e-mailing and anticipation.  The night before we left, Rick actually made it home before dark (OK, in June, that can still be pretty late, but still much better than usual).  I had escaped by 4 pm and spent a leisurely, calm evening packing as light as I could.  Only 2 pairs of shorts, one dress (other than the one I was wearing to travel in), a few shirts, and swimwear.  But since Rick's stuff is bigger than mine, when we put it all in a single duffel, it still looked like a lot.

Friday morning, our car picked us up at 5:20 am  10 minutes early, but this worked out for us because we were already ready and the summer crowds at the airport were already thick.  Our flight was right on schedule, and I made Rick use the bathroom well BEFORE the boarding announcement (husbands seem to have an uncanny ability to have the urge just as the boarding call is made).  Rick and I are were going to the BVI via American Airlines through San Juan, while the others were combining flights and airlines to get free frequent-flier tickets to St. Thomas.  We have taken the Baltimore-San Juan flight almost too many times to count, and with only one exception (that being the time that the instrument panel didn't register whether the flaps were properly engaging, and one of the crew had to look out the windows of the main cabin to see if they worked), the flight arrived in San Juan on time and without incident.

In San Juan, it is warm, bright and hazy, in contrast to the cold gray rain we had in Baltimore when we left.  The airport is icebox cold, and I'm actually relieved to get outside to the shuttle bus. We board the plane, and watch our luggage get loaded on the plane as well, and are soon on our way to Beef Island.  This is a mere 60 mile flight, so it is a matter of minutes before we sight the lovely white sand beaches and green peaks of Tortola, nearly scrape the top of Little Thatch Island, and come in low and fast over East End before landing.  Upon arrival, we walk over to the terminal and find no one in the immigration line but our flight. Its only minutes after we get our passports stamped that we are sliding through customs towards a man carrying a Footloose placard.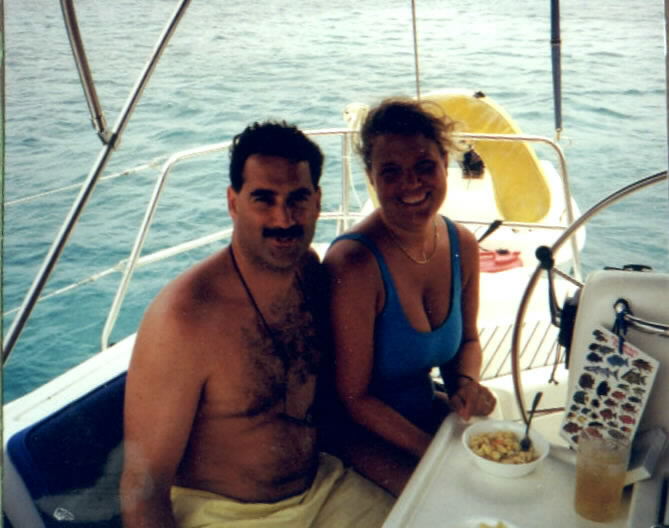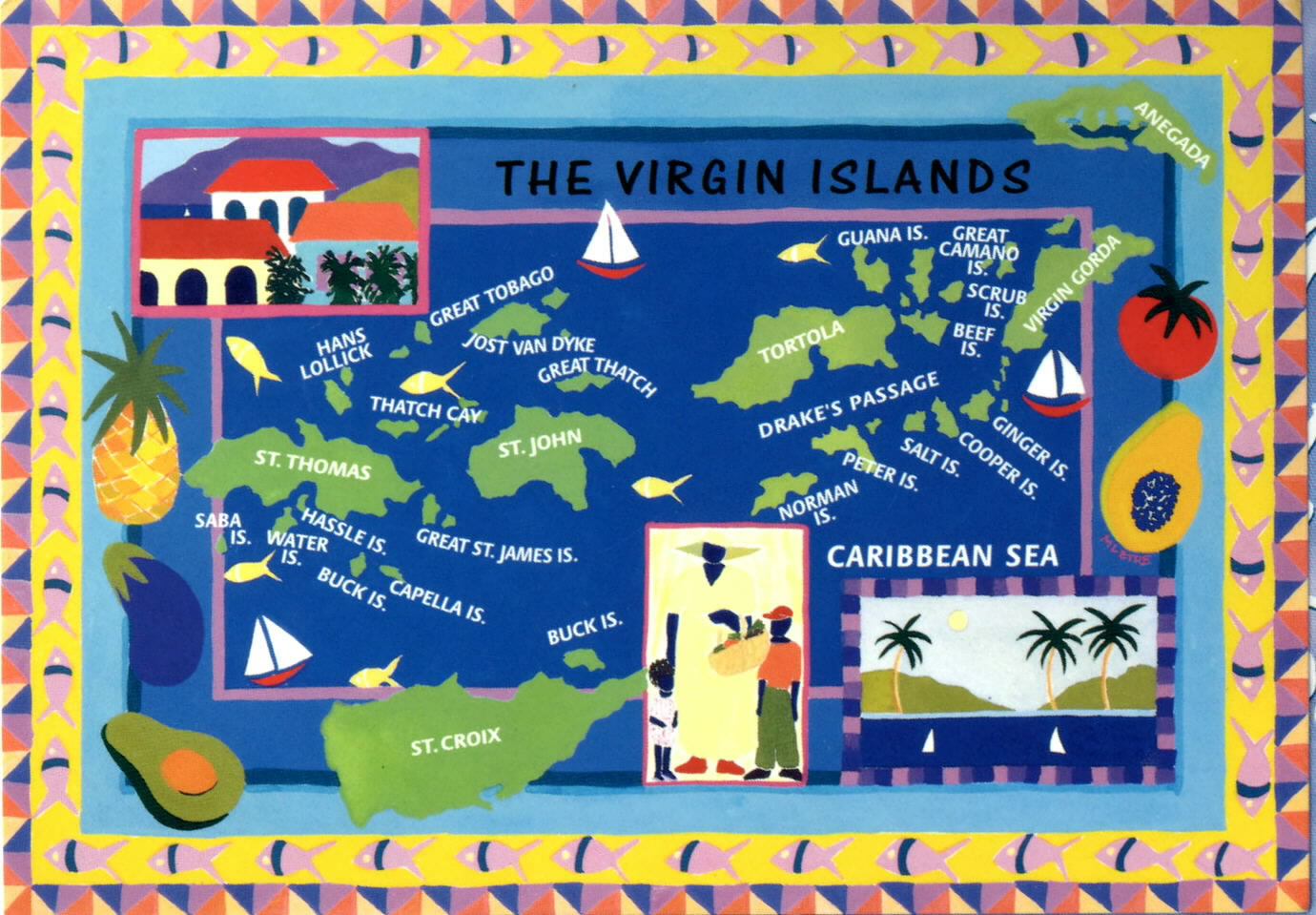 Having been here only 9 months before, we paid less attention to the familiar landscapes we passed by (which are not particularly notable, other than the breathtaking views of the Drake Channel in the distance which reveal themselves now and again) than we did to the typically aggressive driving of our driver and a conversation about what's new since last September.  In a matter of minutes, we pull into the Mariner Inn/Moorings complex, pay the driver, and check into our room.   The lady at the counter hands me a ticket good for six free rum punches, as a welcoming gesture.  Free drinks - what's not to like?

We walked over to Footloose to make sure we didn't need to take care of any details, and then headed into town for some shopping and

A postcard map of the Virgin Islands -- both U.S. and British -- shows our cruising grounds for the upcoming week.

sightseeing.  Our first stop was Colombian Emeralds (I have to torture Rick with this every year), but after looking around a bit, nothing really captured my fancy.  Then we walked over to the craft fair to get some island handcrafted jewelry: an ankle bracelet (very manly looking) for Rick, and cord necklace with a ceramic bead for me.  I also bought a skimpy batik dress in the colors of the sea with fish on it.

Then we headed further into town.  Sunny Caribbee always draws me in; this time I tasted some wonderful mango flavored iced tea and promised myself I would buy some on our way home.  At the Sunny Caribbee art gallery, we spied some fun and reasonably priced pieces as well: a hand-painted block of wood that had a whimsical scene of a hammock overlooking an islet not unlike Sandy Spit, some glassware with lizards and frogs on it. We looked around in a few other shops in Roadtown, bought nothing, and retreated to Pusser's for a drink and a snack.

As hot as it was, neither of us felt like drinking Pusser's signature drink, the Painkiller, which has a bit of cream of coconut in it.  So I opted for something lighter and gingery named after someone named Lady Hamilton, while Rick went for a drink called Drake's Blood (or something like that).  We were also hungry, so we ordered nachos.  While hanging out, we teased our waitress, watched several groups obviously at the end of their trips (thankful that we were just starting our adventure) and admired a chubby blonde baby boy in the bar.

We walked back to the Mariner Inn in the heat, dodging Friday afternoon traffic, then showered and changed into fresher .  We went over to the bar to have a few drinks and read the Limin' Times to see what was happening around the island.  We took our second round of drinks away with us to the docks, where we strolled hoping to run across a familiar boat from last year's adventure.  Only Brigada (Possereg!  Those Norwegian boys sure were a lot of fun!) was in port.  We found out later that Tacks Shelter, which held our neighbors during Hurricane Georges last year, was out this week -- chartered to Sue's friends from work!

As the Ohio contingent was on the 4:30 ferry out of Charlotte Amalie, we hoped they would be in by 6:30 so we could have dinner at C&F.  But the afternoon slid into evening as we sat on our back balcony enjoying the tradewinds, swatting mosquitoes and reading, and the rest of our crew didn't arrive til 7:30.  What a long day they must have had  cars, planes,  taxis, ferries  whew!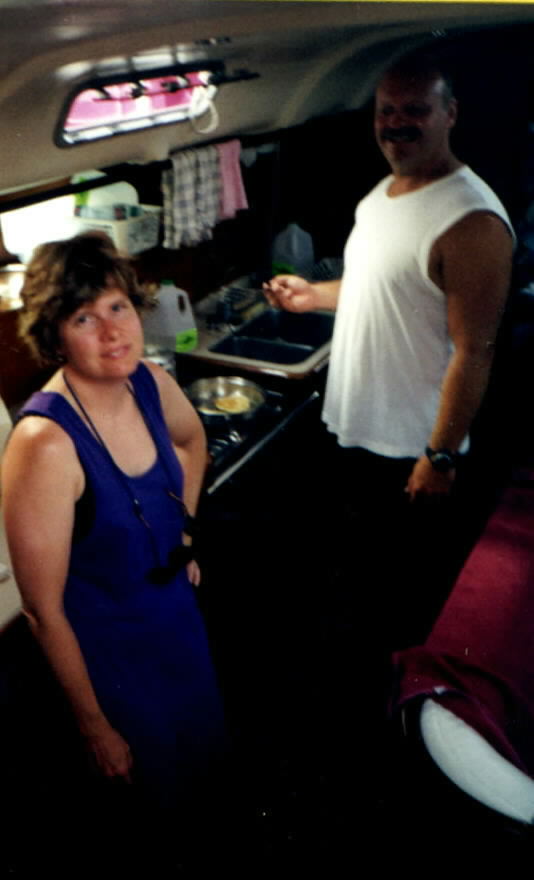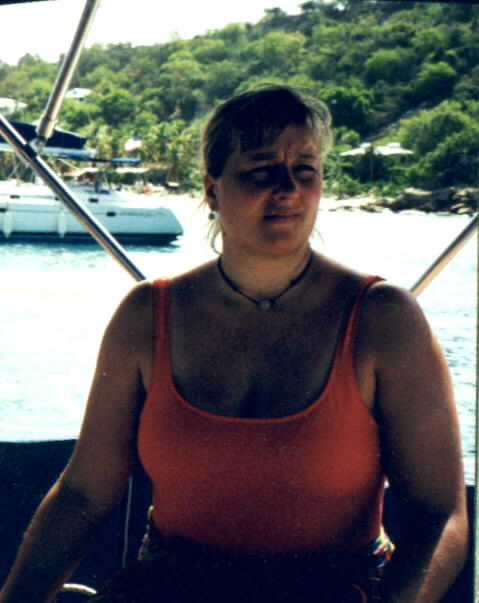 The crew of Moor-ons (L to R): Doug and Jodi in the cockpit, enjoying a meal; Sue and Pete in the galley, straightening up; cruise director Eva, in the cockpit, contemplating our next stop.  Captain Rick will ... er... reveal himself later....

After catching each other up on our respective journeys, and making fun of Pete's HUGE duffel filled with heavy electronics gear, we decided that since the Ohio crew had such a long and hard journey, we would stay at the Mariner Inn for dinner.  Which is not exactly a hardship, since the Mariner Inn's food is good and reasonably (for the islands) priced, and the staff is friendly.  Besides, we would only be steps away from our rooms and the pool for after-dinner chillin'.  We redeemed our rum punch ticket, drank huge amounts of water, and dined on conch fritters, fresh fish and, at the suggestion (or should I say insistence?) of our waiter, beans and rice.  Not that I would think of any other side dish in the islands.  Jokes were soon flying around the table, and we were laughing and making lots of noise.  This should be an interesting week.

After dinner, we shucked our clothes and changed into swimsuits, making a dash for the pool.  As we were lolling about in the warm water, so warm it made the ambient air feel cool, Rick and I introduced the gang to the pleasures of Piton and Carib beers, though Pete kept largely to rum punches.  The pool area wasn't especially crowded, so we had it mostly to ourselves, which is just as well, because this is when the "turkey popper" jokes started.  Perhaps we scared people away . . .  The cares of our everyday lives were slipping off with our clothes, and we were sliding into Island Time.